Driving Plant Cadence
With more reliable equipment and controls on board and with sensors now protecting its dies, Stith and McCullah have raised the bar on throughput. And they note that the bar has not stopped rising.
The ROI Story
ARaymond Tinnerman has invested $50,000 per press line to make the necessary mechanical and control upgrades to bring the lines up to snuff. The return on investment comes quickly and easily when you consider a few key process improvements that have been realized:
• Die-Repair Costs—Decreased from $1.13/1000 pieces to $0.65/1000 pieces
• Overtime Hours Worked—Decreased from 5600 hr./yr. to 500 hr./yr.
• Average Run Rates—Increased from 11,000 parts/hr. through the shop to 15,000 parts/hr.
"Having gained control of production and stabilized our process, we're now challenging ourselves and pushing our run standards," says McCullah. "Our goal is to have our plant-floor workers drive plant cadence and push our run standards. If a job is running at 150 strokes/min., for example, we want operators to see if they can get it to run at 200 strokes/min. We have the equipment ready and die protection in place, so let's stop sitting back and push forward. Last year we experienced a 40-percent gain in throughput from our gap-frame presses, which went from producing 11,000 pieces/hr. to 15,000 pieces/hr. We expect another 10-percent gain in 2013. And output from the three Bruderer presses climbed by 15 percent, to nearly 40,000 parts produced/hr."
How successful is the plant at realizing the lofty goals set by McCullah and Stith? "We set management business objectives (MBOs) for every employee, hold them accountable and reward them for success," says McCullah. "In 2011 we asked our employees to reach the efficiency-improvement goals we established on 80 percent of our work orders. We upped that to 85 percent last year and 90 percent this year." Employees were rewarded for their efforts with a performance bonus in 2012.
Of course when it comes to press run rates, just cranking up press speed does not easily nor automatically translate into increased throughput. Most notably, the accompanying adjustments made to the coil-feed line represent a critical success factor. And here's where another unique capability of the Wintriss SmartPac 2 comes into play—it's called Feed Advisor.
With SmartPAC 2's Servo Feed Interface (SFI) option, available for most brands of servo feeds (including the Rapid-Air feeds that ARaymond has added to its upgraded press lines), users can program, store and automatically download feed parameters for each tool. With a programmed feed length, feed arc and press speed, the SmartPac determines whether or not the feeder can operate in the time available. It then calculates the minimum feeder acceleration rate required.
"Feed Advisor helps our press technicians and setup people by analyzing when the feed occurs relative to die closure," says McCullah. "Without this feature, we would spend countless hours on trial-and-error feed setups to match new press-speed objectives. Feed Advisor instantly provides feedback on whether or not the feed window is sufficient, or if we need to increase the window to meet the established feed velocity and acceleration profile."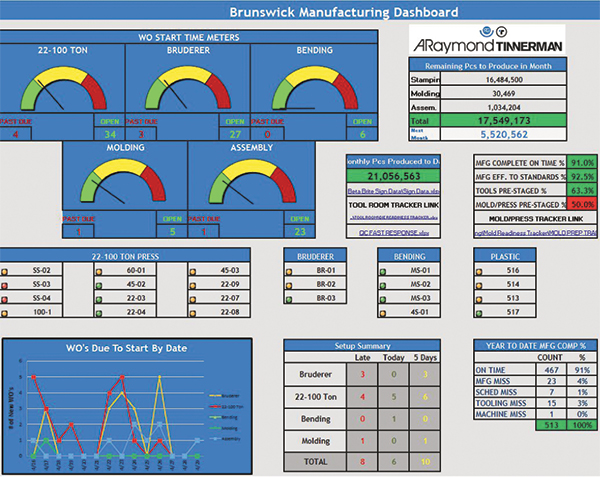 This manufacturing dashboard provides ARaymond production managers with a snapshot look at a healthy dose of production statistics. Of note (bottom right corner): year to date, 91 percent of its 467 work orders had been completed on time, with only one miss due to machine-related issues and 15 misses due to tooling-related issues.

Finally, running faster can take a toll on punches and other tools. Enter an expanded role for tonnage monitoring. "Every die must now use tonnage monitoring," stresses McCullah. "There's no excuse for turning it off. Before we upgraded the press controls, our tonnage monitors often malfunctioned, frustrating operators to the point of switching them off. Now we expect no more than one bad hit from worn tooling. We're not quite there yet, but I expect we'll be there soon."

Die Staging a Plant-Cadence Contributor

Before the plant began to upgrade its presses, at least one job per week would fail to start on time, launching the scramble to get up to speed to meet delivery times. That's no longer the case. "Through all of last year, only two work orders failed to start on time due to unplanned machine downtime," says McCullah.

As the shop has become leaner and meaner, with no excuses accepted for not starting and completing production runs on time, plenty of attention has steered toward reducing changeover times. And as lot sizes have dropped in the last few years, the frequency of setups performed has doubled; setups can average 3-4 hr. This includes time to tool up a die, as well as sharpen punches and perform other maintenance tasks. To quicken the pace, 2 years ago McCullah and Stith instituted a pre-changeover team.

"We've shifted five people into proactive setup roles on the floor," says McCullah. The extra labor became available as the additional use of die protection has allowed one press operator to now cover four or five presses, compared to two or three presses before. "This pre-changeover team uses our production schedule to prestage dies to help minimize changeover time. About 65 percent of our dies are prestaged, with the goal being 80 percent."

Also helping to minimize changeover times is standardizing on sensor setups at the press. While developing a sensor strategy on its existing dies the first time around can take 2-3 hr., once a die-protection strategy has been developed, the technician documents the approach. This speeds the die-protection portion of the overall setup job the next time the die enters production.

All of these moves have added up to a 50-percent reduction in setup times, and McCullah expects at least another 50 percent reduction to come soon. He notes that while setup time might not have been such a critical measurable a few years ago, when run size regularly topped 500,000 pieces, today "we're operating more like a job shop. The goal is to have no excess inventory, and more and more often we're averaging release quantities of 50,000 to 100,000 pieces."

"Now that our production-planning department has seen the productivity gains we've realized," adds Stith, "they're pushing us further. While in the past they might have bundled two or three releases from a customer into one huge job, now they give us separate releases. Inventory turns on core products have gone from nine to nearly 15 per year. In 2012 we processed 1300 work orders, hundreds more than we ran the previous year. And this year I expect we'll run 1500 jobs, and probably 2000 jobs in 2014."

More Efficient, All the Down the Line

Of course, more work orders for smaller batch sizes adds stress to the shipping and receiving department, particularly since every box of stamped fasteners goes out for heattreating and plating. "We have a lot of work-in-process inventory," notes Stith. "As productivity has skyrocketed and we've been able to remove seven presses from the production process, we've leveraged the gained floor space to improve our shipping and receiving operation. We can pack parts more efficiently, the work flow is more organized and logical, and it's much safer.

"In fact, since we've gained so much additional floor space, we're exploring opportunties to become a more vertically integrated and streamlined supplier," Stith shares.

MF

See also: Wintriss Controls Group LLC, Nidec Press & Automation, Bruderer Machinery, Inc.

Technologies: Pressroom Automation