This challenge can lead to analysis paralysis. Or, even worse, lead to incorrect analysis.
"For example, manufacturers can formulate plans based on overall equipment effectiveness (OEE), and then look at employee utilization," Phillips says. "But those are not the same things. A manager can look at the data and say, 'This machine is down.' But perhaps no one is available to run that machine. Is that truly an OEE situation from the equipment standpoint, or is it a staffing problem that has contributed to machine downtime?"
Consider a stamping operation that, focusing on die loading and unloading, made remarkable gains.
"The plant became very efficient in loading and unloading tools, but, unfortunately, the press was not going up and down," says Phillips, recounting a recent plant visit. "Technicians only picked up the die once, and set it down only once—extremely efficient, but they weren't staging the die. As a result, each change wasted 15 to 20 min. without the press running as they put the die away and retrieved the next.
"They focused on efficiency with the tow motors and the tool changeout, but not on the actual press uptime," he continues. "In metal stamping, everything else―though important and requiring monitoring―is secondary to press uptime."
AI Makes Prediction Possible
Another aspect of IoT and Industry 4.0, artificial intelligence, or AI, promises big improvements for those who take full advantage.
"Networking systems are becoming smarter, and now can compare various factors to reach ideal outcomes," Phillips says. "For example, a manufacturer can see machine downtime, and plot that against press tonnage, tool-changeover times or how often a tool undergoes sharpening. This ability to plot among various factors leads to predictive analysis―where a manufacturer wants to be. Preventive analysis begets preventive maintenance, where a tool may be sharpened every month to make sure it is ready to go and does not hamper productivity or part quality. But predictive analysis provides information that the tool may not run next month so does not require sharpening yet, or, based on the number of press strokes and/or the type of part material, sharpening may need to occur sooner...or not until later.
"Analyzing the data and becoming more predictive in data analysis," Phillips concludes, "represents such a huge factor in how AI will change the way that manufacturers look at everything."
New Products Designed for Data Gathering and Analysis
Suppliers are busy developing and releasing products to best-position metal formers and fabricators in the brave new world of Industry 4.0 and IoT. Here we present some of the latest technology offerings.
Software Improves Supply-Chain Planning and Forecasting Accuracy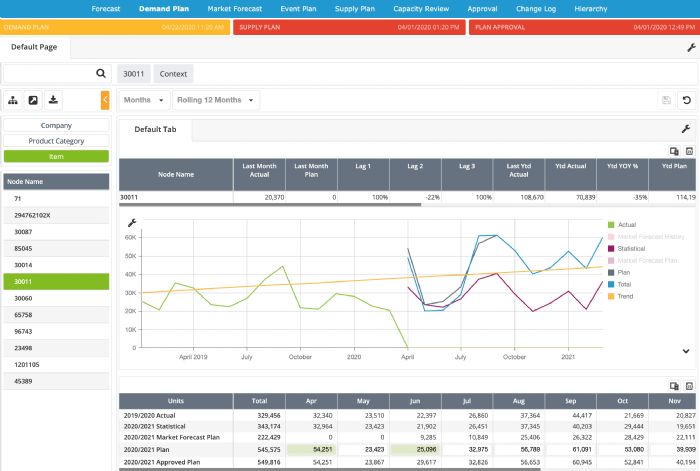 Plex Systems has introduced Plex Market Forecast Manager, part of the Plex Supply Chain Planning Suite and designed to deliver data-driven insights to help eliminate excess inventory, improve planning accuracy and reduce risks caused by market volatility from COVID-19 and beyond.
With the cloud-based software, manufacturers can integrate internal and external data points alongside demand plans to drive more accurate inventory decisions, and evaluate and scale the supply chain. The initial release provides automated access to IHS Markit's Light Vehicle Forecast to help automotive manufacturers form more accurate and timely forecasts.
Plex Market Forecast Manager, when combined with Plex Supply Chain Planning, changes a typically time-intensive and manual effort for companies into a real-time, high-value automated activity that allows leaders to manage the supply chain completely from the top floor to the shop floor, according to Plex officials.
The solution enables comprehensive and streamlined planning at the enterprise level, which includes integrated business planning, demand and supply planning, rough-cut capacity planning, and distribution requirements. This information can be shared with the plant for production scheduling and execution.
"Companies that can closely align future forecasting with their supply chains have the greatest opportunity to gain market share by anticipating customer needs and responding to short lead times and changes with agility and resourcefulness," says Richard Murray, chief product officer of Plex Systems, commenting on the capabilities of the new software.
As for the software's access to HIS Markit's Light Vehicle Forecast, "the automotive industry is changing rapidly, making supply-chain and forecasting tools essential to suppliers working to respond quickly and accurately," says Henner Lehne, vice president-global vehicle group, automotive at IHS Markit. "The opportunity to merge our data with Plex's robust planning solutions gives automotive leaders a significant advantage when making critical decisions about the future of their businesses and supply chains."
MES Software Turns Shop-Floor Data into Informed Production Decisions and More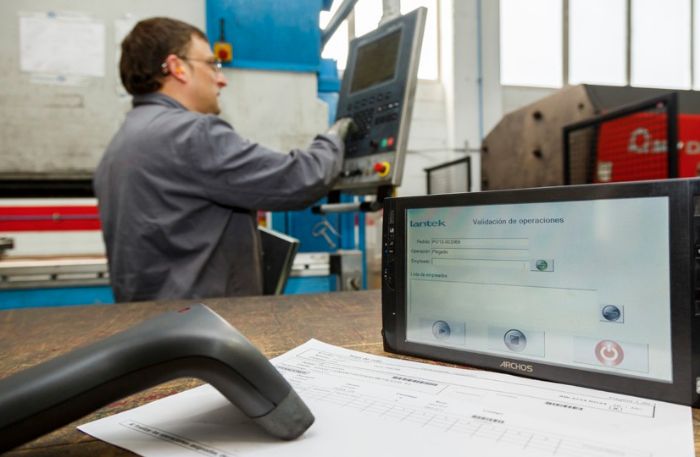 Lantek's MES Wos software for sheet metal manufacturers is designed to help them along the path to digitization, as it assists managers in maintaining control of manufacturing operations and delivering high-quality products on time and at a profit.
An MES system enables use of data from the workshop to make decisions about investment, customers, markets, pricing and reorganization. Crucial in the process: gathering real-time, high-quality data from around the factory. Lantek MES Wos gathers such key data from the production process, including machine status, labor, materials, inventory and more, according to Rob Powell, commercial director of Lantek Systems UK.
Lantek MES Wos also provides all the information about every job to be completed, including nesting layout, material assigned, stock levels in the warehouse, processes and the machines to be used. Feedback from the shop floor derives from operator input at shop-floor terminals and direct status monitoring on some machine-tool models. Lantek, through its Opentalk communication system, is developing the ability to extend this link to all types of machinery.
The accurate data gathered enable decisions to be made as shop-floor circumstances change. For example, managers can decide to switch the machine to be used, initiate rework to replace damaged parts, nest parts into material remnants to maximize utilization, and monitor part and material stock levels—closing the loop between what was planned and what actually occurred.
By both supplying information to the workshop and collecting data from the shop floor and machinery, Lantek MES Wos lies at the heart of an MES system, according to Powell. As more machine tools can link to communication systems such as Lantek Opentalk, detecting when machines start and stop and making decisions based on that information will become fully automated.
Using such technology, Lantek has developed automated production lines that typically involve sheet metal stackers/loaders, laser cutting machines and bending machines. Via Lantek MES Wos, such lines become aware of when each operation completes, enabling automatic passing of parts to the next process. Such lines also can include storage, as well as automated handling and tool changing.
And, IIoT devices and sensored machines, together with standards in communication protocols, open up more possibilities. For example, Lantek systems can generate key indicators such as OEE for sheet metal fabricators, automatically generate quotations that consider machine availability and historical performance, and analyze and manage a fabricator customer's behavior, segmentation and ordering performance. The next stage, according to Powell: integration with customers and suppliers through cloud-based communication with multiple software systems and applications.
MRP/CRP Updates with Added Whiteboard Features, Plus New MES-App Capabilities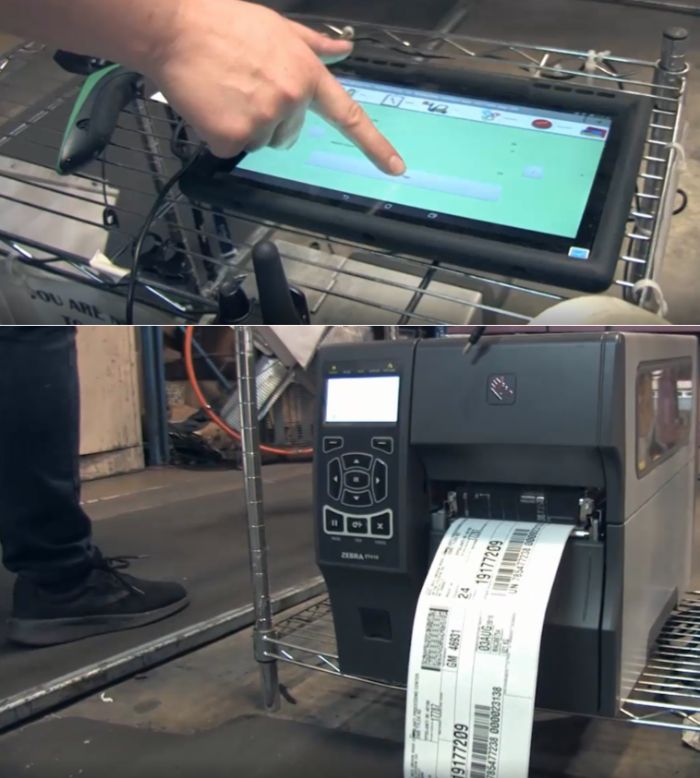 Material and capacity requirements planning (MRP/CRP) are critical functions for manufacturers as optimized scheduling can significantly impact the bottom line. Recognizing this, Aim Computer Solutions' Aim Vision enterprise resource planning (ERP) suite offers a digital whiteboard that creates a visual representation of the plant-floor schedule. The digital whiteboard displays production-schedule item tiles updated in real time from the Aim Mobility MES app.
The digital whiteboard assists schedulers in driving the production schedule from the plant floor, and can be filled with jobs directly from the MRP/CRP. If a production scheduler wishes to override the MRP/CRP, the whiteboard contains drag-and drop-technology, allowing schedulers to adjust the production tile to run on a different workcenter or to change the queue order. The available hours on a given workcenter and the staffing levels also can be manually over-ridden by a scheduler on the whiteboard.
The whiteboard includes a Lock Tile feature, enabling a scheduler to 'lock' item tiles with a balance quantity greater than zero (jobs still requiring production). These locked tiles (scheduled items) are fed back into the next run of MRP as firm, planned orders, thus reintegrating them into the production schedule. Locking tiles allows already-scheduled production to be locked in the queue, while updating the rest of the production schedule.
"The visual representation of locked tiles on a whiteboard really helps us to easily fence jobs on our production schedule and to keep the schedule stable in the short term for our production floor," says Timothy Birli, a production scheduler for one Aim client. "It is a delicate balance between adapting quickly to changing customer demand, and maintaining schedule stability on the manufacturing floor."
While enabling designated users to alter the schedule, the digital whiteboard also allows for read-only permissions. Another feature enables the whiteboard to be shared as a read-only webpage from any browser. Sharing the whiteboard on a browser gives production supervision 24/7 access to the latest production plan.
Furthermore, Aim has integrated the digital whiteboard schedule into its Aim Mobility MES, with the whiteboard's schedule-item tiles displayed in the Mobility app using the Load Workcenter option. Thus, as workcenters change from one part to the next on the production floor, users can select the next job directly from the whiteboard. If desired, the system can be set to force production to run in a scheduled order, and it can restrict overproduction.
The Mobility MES app is used at workcenters to load production-scheduled items; record production quantities, and workcenter and labor efficiencies; and print lineside barcode labels. The simple user interface creates a real-time method of recording activity at a workcenter, eliminating the need for manual data recording of production counts, operator time, downtime and scrap.
As an item is loaded to the app at the workcenter, the operator has hyperlinks to the most current quality-control documents, which can save quality managers thousands of dollars annually in labor and supplies versus printing control documents in advance of performing quality-certification audits.
New AI Software Provides Automated Vision Inspection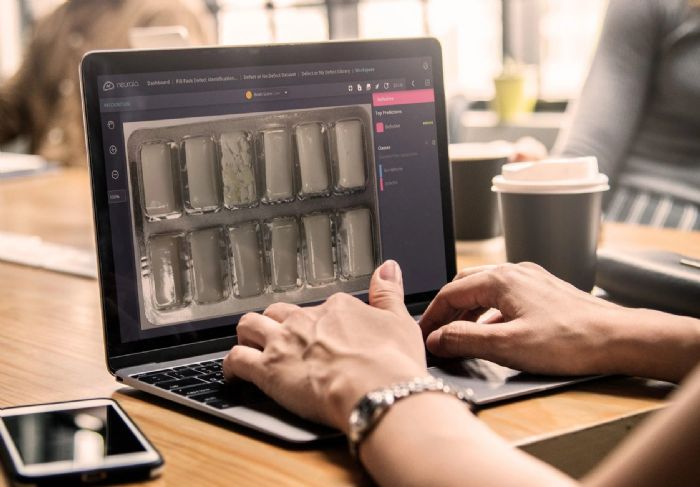 New VIA (Vision Inspection Automation) software from Neurala enables manufacturers not having worked with AI previously to train and use vision AI to identify defects in parts, products or packaging on the production line. The software is designed to help manufacturers improve production-line quality inspection while scaling to meet part and product demands.
With the ability to run directly on existing hardware on the factory floor, VIA makes AI accessible to industrial-automation users who prefer not to rely on internet access or cloud connectivity. As a result, manufacturers can keep their data on the factory site, without concerns about privacy or lag time that typically are associated with cloud deployments.
"Historically, AI has been too expensive or complex to deploy at scale in a manufacturing environment," explains Neurala co-founder and CEO Max Versace. "As the world approaches a new normal, manufacturers are facing irregular patterns in customer demands, and heightened pressures on machine utilization, production efficiencies and quality control―and they need to address all of this with fewer people on the factory floor. Vision AI will be key in enabling manufacturers to answer the call of demand, increasing productivity and maintaining their competitive advantages as requirements continue to shift."
VIA provides a rapid return on investment, say Neurala officials, who note that with less data required and faster training, VIA automates previously nonviable quality-inspection processes. This improves inspection rates, enabling early defect detection; decreases human intervention―key given current employee-distancing requirements; and allows smaller-batch inspection.
The software, compatible with any GigE camera and mid-range industrial PC, provides users with the ability to train and run multiple AI models, and thus Identifies any product that deviates from 'acceptable' images without the need to collect images of defective parts.
"Today's climate presents a clear need for an integrated solution that allows manufacturers to quickly adapt to changing markets within the constraints of their environment," Versace says. "VIA will meet that need, while giving manufacturers a flexible solution that will allow them to continuously adapt―whether that's introducing new parts into production, or adapting to irregular patterns in customer demand that will arise in the new normal."
Machine-Intelligence Platform Added to Shop-Management Software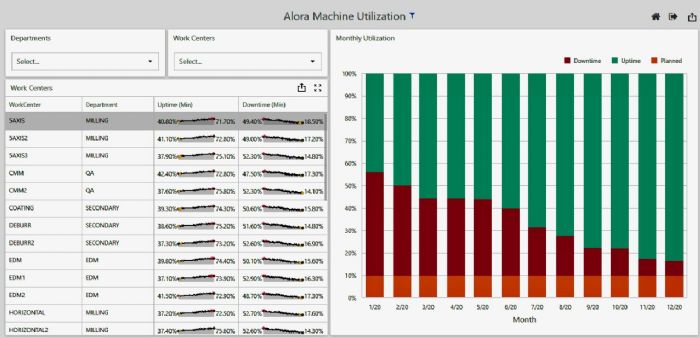 ECI Software Solutions, via a recently announced strategic relationship with Data Inventions, Inc., is delivering the Alora machine-intelligence platform to users of its JobBoss shop-management software. Connecting JobBoss data directly with real-time machine performance creates visibility at an actionable level so that operators and managers can run business operations more effectively, according to ECI officials.
Recognizing the challenges faced by manufacturers in gathering and assessing machine information to make accurate business decisions, ECI entered into the relationship that allows JobBoss users to use Alora in conjunction with the previously integrated Lojic dashboard to capitalize on the real-time information.
Through Data Inventions' Alora, machine operators and managers can connect using simple, intuitive interfaces that help prevent errors from occurring and avert defects throughout the production process. Automated systems analyze data in real time and trigger actions designed to help reduce downtime, prevent the chances of failure and improve output delivery.
Reported benefits for users through the integration of Alora with JobBoss:
Insight into machine data. Users can acquire greater control and understanding of the running status of machines and their run times, and when machines are due for maintenance. This increases the capability to detect machine failures before they occur.

Improved overall equipment effectiveness. Users can enhance manufacturing productivity and quality by measuring, recognizing and improving shop functions.

Decreased downtime. Automatically analyzing data in real time can trigger actions that prevent failures, reduce costs and improve outputs.
"We started on the shop floor and designed Alora to bridge the information gaps that mid-market manufacturers have struggled with," says Duane Clement, Data Inventions CEO. "Empowering JobBoss users with Alora interfaces and shop-floor insights is enabling operators and managers to make better decisions and immediate improvements."
Adds Matt Heerey, president of ECI's Manufacturing Division: "Collaborating with Data Inventions, we will offer the benefits of advanced IIoT technology to our customers."
Cloud-Based ERP Streamlines Documents for Custom Manufacturing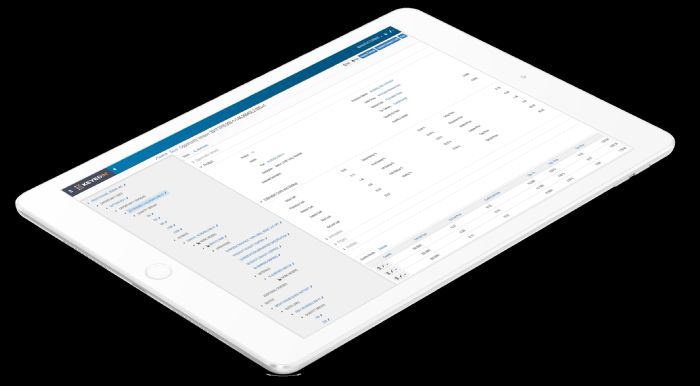 KeyedIn has unveiled KeyedIn Manufacturing (KIM) 6.0, a new ERP-software version that helps custom and make-to-order manufacturers automate their quote-to-cash business processes, leading to faster order fulfillment, with lower production costs and improved profit margins.
KIM 6.0 reportedly delivers key performance improvements for the shop floor, along with improved handling of work orders, invoices and other documents associated with custom-manufacturing orders. New KIM features help users keep pace with growing transaction volumes and the need for greater shop-floor capacity, and the new version includes deeper integration with QuickBooks Online, enabling, claim company officials, faster, more accurate financial reconciliation.
"Not only does KIM provide quote-to-cash automation, but it allows shops to customize it to their unique processes, which is especially valuable now as manufacturers are dealing with market forces that change every week," says Matt Muldoon, KeyedIn chief product officer, commenting on the ERP system's customization engine.
A customizable workflow eases the capture or copy of documents, such as packing slips or invoices, at any point in the sales, production or invoicing process. Improved reporting is another stated benefit: KIM now offers accounts-receivable and accounts-payable aging reports for any user-selected date, as well as a new production accounting report and posting process. And, new functionality simplifies the creation and modification of sales orders, and closed work orders now can be reopened as needed.
One fabricator found the new ERP software most helpful during the pandemic.
"When the COVID-19 lockdowns hit, I was so grateful I could access everything I needed to know about my business from home, my phone or wherever, because KIM is in the cloud," says Austin Shears, owner of O.T. Fabricating near Vancouver, Canada. "Plus, we were able to modify our processes quickly, as needed, with virtually no disruption."
Software Eases Complex Tracking to Derive OEE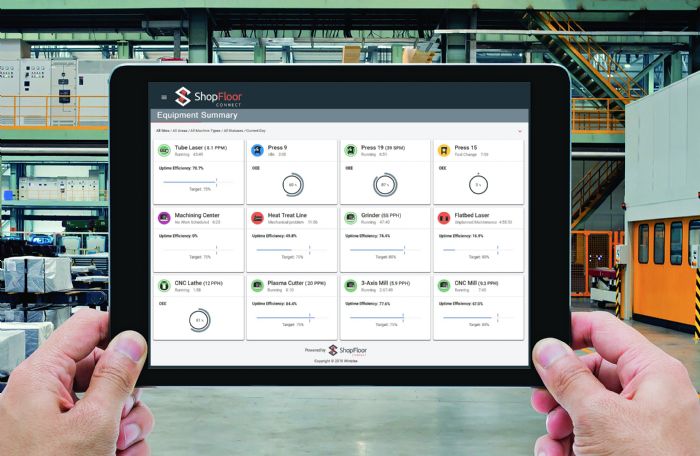 "The efficiencies created by IIoT and Industry 4.0 initiatives are helpful when measuring OEE, which over time, has become increasingly complex to track automatically," offers Jim Finnerty, product manager for Wintriss Controls Group LLC. "OEE has evolved beyond its original intent, and is now being used for continuous productivity monitoring, which is challenging when machines run jobs with differing production rates and lot sizes."
To help meet these challenges, ShopFloorConnect OEE and shop-floor data-collection software from Wintriss uses advanced algorithms to continuously and accurately monitor OEE. ShopFloorConnect collects downtime and production efficiency data from every machine in a manufacturing operation, displays it in real-time, and produces indispensable manufacturing reports, including detailed OEE reports in a variety of formats. The software can increase manufacturing capacity and profitability significantly by identifying and quantifying excessive production losses and bottlenecks.
To augment the growing requirements of Industry 4.0 and IIoT initiatives, ShopFloorConnect Version 6.0 offers new and expanded data-collection and analysis capabilities. Version 6.0, Finnerty reports, has a new design format for rapid, simple access to all data, offering several new features for more robust, user-friendly reporting and dashboard customization, flexible scheduling capabilities and machine interface enhancements—all critical for OEE.
Further refinements allow users to improve the OEE of their machines by tracking the reasons for scrap. Version 6.0 also allows users to manually enter good- and bad-part count data, vital for OEE calculation when machines with batch processes make it impossible or impractical to automatically count the parts as they are produced. And to better serve customers in North America and worldwide, this latest program version can handle multiple languages and time zones.
Enhanced user interfaces and versatile scheduling capabilities also are available in ShopFloorConnect Version 6.0. Users such as production supervisors, manufacturing engineers and job schedulers, with different information requirements, can customize the way data are displayed on their dashboards. In addition, flexible scheduling enables the next five jobs to be sent to the software's machine interface (SMI-2), allowing users to view and switch to other high-priority jobs in the event that unforeseen circumstances prevent starting the highest-priority job.
Also, new features have been added to the machine interface, including the ability to place downtime reasons in user-defined categories for faster selection, immediate Mean Time Between Failures and OEE displays, and improved status displays.
Wintriss Controls Group LLC: www.shopfloorconnect.com MF
Industry-Related Terms:
Bending
,
Die
,
Form
,
Functionality
,
Hardware
,
LASER
,
Lines
,
Nesting
,
Point
,
Run
,
Scale
,
Scrap
View Glossary of Metalforming Terms
See also: Wintriss Controls Group LLC, Link Systems, AIM Computer Solutions, Inc., Plex, A Rockwell Automation Company, Lantek Systems Inc.
Technologies: Management