High-Speed 3D Arm Scanning for Simple Shapes and Surfaces
April 27, 2020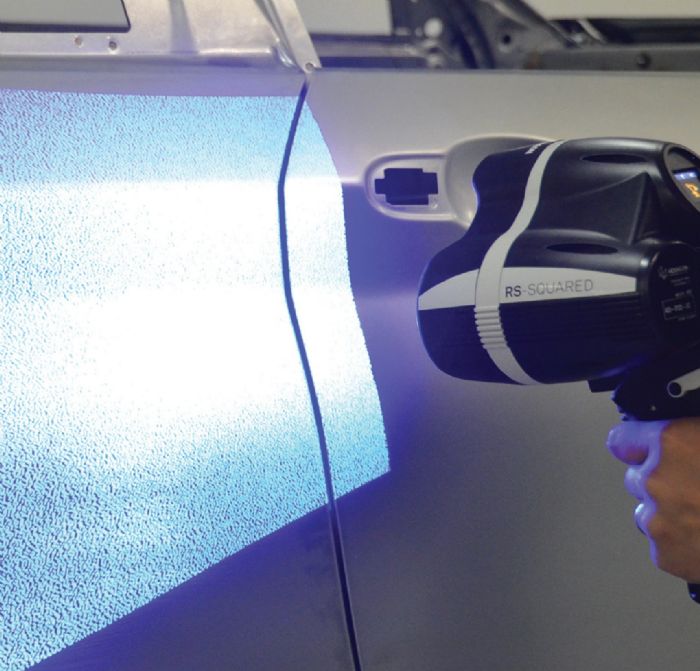 The new RS-Squared area scanner, manufactured by Hexagon Metrology and re-sold by Exact Metrology, is 3D scanner compatible with all current-generation Absolute Arm seven-axis systems. The RS-Squared allows users to perform high-speed scans of simple shapes and surfaces, and is best suited to the scanning of large parts with lower detail requirements, such as automotive parts.
The Absolute Arm seven-axis system ergonomically delivers tactile probing and laser scanning, and reportedly is ideal for high-end portable measurement applications, with its articulating arm offering ease of movement and measurement.
The RS-Squared white-light scanner uses the Absolute Arm system to position large, square tiles of 3D-scan data, removing the need for time-consuming application of reference markers or spray, or complex mechanical processes such as fringe projection that requires a stable environment. As many as four data tiles are captured each second, which, combined with minimal setup time, creates a scanning system capable of generating point-cloud data quickly. As with other Absolute Arm scanners, the RS-Squared can be removed and remounted without requiring recalibration processes, due to a repeatable mounting system.
Additional features include a large scan tile measuring 300 by 300 mm, permitting coverage of a larger area. As for scanning speed, the scanner that typically takes 1 hr. to scan can be digitized in 10 min., according to company officials.
The retained touch-probe functionality of the Absolute Arm ensures that high-detail geometric features can be captured at any time by removing the scanner from the arm and connecting it to a probe. Data feedback and settings adjustment at the point of measurement is built into the Absolute Arm through its OLED on-wrist display.
See also: Exact Metrology, Hexagon Manufacturing Intelligence
Technologies: Quality Control