Fiber Laser Cutting of Small to Medium-Diameter Tubes
July 14, 2020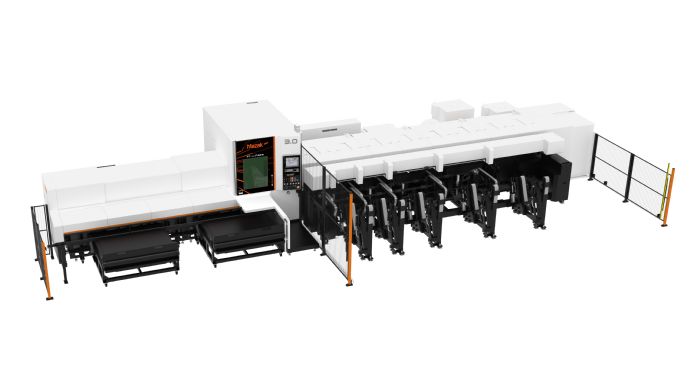 Mazak Optonics Corp. has launched the FT-150 Fiber, a tube-cutting laser machine designed for high-speed cutting of small- and medium-diameter tubes. With a reduced noncutting process, its use results in higher throughput, according to company officials.
The new machine, featuring a 2.5D cutting head with focus detection, employs a series of advanced technologies and optional features to streamline and automate laser-cutting tube production processes. This includes a proprietary U axis to facilitate speed and productivity while reportedly providing superior part accuracy through a range of applications. And, the programmable angle of the B axis enables bevel cutting of the material thickness, providing for improved welding, multiple tube assembly, and fit and finish.
Extrusion tapping is one specific option designed to improve productivity, with the value-added process using a rotary spindle and eight tool positions. Any tool position can be deployed for direct tapping or combined with extrusion, providing proper thread depth.
Other process-enhancement options include a spatter guard to protect the inner tube from cutting debris, and a part-sorting system with dual belt conveyors to optimize part processing. And, an optional weld-seam-detection camera provides for proper geometry orientation of the workpiece.
The FT-150 Fiber's compact layout features an ergonomic design wiith the operator area, loading station and unloading station all located on the same side. The machine's condensed footprint also allows for simple placement along a wall or between aisles. And, Mazak' CAD/CAM software, FX-Tube, allows time-study and consumption-cost data to be integrated easily into a user's ERP system, while the imported 3D-data edit function considerably reduces editing and waiting time, according to company officials.
See also: Mazak Optonics Corporation
Technologies: Cutting