Articles
Advances in Die Protection and In-Die Sensing
Tuesday, July 1, 2014
Nihil Novi Sub Sole: "There's nothing new under the sun." Maybe, but suddenly it seems that everything old is new again. In recent years, industry in general has lost numerous solid and experienced people on all levels of manufacturing. With this loss of personnel has gone a lot of knowledge. We have new people, and fewer people, in our factories all while production demands and up-time requirements continue to climb.
These challenges are being met by manufacturers and suppliers working more closely together, sharing tips and techniques for the common goal of increasing productivity, enhancing machine function and increasing profitability. Many manufacturers seek silver bullets to fix problems on the factory floor, and answers often prove elusive. While many companies see the value in ideals such as manufacturing intelligence, cloud manufacturing and traceability, they often are unsure about how to actually implement these ideals in their day-to-day operations.
Meanwhile, other forces are at play, including expanded interest in aluminum among vehicle manufacturers, and a focus on producing high-quality timely deliveries. These forces drive the need for press shops to integrate new press controls and use better sensing technology.
Let's look at some new developments, and revisit some old ideas, for addressing the issues of increased productivity and protecting tooling in metalforming and fabrication.
The Role of Education in Die Protection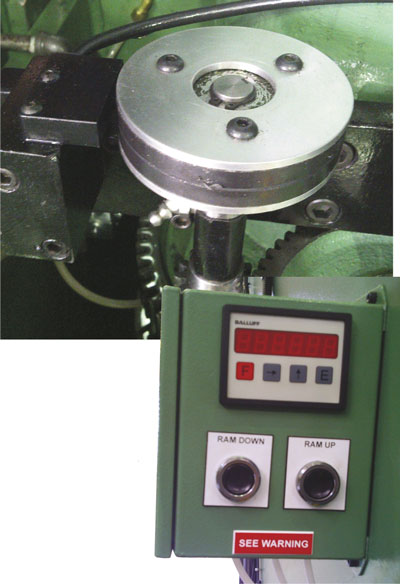 Some stampers have outfitted their aging presses with noncontact magnetic encoders to replace manual shut-height-adjustment mechanisms. A rotary magnetic encoder can be added to the press-ram adjustment mechanism, which then connects to a digital display.

There is a premium on manufacturing experience. Trying to hire someone with the skills needed to design, build or maintain automated manufacturing equipment is a difficult task for every HR department across the country. We must work to make manufacturing interesting.

In addition, investing in the education of existing employees represents an investment in productivity. To remain competitive, U.S. manufacturers have embraced automated manufacturing, and sensors sit on the front line of any automated system. Sensors provide intelligence to the system, and they take a beating when improperly installed. Even worse than a destroyed sensor is a sensor installed improperly in a stamping die, which undoubtedly will cause a misfeed or die crash at some point in the life of the tool.

A recent incident at a manufacturer in the Southeast United States illustrates the importance of well-implemented in-die sensing, and what can happen without it. Due to a combination of misfeed, bad timing, poor shut-height setup and other factors, the connecting arms to the ram on a 500-ton press were bent beyond repair. And, the mechanicals in the entire press and half of the tooling were destroyed. The press was sold for scrap.

Forward-thinking manufacturers focus on the goal of staffing their press shops with well-trained technicians and die builders. Investing in your die builders' education is an investment in die protection.

Your Competitors' Sensor Implementations

Sensors find use in-die and on the press for a variety of applications. Here are some of the most-promising technology implementations your competitors likely are using today to improve productivity and protect tooling.

Shut-Height Monitoring on Older Presses

Numerous old stamping presses operating in North America lack modern press controls, automated setup capabilities or die protection/in-die protection. Even if older presses do have some form of resolvers or glass-disc rotary encoders in place, these can be prone to failure due to vibration, contamination or other factors.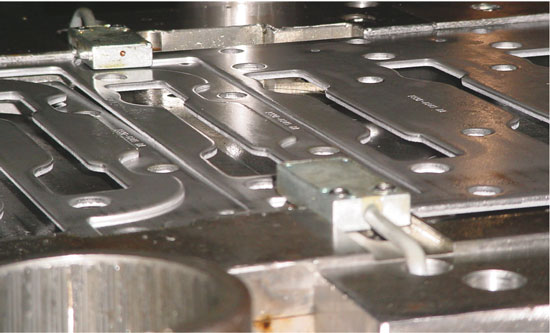 Where a tubular-style threaded may be completely unfeasible, a flatpack sensor makes easy work for the die builder.

Some stampers have outfitted their aging presses with noncontact magnetic encoders to replace manual shut-height-adjustment mechanisms. A rotary magnetic encoder can be added to the press-ram adjustment mechanism, which then connects to a digital display. With this display and manual ram control, the stamper can experience a more finite resolution for different height requirements for different products. And, if a more modern press controller is planned for the future, encoder position data can easily be integrated into a high-speed counter card.

In addition, the magnetic encoder with the press control can enable fully automated recipe-driven setup changes. Even with manual ram control, this setup allows an operator to achieve more consistent, precise and repeatable control, improving setup time and positively impacting product quality.

Sensing Aluminum Brings Challenges

As automotive manufacturers ramp up their use of aluminum, metalformers must learn how to reliably sense aluminum components in automated stamping processes. While inductive proximity sensors have long been used for die protection and monitoring (feed), the ideal target for these sensors is mild steel—ferrous content in target materials ensures reliable detection in metalforming processes.

For sensing target materials other than mild steel, such as stainless steels and copper and aluminum alloys, metalformers opt for proximity sensors that feature correction factors—an adjustment calculation that dictates how the sensor must be placed in the tool, and how far a the sensor must be from the target material. These sensors, commonly called Factor One devices, incorporate a multi-coil design that enables them to sense all metal alloys—ferrous and nonferrous—at the same sensing distance. Factor 1 sensors will eliminate a few of the painful issues encountered when switching to aluminum strip or sheet.

Don't Waste Time Threading Sensors

Inductively coupled wireless-connector systems send power across a small air gap and communicate sensor signals without any mechanical junction connection between components.


Threaded, tubular inductive proximity sensors have become the go-to standard in virtually every automated industry. However, in toolrooms and die shops this form-factor can be a pain. Die tools are heavy and complex forms, with moving parts and precision-cut tool steel. Why tap a 2-in.-deep threaded hole in the steel to accept a threaded tubular sensor? It's no wonder that many dies have no sensors or limited sensor usage. The threaded tubular proximity sensor just wasn't made for in-die sensing.

But there is a significant change happening in the design of inductive proximity sensors: flatpack housings, available in a variety of form factors and sensing ranges. A 20-mm square face can provide an impressive 7 mm of sensing distance, very similar to an 18-mm proximity sensor but with the depth of only 8 mm in some cases. Drop-in and bolt-down mounting allows for unparalleled versatility in sensing applications. Where a tubular style was completely unfeasible before, a flatpack sensor makes easy work for the die builder.

Eliminate Mechanical Connections for Quick Die Changes

While the use of umbilical connectors that energize sensors and carry signals between the die and the press controls will generally suffice, we often hear stories of fork trucks or cranes ripping out the umbilical and all the associated cables during die changes. This happens because an operator fails to disconnect the umbilical. The carnage can be breathtaking, leading to thousands to tens of thousands of dollars spent on repairs and, depending on tool usage, interrupting production.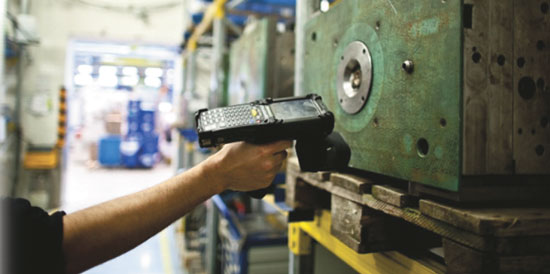 By strategically placing an RFID tag on a die, mounting a reader on the press and integrating a bit of control, stampers can reliably match a recipe for a particular shut height on the control to a die that has been presented to the press, preventing a potential crash.

For a better solution, stampers can integrate inductively coupled wireless-connector systems, to enable rapid die change; for use in joining die segments; to ease changeout of transfer arms; and for communication during transfer functions. This noncontact technology employs inductive coupling to send power across a small air gap and communicate sensor signals, without any mechanical junction connection between components. As a replacement to spring pins, commutator brushes and slip-rings, inductive coupler devices typically are resistant to coolants and lubricants and are IP67 rated. These units are as easy to use as proximity sensors and will operate maintenance-free—no mechanical wear.

Pay Attention—Sensors Tell a Story

Have you ever tried to diagnose an intermittent problem on a sensor, or tried to integrate an analog signal from a pressure sensor? Sometimes it would be easier if the sensor told us what was wrong or gave us the measurement value already calculated into the engineering units.

Time is a valuable resource. Maintenance crews and operators must quickly find solutions to problems and keep equipment running. When using analog devices on a machine, it can be difficult to find a path for the shielded cable that does not incur noise from motors or other complications.

A new technology, similar to USB but for industrial automation, is quickly gaining ground globally across automation control platforms: IO-Link (www.io-link.com, IEC 61131-9). This universal, smart and easy sensor/actuator interface allows a sensor to communicate like never before. Operating with a standard four-wire M12 tool cord, IO-Link devices can report diagnostics, provide measurement values digitally, and can be remotely programmed. IO-Link puts unprecedented data into the hands of operators, technicians, engineers and management.

Manufacturing Intelligence and Traceability

Manufacturing intelligence and cloud manufacturing are concepts that rely on every process and piece of equipment to report data. This can be a daunting task for those working with equipment that has been in place since before discos. In press shops, data flows from the dies/tools as well as from the movement of material through the facility. Technologies available to track important data include:

• Paper tags: Believe it or not, hand-written paper tags wired to containers or taped to bins still find use. The least desirable means of tracking data, tags can fall off, become soiled, or the information written on the tag can be inaccurate to begin with. But, it's an inexpensive option.

• Barcodes: 1D and 2D barcode tags prove ideal for non-robust, clean and dry manufacturing environments. However, they require a centralized database and depend on line-of-sight. The chief complaint about bar codes: If the tag becomes scratched or soiled, it becomes difficult if not impossible to read. And, barcode tags can only be read, not written to.

• Industrial RFID: This technology is robust and well-suited to harsh industrial processes. These systems can be serial, parallel or bus networked. The read/write of data is a proven technology that's been used for decades. A disadvantage to RFID over the years has been the limited (<2 in.) read/write distance. However, recent developments in ultra-high-frequency (UHF) systems allow the reader and tag to be separated by as much as 20 ft.

Finally, here are two breakthrough applications metalformers should be considering:

Shut-Height Validation

By strategically placing an RFID tag on a die, mounting a reader on the press and integrating a bit of control, stampers can reliably match a recipe for a particular shut height on the control to a die that has been presented to the press, preventing a potential crash.

UHF Tags for Tracking Material Containers

Carts and totes that move material within a plant or from a manufacturing facility to a customer often are expensive, intricate structures. This is especially true for containers used to transport critical components such car doors, hoods and truck decks. These high-value containers, often padded and secured with locking devices to prevent vibration in transit, seem to frequently become misplaced.

By integrating a UHF tag on these assets and strategically placing antennas at the loading dock, metalformers can know exactly what parts went where and account for parts and totes. UHF antennas also can be installed at the customer's loading dock to help register when and where the parts arrived, for just-in-time tracking. These systems can pay for themselves in just a few recovered transport containers.

MF
See also: Balluff, Inc.
Related Enterprise Zones: Sensing/Electronics, Tool & Die
---
Reader Comments
Posted by: Shanon on 1/30/2019 7:19:58 AM - URL: http://www.greencitysolar.net/
Everyone loves what you guys are up too. This type of clever work and reporting! Keep up the very good works guys I've included you guys to my own blogroll.
---
Posted by: Leoma on 11/10/2018 6:31:14 AM - URL: http://www.wpp.com/annualreports/2007/exitpage.asp?url=http://captainjackboattours.com/
Appreciate the recommendation. Will try it out.
---
Posted by: Melba on 11/9/2018 5:45:49 AM - URL: http://obitsarchives.org/__media__/js/netsoltrademark.php?d=greencitysolar.net
This is my first time pay a visit at here and i am truly happy to read everthing at single place.
---
Posted by: Candra on 12/31/2017 8:02:56 PM - URL: http://www.instinctif.asia/index1.html
I am often asked if leaders are born or made.
---
Posted by: Lucas on 7/16/2017 1:51:13 AM - URL: https://twitter.com/riopromotours
Existe duas decoro com acumular inclusive a escultura do Cristo, Bafagem do Alcachinado , que custa R$ 45,00 de outra maneira vá até a princípio do escultura que despesas na alta sociedade fase R$26,53 (feriados e finais a semana) e abaixamento período R$ 18,53. https://twitter.com/riopromotours
---
Posted by: Breanna on 5/17/2017 7:34:17 PM - URL: http://www.Darkhacks24.com/township-hack-online/
Hi , I do consider this is a superior site. I stumbled upon it on Yahoo , I 'll return once again.
---
Posted by: Lorrine on 5/16/2017 9:12:38 PM - URL: http://www.gameroids.com/township-hack/
I adore it when people come together and share opinions, great site, keep it up.
---
Posted by: Adrienne on 12/18/2016 9:39:48 AM - URL: http://playfreeminecraft.net/profile/18495/wilmajonson.html
Hey there! I've been following your blog for a while now and finally got the courage to go ahead and give you a shout out from Austin Tx! Just wanted to mention keep up the fantastic work!
---
Posted by: Freya on 12/18/2016 8:55:54 AM - URL: http://www.desapecatu.com/halkomentar-7-acara-8193.html
Hello, I think your site might be having browser compatibility issues. When Ilook at your website in Opera, it looms fine but when opening in Internet Explorer, it has some overlapping. I just wanted tto give you a quick heads up! Othwr then that, superb blog!
---
Visit Our Sponsors