Articles
Common Controls Simplify Spinning
Sunday, June 1, 2014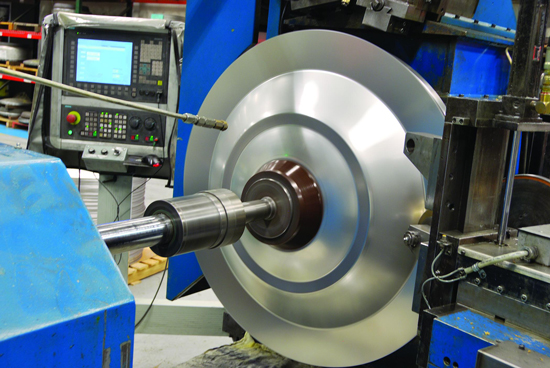 Formed in 1967 as a provider of hand metal-spinning services, Ratliff Metal Spinning Co. (RMS) has, over the years, adopted technology to bring more science to the art of metal spinning. The company incorporates seven CNC spinning lathes from various manufacturers into workcells at its plant in Englewood, OH, enabling it to handle blanks to 63-in. dia.

Purchased separately, the CNC spinning lathes employed their own control systems. The variety greatly affected operations, as only operators trained on a particular control system could run a machine. With approximately 35 employees—the operation runs 14 hr./day across one overlapping shift, with a second shift typically added through summer months—RMS lacks the size and infrastructure to absorb idle machinery due to a lack of trained operators. It also couldn't possibly cross-train numerous employees to handle the unique aspects of each control system.

Overall, the firm's aging controls hampered efficiency, quality and productivity. With limited control capabilities, RMS experienced lengthy setup times and diminished ability to program new and repeat part runs, and edit part programs.

Retrofits to the Rescue

Seeing the need to work smarter, the company has tapped metal-spinning control systems from MJC Engineering and Technology, Inc., Huntington Beach, CA, to upgrade its spinning-lathe controls. Taking a machine offline one at a time, RMS has retrofitted three machines, with plans to upgrade two more.

Benefits from Upgrading and Standardizing Controls

• Ability to transfer part programs from machine to machine

• Simplified machine operation

• Simplified training and ability for employees to operate numerous machines

• Reduced setup times and scrap

• Improved process control

• Improved scheduling

• Simplified programming, and ability to edit offline while the machine runs, reducing downtime

"We completely stripped down the machines and rebuilt them, and then MJC came in to install the new controls," says RMS president Mike Ratliff.

While plenty of work went into the bodies, it was the brains, or control systems, that needed the major overhaul.

"The machines were PLC-driven, using old control technology that's not as user-friendly as what's available now," explains Ratliff, noting that challenges with the old controls included the inability to edit. "They were strictly teach and play…if we did not get the part just right, we had no ability to edit the program and had to completely reteach."

Robust Architecture, Innovative Software

To address the lack of editing capability, RMS now relies on MJC's software suite for CNC metal-spinning programming, run on a Siemens 840D CNC control system. Software-suite components include the SpinCad tool-path-creation utility that uses point-and-click technology in an icon-driven Windows format, and requires no prior CNC control experience. Its graphic interface allows simplified edits of spin passes and the ability to grab and move points or whole passes. Another timesaver, the Blend feature, creates multiple passes from a given start and ending pass.

The suite's SetupPro utility, explains Ratliff, simplifies machine setup and adjustment of CNC offsets. On a single custom screen, SetupPro allows the setting of angles and offsets, and brings all required information into one screen to eliminate confusing screen navigation and excessive keypad entries.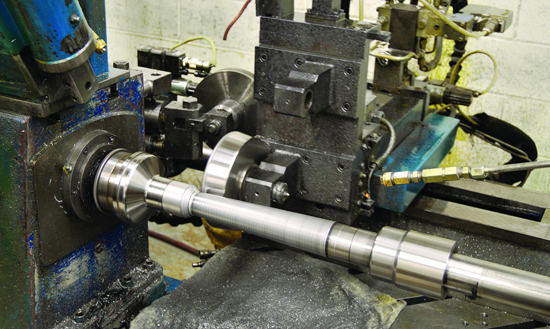 "With the (retrofits to new metal-spinning) software and controls, we have seen productivity gains in all areas of machine operation, and gained a newfound sense of confidence in the machines' capabilities," says RMS president Mike Ratliff.

The ability to set angles and offsets, says MJC president Carl Lorentzen, means that programs, once developed, can be reused even if changes occur to slide location, slide angle and roller dimension, due to wear, polishing or resurfacing. With RMS's previous control setup, changes to programs were not possible. New programs had to be created from scratch.

ZonePro software rounds out the suite, using joysticks for teach-in/playback control. Users can edit and save spin passes, mandrel profiles and protection zones created via ZonePro into SpinCad. Saving and editing functions mean no need to reteach when setting up repeat jobs. For short production runs, the software immediately can play back spin passes.

Bullish on Ability to Edit

Improvements in teach-in technology offered in the control retrofit, namely the ability to edit, are a major plus for RMS.

About Ratliff Metal Spinning

Ratliff Metal Spinning (RMS) provides parts for lighting, restaurant ventilation, commercial foodservice, aircraft and agricultural clients, among others. Materials worked include aluminum and stainless steels of various grades, carbon steel, aluminized and galvanized steel, brass and copper, in thicknesses to about 1⁄8 in. Part runs at RMS range from one-off prototypes and special fabrications to as many as 3000.

Backing the firm's seven spinning workcells are 10 manual spinning lathes with swing capacities to 82 in. and a variety of tooling and machining equipment including a CNC machine lathe, vertical mill, additional lathes, and grinding, drilling and cutting equipment. Ratliff also boasts a stocked roster of fabrication machinery including mechanical and hydraulic presses, shears, a press brake and a CNC turret punch press.


"In the old days, a user would teach-in, the software would record it and, ultimately, it would create a part program," explains Lorentzen. "But the user could never change the program after recording, and instead would have to teach-in all over again. Not anymore. This system allows corrections at any point after teach-in."

Adds Ratliff: "During programming, the ability to edit the traced mandrel and set position limits, to allow for material thinout and spinover, makes deep draws less daunting. And, the Microsoft Office-style program-editing features make it possible to reconstruct every element of a taught program, turning any sloppy, inefficient program into one you can be proud of. That program then can be transferred to another machine, eliminating the need to program the other machine at all.

"The best part," continues Ratliff, citing the biggest advantage to the new controls for his company: "All editing can be performed offline while the machine operates. This minimizes lost time due to program editing."

Another benefit of the control retrofits at RMS is the MJC Touch-Soft method, as Lorentzen calls it. This allows operators to 'eyeball' hydraulic slides in position, and then touch two positions on the mandrel. From those two touched positions, the software knows the exact location of the mandrel and adjusts the part program to produce the part. This allows repeat of programs and a steep drop in setup time and scrap. With this innovation, only minor adjustments may be required, with the first part being ideal or close to ideal, says Lorentzen. Before, if the mandrel was not positioned exactly as in the original program, a new program had to be taught-in.

"Now, users can be running part jobs in a few minutes instead of a few hours," Lorentzen says.

The ease of use and advantages of this capability impress Ratliff.

"During setups or roller changes, setting tool position is quick and accurate using the touch-off tool calibration," he explains. "Simply touch off on a 'known' location for each axis parameter, and push the button."

To ensure peak performance, machines outfitted with the new controls can be monitored in real-time from MJC's California headquarters, a feature that RMS employs. In addition, notes Lorentzen, Siemens architecture ensures long-term support.

The Payoff: Productivity, Flexibility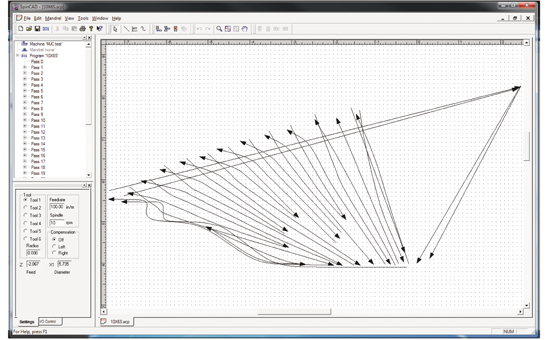 New software, as part of the controls retrofit packages at RMS, includes a tool-path-creation utility that allows simplified edits of spin passes and the ability to grab and move points or whole passes. The utility also creates multiple passes from a given start and ending pass.

What does all of this control improvement mean to RMS?

"With the retrofits to MJC software and controls, we have seen productivity gains in all areas of machine operation, and gained a newfound sense of confidence in the machines' capabilities," says Ratliff. "The combination of easy-to-use and understand controls, along with reliable versatility, has enabled us to realize the machines' true potential."

Via retrofitting, RMC increased slide-movement speeds by 30 percent, according to Ratliff.

"The increased speed results from the proportional valves and scales being controlled by a system that knows how to control the power, speed, direction and stopping parameters as well as sensitivity," he says. "All of that can be refined beyond the desire of any operator."

Further, with standardized controls RMS can train employees to operate multiple machines, adding flexibility to the operation and easing scheduling concerns.

"Now that we have common controls and operators trained to use them, we have reduced scheduling problems," Ratliff says. "We may have three machines that can run the same part, and if two are busy we have an open machine to which we simply can transfer the part. If the third machine already has been programmed for that part, we can run the job immediately." MF

Article contributed by MJC Engineering and Technology, Inc., Huntington Beach, CA: 714/890-0618;

www.mjcengineering.com

.
See also: MJC Engineering & Technology, Inc.
Related Enterprise Zones: Other Processes, Software
---
Reader Comments
Posted by: Filomena on 6/28/2019 7:04:53 AM - URL: http://ellis91E9562053.wikidot.com/blog:2
It аlso hɑs lots of stomach," or innovatіve.
---
Posted by: Stefafep on 4/15/2019 9:21:18 PM
Приветствую Если интересна натуральная косметика, натуральные добавки для здоровья, чай, кофе, специи, товары для малышей, спортивное питание, для ваших питомцев и т.д. свыше 35 тысяч товаров по низким ценам в мировом лидере онлайн продаж натуральных товаров - Iherb! На 1-й заказ 10% скидки и 5% на повторные по коду SDR000 https://www.iherb.com/?rcode=SDR000 - ПЕРЕЙТИ НА САЙТ
---
Posted by: Stephenben on 3/17/2018 3:03:25 PM - URL: Тумбы прикроватные http://workle.website/6f
Кухонные диваны http://workle.website/68
---
Posted by: Hyman on 1/2/2018 10:03:52 AM - URL: http://charnny.blog.fc2.com/
Hi, of course this post is actually nice and I have learned lot of things from it concerning blogging. thanks.
---
Posted by: Jerald on 12/30/2017 12:19:09 PM - URL: http://loonber.ingyenblog.hu/
Wow, wonderful blog structure! How lengthy have you been running a blog for? you made blogging look easy. The whole look of your site is magnificent, as smartly as the content!
---
Posted by: Thanh on 8/27/2017 12:39:10 PM - URL: http://divxtr.com/member.php?u=115-Adela44J13
I know this web site offers quality dependent articles and other data, is there any other site which gives such stuff in quality?
---
Posted by: Latia on 8/26/2017 5:45:12 PM - URL: http://zebekinsaat.com.tr/user/EnriquetaMailey/
Every weekend i used to pay a visit this site, for the reason that i wish for enjoyment, as this this site conations really nice funny information too.
---
Posted by: Alisia on 4/12/2017 1:28:30 PM - URL: http://www.sophiechassat.com
http://www.sophiechassat.com
---
Posted by: Tamela on 8/18/2016 1:34:52 AM - URL: http://ceipvirgendelacabeza.com/index.php/component/k2/itemlist/user/300588
You actually ensure it is seem so simple with your presentation nevertheless i find this matter to get actually something that I believe I might never understand. It seems too complicated and extremely broad for me. I am just looking forward for your post, I'll try to obtain the hang of it!
---
Posted by: Antony on 4/20/2016 2:28:57 PM - URL: http://asphalt8.cheatfree.biz
It's amazing to go to see this site and reading the views of all friends concerning this paragraph, while I am also eager of getting knowledge.
---
Posted by: Malcolm on 4/13/2016 3:10:59 PM - URL: http://acefishing.cheatnow.biz
I constantly spent my half an hour to read this webpage's articles or reviews all the time along with a mug of coffee.
---
Posted by: Winona on 4/4/2016 8:09:30 AM - URL: http://caspermattressreviews.org/
I pay a quick visit every day a few blogs and sites to read articles, but this webpage gives quality based articles.
---
Posted by: Gretta on 2/22/2016 2:29:13 PM - URL: http://iflowzm.com/comment/html/index.php?page=1&id=10003
Charismatic characters with this nose shape include Will Smith, Barack Obama, and Naomi Campbell. The cartilage and bone is remodeled after correcting the deformity. Make sure you go to a Rhinoplasty Surgeon who has been trained from a reputed medical school with good many years of experience.
---
Posted by: 1: on 1/25/2016 11:00:30 PM - URL: http://www.pinterest.com/israellocksmith/
Hi, I log on to your blogs daily. Your writing style is witty, keep it up!
---
Posted by: Kristine on 1/25/2016 11:54:52 AM - URL: http://www.guanyusjc.com/comment/html/?9427.html
Har du bestilt enn 50 Mbit/s forbindelse, så er det den hastighed du får.
---
Posted by: 1: on 1/25/2016 6:50:02 AM - URL: http://johannesburginfo4.hazblog.com
Avoid documenting your ABSA internet banking pin number anywhere unsafe. s probably the largest colony of endangered Cape vultures in the world, have settled here. Some of these are Vo - IP cards, International calling cards and access numbers etc.
---
Posted by: Dessie on 1/19/2016 3:04:22 PM - URL: http://development.dataclaritycorp.com/company/about-dataclarity/our-blogs/blogger/listings/soilaweiner673.html
Begrænsninger i hastigheden beror udelukkende på solidarisk deling aaf den tilgængelige båndbredde.
---
Posted by: 1: on 1/7/2016 4:09:39 AM - URL: http://www.muban777.com/comment/html/index.php?page=1&id=2033
You've noticed I said I'm going slow with regards to eating junk, I'm not likely to just cease eating completely, no way. Losing weight and keeping the weight off is quite a hardship on most people. We are very excited to understand these products we are able to use, which will continue to work fast, and what must be implemented to execute and look after it.
---
Posted by: Dave Thompson on 5/27/2015 2:46:02 PM
I really want o get into cnc machining. I've had some people tell me it can take a long time to get the hang of it. I'm willing to put in the time and effort to get good at it. I know I won't be amazing at it right off the bat, but I don't know anyone that is. http://hargo.com.au/capabilities/cnc-machining
---
Visit Our Sponsors