Articles
Large Mill Means Victory in Machining Large Progressive Dies
Monday, August 1, 2016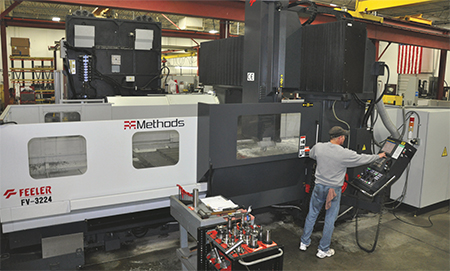 With its new, heavy-duty, double-column bridge mill and 90-tool automatic changer, Victory Tool has been able to manufacture large, complex dies inhouse. "The bridge mill has significantly expanded our machining envelope—our x-axis capability has been doubled and y-axis reach has been tripled," says Nick Meixell, lead programmer at Victory. "This gives us a large platform to set up each job one time to machine big die sets for the tools we build."

Victory Tool, an Anoka, MN, tool-and-die manufacturer, was in a quandary, and it needed to find a better way. The company had been outsourcing the machining of large, complicated progressive die sets and components. Though outsourcing work can be costly, keeping that same work inhouse, without the right equipment, can minimize flexibility and hinder efficiency. Just what could Victory Tool do?

Founded in 1987, Victory and its 27 employees manufacture metal-stamping dies in 20,000 sq. ft. of space, with sales averaging $4-5 million annually. Customers include OEMs and metal stampers in a range of industries including automotive, aerospace, medical, recreational, lawn and garden, and appliance.

"We manufacture very large and often complex metal stamping dies for Tier One stampers and OEMs, and progressive dies are our specialty," says Bob Lynch, president of Victory Tool. "Delivering these jobs on time to exacting accuracies and specifications is paramount."

Victory typically machines carbon, tool and hardened steel such as D2, A2, 4140 and hot-rolled. Each stamping die is unique, based on customer requirements and the complexity of the part.

"It is not uncommon for us to hold tolerances to 0.0005 in. based on the design of the die," says Nick Meixell, lead programmer at Victory. "We also frequently hold 0.0002 in. on a press fit for guild pins and other intricate features."

Victory Stays Inhouse for Large-Die Builds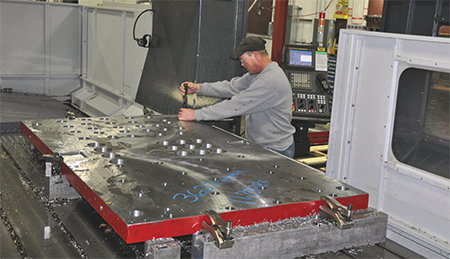 The new bridge mill readily works carbon, tool and hardened steel such as D2, A2, 4140 and hot-rolled, enabling Victory to tackle many complicated jobs, such as large, progressive stamping dies with tight tolerances and multiple, complex features.

Victory was outsourcing the large die components, or moving them around on the beds of its inhouse milling machines to perform machining in stages. At the time, Victory had two vertical machines and one horizontal machining center.

"This practice is not ideal and is error-prone, requiring extra attention from the machinist or it could lead to quality issues and extra setup time," says Fred Simonson, Victory general manager. "Our largest capacity for machining was 64 in. on the x axis and 32 in. on the y."

The company was spending too much time on setups and re-machining of components due to these limitations.

"By late-2013," explains Lynch, "we recognized that we could be doing this more efficiently inhouse if we had the right equipment and technology."

Victory's machine-tool provider, Concept Machine Tool, Minneapolis, MN, recommended that Victory consider a Feeler FV-3224 50-taper, heavy-duty, double-column bridge mill from Methods Machine Tools, Inc. (Sudbury, MA) to solve its manufacturing challenges. Victory decided to move ahead and purchase the bridge mill, and by April 2014, the machine was delivered and installed.

The FV-series mills include extensive design and engineering by Methods to facilitate the production of large components, and feature THK linear guideways on the x axis and Schneeberger roller linear guideways on the y axis. A stepped y-axis beam along with the machine weighing as much as 82 tons contribute significantly to rigidity.

With the mill's ample axes travels–126 in. on the x, 95 in. on the y and 35 in. on the z–Victory can machine large parts inhouse.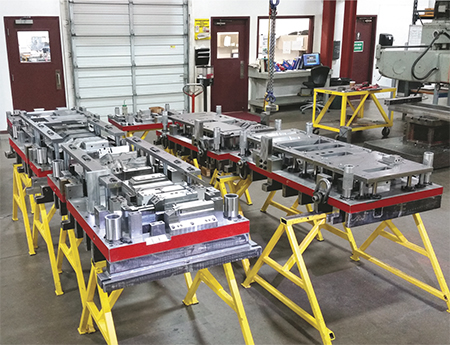 Victory manufactures complex dies for Tier One stampers and OEMs, with progressive dies its specialty.

"The bridge mill has significantly expanded our machining envelope–our x-axis capability has been doubled and y-axis reach has been tripled," says Meixell. "This gives us a large platform to set up each job one time to machine big die sets for the tools we build."

Automatic Tool Changer Boosts Efficiency

"In previous years, it was not uncommon for us to outsource $100,000-$200,000 of work annually due to our inability to handle larger sizes," explains Simonson. "Since we purchased the bridge mill, we have not outsourced any jobs due to workpiece size, and by keeping this work inhouse we have saved 30-40 percent in outsourcing costs during one year's time."

Victory also takes advantage of the mill's versatility by running a range of jobs with a variety of workpiece sizes, from small to large.

To improve efficiency, in August 2014, a custom 90-tool automatic tool changer (ATC), the first of its kind installed in the United States, was added to the mill. The ATC has greatly reduced set-up times and increased efficiency to meet tight-tolerance specifications versus Victory's older machines, which only offer 24-tool selection. Typically, Victory uses 76 tools each day, so tool standardization is key to minimizing tool changes, saving time and reducing required programming.

"Setups are much quicker because the tools are already loaded into the machine," says Simonson. "We calculated that we are saving more than $70,000 annually with the 90-tool ATC alone."

Adds Meixell: "Most shops are trying to accomplish similar work with 30 or 40 tools. We have a dedicated set-up crew that is very impressed with the time savings as well as the advantage the ATC brings in more efficiently meeting high-accuracy requirements."

Part Complexity No Problem

Victory tackles many complicated jobs, such as large, progressive stamping dies with tight tolerances and multiple, complex features.

"Some customers give us die specifications totaling 40 pages or more, so we have to be in close touch with them throughout the jobs in order to meet their part requirements," says Meixell. "The complexity can be daunting, but having efficient machining capability inhouse with the new bridge mill has significantly increased our throughput and accuracy. We can collaboratively work with our customers who are confident with our capabilities, and so are receptive to our ideas that sometimes include alternative engineering/design methods."

Acquisition of the Feeler mill has far exceeded Victory's original expectations, with the company expecting an ROI of less than three years. Simonson and his team are impressed with the rigidity and reliability of the mill, and are confident enough to run the machine unmanned.

"We set up a job before a shift ends and run it lights out–sometimes to 20 hr. unattended," Simonson says. "This allows an operator to multitask, and work on other jobs."

And, as word has gotten around in the metalforming industry about Victory's large bridge mill and its capability to take on a broader range of work, Victory is now taking on the machining of large plates.

"We are extremely pleased with our decision to bring in the bridge mill," says Lynch. "Now we are able to take on new business and increase sales while reducing cycle time and scrap." MF

Article provided by Methods Machine Tools, Inc., Sudbury, MA; tel. 978/443-5388, www.methodsmachine.com. Information also contributed by Victory Tool, Anoka, MN; tel. 763/323-8877, www.victorytool.com.
See also: Victory Tool, Inc., Methods Machine Tools, Inc.
Related Enterprise Zones: Other Processes, Tool & Die
---
Reader Comments
Posted by: Joanna on 1/18/2018 8:12:37 PM - URL: http://bit.ly/2EWLfYx
Hey there! I just wanted to ask if you ever have any issues with hackers? My last blog (wordpress) was hacked and I ended up losing many months of hard work due to no data backup. Do you have any solutions to protect against hackers?
---
Posted by: Bob Stanislaw on 8/10/2016 10:17:00 AM
Congratulations to the team at Victory. The machine is a nice fit.
---
Visit Our Sponsors