Articles
Banking on Office Furniture
Thursday, November 1, 2007
Flying under the metalforming and fabricating radar, the metal-furniture market, especially its office-furniture component, quietly and steadily improves. It's not in the news like automotive, and it's not the next big thing like medical, but the furniture market offers suppliers familiar with its unique structure a dependable work and revenue source.
Consider that U.S. office-furniture production reached $10.82 billion in 2006, according to the Business and Institutional Furniture Manufacturer's Association—a 7.4-percent increase over 2005 production, which itself had grown 12.7 percent over 2004. That marks three years of substantial growth, following a down period from 2001 to 2003. These statistics hint that the industry essentially mirrors the economy. Further confirmation: U.S. office-furniture production grew every year from 1992 to 2000 during a sustained U.S. economic expansion. Similar trends describe home furnishings.
With office and residential furniture chock full of metallic components, a well-positioned metalformer or fabricator can succeed in this market. And, furniture supply, more so than other sectors, tends to remain local. For example, office furniture sold in the United States in 2006 totaled $12.86 billion, according to BIFMA figures, with all but $2.5 billion of that produced here. Canada is the main trading partner in this sector, supplying about 45 percent of imports while responsible for 50 percent of U.S. exports. It's important to note, however, that China, is making a dent, as that country is a big reason why U.S. imports from Canada have fallen off from nearly a 60-percent share of total imports in the late 1990s.
So foreign competition certainly is something for furniture-part suppliers to watch out for. And just what else defines the uniqueness of the furniture market? We asked one major supplier of rollformed products how it copes.
The State of Office-Furniture Supply
The 1400 employees of Shape Corp., headquartered in Grand Haven, MI, serve the automotive, office furniture, agricultural, recreational and appliance industries. An important part of that is rollforming parts for open-office panels. These include frame members, shelving, top caps, base covers and electrical races.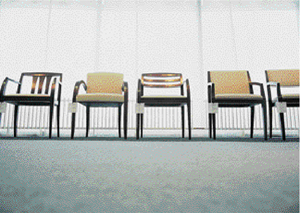 Metal-furniture production demands the ability to provide various-sized runs of varied parts, necessitating flexibile production equipment and flexible scheduling.
So what's the state of office furniture supply from Shape Corp.'s perspective?
"I can remember the days when if you could guarantee that your prices would only increase 3 percent per year, it was a selling point," says James Rosasco, Shape Corp. vice president, speaking of supplying to office-furniture customers. "Those days are gone. The furniture market is like any other market today—everyone continues to look for s to get more for less as they compete for market share. There is a lot of capacity and fierce competition between office-furniture companies, and suppliers that serve these customers must bring value to help them compete."
Given that the largest portion of Shape Corp.'s business is automotive work, supported by a conglomerate that also performs plastic-injection molding, painting, stamping and assembly, the company is keenly aware of advantages and disadvantages in producing for the furniture industry as compared to the automotive sector.
"Today, U.S. manufacturers, whether supplying automotive, office furniture or any other industry, must have a unique product or process capability to survive," Rosasco says. "Commodity-type suppliers will continue to be driven out of business by low-cost offshore suppliers and stateside competition that does not have a clear understanding of its costs. And without consistent quality, a manufacturer will not be in business long—quality no longer is a selling point but rather a baseline expectation of doing business."
Compared to automotive supply, furniture part volumes and sales dollars generally are lower, notes Rosasco. And competition draws another distinction between the two segments.
"Many furniture companies perform their own rollforming, particularly with simpler high-volume jobs," he says. "Inhouse costs do not als include items such as SGA (selling and general administrative expenses) and profit when compared to outside suppliers, making it difficult for outside suppliers to compete. Automotive inhouse costs generally are higher, allowing outside suppliers a better opportunity to compete."
"Schedules for office-furniture companies can be very unpredictable, forcing suppliers to carry more inventory to react to short-lead-time demands," he continues. "Also, furniture companies expect their parts suppliers to manage the raw-material costs and often times hold them accountable when raw-material costs rise. Automotive customers, on the other hand, often assume the responsibility for raw-material costs and generally guarantee the material costs to the supplier for the life of the program, usually about 5 years."
Shape Corp. also deals with many more part numbers on its furniture side, demanding a higher level of scheduling and job-change proficiency.
"Our typical automotive job might have one or two part numbers, but a furniture rollforming job might include 15 lengths and 24 colors or 360 different finished-part numbers," Rosasco says.
That said, Rosasco points to a high sense of loyalty and the penchant for paying on time that makes office-furniture supply an overall positive experience. He also discusses other characteristics of the two customer bases.
"At the early stages of a new program, the design and engineering side of servicing the office-furniture companies is less involved than it is with our automotive customers," he explains. "Furniture companies perform most engineering inhouse with input from the supplier. Automotive customers, conversely, depend much more on suppliers to design and engineer products. Once a program launches, however, the automotive business is much easier to manage due to more consistent schedules, higher volumes and dedicated lines requiring less changeover and less inventory.
Whatever the realities of dealing with various markets, Shape Corp. will continue striving for diversity.
"At the end of the day, we'll continue looking for s to diversify our customer base," Rosasco concludes. "We prefer not to be too dependent on one industry in the event of a downturn."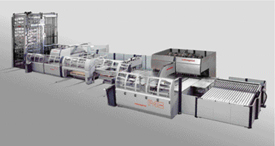 With its new shearing, punching and bending system, Teknion Concept can produce components for overhead storage units much more quickly, according to company officials.

Automated Panel Production Boosts Efficiency

Another supplier has focused on fabricating technology to keep and grow its customer base. Teknion Concept, Levis, Quebec, Canada, part of Toronto-based Teknion, manufactures office-furniture products including overhead storage cabinets. The company struggled to meet corporate goals for turnaround time on production of metal components. Quick production is a must as Teknion Concept works with three other Teknion plants to supply and integrate components into assemblies, and the plant was falling behind the others—essentially the weak link in the chain, according to Yves Lamontagne, plant manager. And with orders increasing, Teknion Concept couldn't afford to fall behind.

Shear, Punch and Bend with One System

Looking to shorten part-production times and maintain flexibility for varying work, in 2006, the plant installed an S4+P4 FMS (Flexible Manufacturing System) from Salvagnini. The system combines an S4 punch and shear unit and a P4 panel bender. The two can operate together or as separate units, each with its own automatic load/ unload capabilities.

The S4 features a patented multi-press punching head. Unlike turret presses, which must be indexed before each operation, all of the S4's punching tool stations are 'live,' according to Salvagnini officials. That eliminates tool-change time, with software optimizing and reducing sheet travel. The S4 at Teknion Concept features more than 60 tool stations, and the unit also incorporates a shear, integrated with the multi-press head. The right-angle shear system makes cuts of any length along both axes, thus can shear any sized blank from sheet.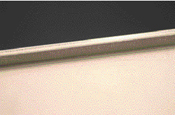 The panel bender at Teknion Concept provides consistent accurate bends similar to this one, according to company officials, allowing the company to replace time-consuming fastening operations and instead assemble cabinet panels via the folded panel edge.

The P4 flexible bending cell bends sheetmetal several times along one or more sides. It features a single, universal bending tool—rather than interchangeable pieces of hard tooling—that functions regardless of the type of bend required or the material gauge. To reduce production time, the P4 runs automatically thanks to pre-programming via integrated CAD software, and its sheet manipulator allows an unlimited number of bends without removing a panel from the machine.
Drastic Reduction in Lead Time
The self-loading FMS at Teknion Concept automatically nests, cuts and punches to produce similar panels or different panels that together form a kit. Where the plant once struggled to supply its products within 10-day timeframes, the FMS has enabled it to whittle that down by more than half due to elimination of time-consuming multiple press-brake and turret-punch-press operations. And FMS capability has led to design changes that speed production. For example, Teknion Concept previously bent and assembled panels, including the welding of stiffeners, and added reinforcement bars to produce overhead cabinet doors. With the FMS now providing precise folds and accurate panels on a consistent basis, components no longer need to be welded or screwed together. Instead, the sheets simply snap together. As a result, the plant reduced production time on the panels from 10 min. to less than 1 min.
Saving additional time, the elimination of sanding due to precise cutting by the FMS means that parts travel directly to the plant's paint line following production. And with material costs als a concern, the precise cuts enabled Teknion Concept to reduce material use by 25 percent. With the savings, the plant was able to recoup its investment in the FMS by the end of 2006. MF
See also: Salvagnini America, Inc.
Related Enterprise Zones: Automation, Fabrication
---
Reader Comments
Posted by: Mebel Jepara on 2/5/2014 8:25:16 PM
Hi there,I enjoy reading through your article post, I wanted to write a little comment to support you and wish you a good continuationAll the best for all your blogging efforts.
---
Visit Our Sponsors