Metal-Cutting Technology e-Learning Program
January 1, 2014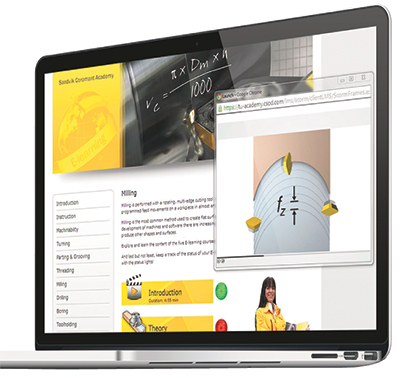 Sandvik Coromant, Fair Lawn, NJ, has launched an interactive Metal Cutting Technology (MCT) e-Learning program. This comprehensive online program comprises a 75-course curriculum packed with information and expertise about the metal-cutting process. Designed for engineers, programmers, operators and students, the unique training and education program explains the fundamentals of metal cutting and specifically teaches about internal and external turning, parting and grooving, milling, drilling, threading, boring and tool holding.
Says Sandvik Coromant U.S. president Jamie Price:
"This program will help people who want the most up-to-date information get the most value and productivity from their tools. They can learn at their own pace and as they want to learn it. We are using the latest training techniques to help people understand the best s to use their cutting tools."
Designed to allow users to work at their own pace on their own schedule, the MCT e-Learning program can be accessed at www.metalcuttingknowledge.com through the Sandvik Coromant Academy portal. The program combines multiple learning formats including video, animation and question and narration. Users can test their knowledge and receive a Certificate of Completion.
Sandvik Coromant: 201/794-5257; www.sandvik.coromant.com
See also: Sandvik Coromant Company
Technologies: Training