Abrasives and Hands-On Training
October 1, 2017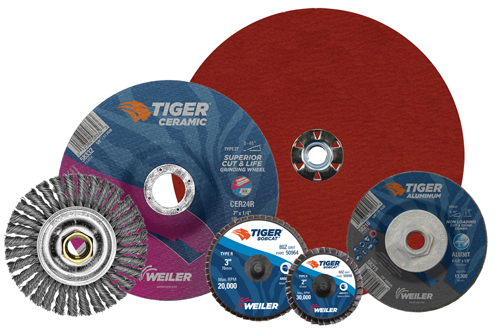 Weiler Abrasives Group
Booth B23058
Weiler will show the latest in abrasives as well as resin-fiber and flap discs for weld preparation and cleaning. In addition, attendees will have the opportunity to learn best practices and experience the products firsthand through hands-on training on difficult-to-cut-and-grind materials such as aluminum and stainless steel. New products to be displayed:
Tiger ceramic cutting, grinding and combination wheels

Five resin fiber discs: Tiger ceramic, zirc and aluminum, and Wolverine zirc and aluminum oxide

Roughneck max stringer bead wheels—4-in. carbon-steel and stainless-steel brushes

Tiger BobCat mini-flap discs

Tiger aluminum cutting, grinding and combination wheels.
See also: Weiler Corporation
Technologies: Training