Heat Treating Out…Make Way for More Stamping
Introducing PMA President David Klotz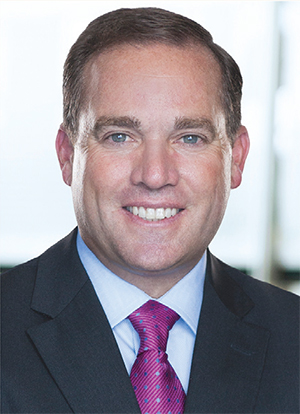 David Klotz became president of PMA on February 1, 2019. He has been involved with PMA as a member for more than 20 years, serving numerous terms on PMA's board of directors, on its Executive Committee, as a founding member of its Next Generation networking group and as an officer of the East Michigan District. He also served as chair of PMA's Tooling Division.
Professionally, Klotz most recently has been president of Tebis America, a developer of CAD and CAM software for tool, die and mold manufacturing. Prior to joining Tebis, he was senior manager of automotive and industrial mid-market for ERP-system provider Plex. And, earlier in his career, Klotz worked as a senior accountant and then vice president of finance and operations for coil-handling equipment manufacturer Dallas Industries.

Touring the plant with Roberts and Fagnant, the evolution here becomes immediately evident. On the way out: an array of heat treating ovens and support equipment. On the way in: high-volume stamping of aerospace and medical parts. Of note: stamped stainless steel tie bands (think sheet metal zip-ties) for the aircraft industry, used to terminate connections and shield cables from EMI; and laryngoscopes, precision medical instruments. Qualtek stamps the tie bands (7 to 10 in. long by ¼ to 1 in. wide) on its servo presses, in volumes measured in the millions; each airplane might have 5000 to 6000 of these bands installed on it. The bands then are passivated at Qualtek—a perfect example of its vertical integration capabilities. The same can be said for the one million laryngoscope components it stamps per year, which are deburred and electro-polished—a process Qualtek developed to create a matte finish preferred by surgeons.
"Having used servo-press technology for 10 years now," explains Fagnant, "has allowed our tool and die makers to learn how to design tooling to take advantage of what servo presses can do. The ability to slow the ram at impact, for example, lets us design very tight punch-die clearances and improve dimensional tolerances of stamped parts—critical for our aerospace and medical work."
As an example, Fagnant showed us the "next generation" of tie bands, down-gauged by as much as 35 percent to reduce weight and improve aircraft fuel efficiency. Stamping these thinner parts to tight tolerances requires the precise process control provided by servo presses—and the expertise of the Qualtek die-development team.
"In addition, Fagnant adds, "the servo presses improve the shop environment for our operators—the presses, compared to conventional presses, run more quietly, produce smaller burrs on the parts, and produce less head/friction in the die."
Robert adds: "In 2018, we began stamping near-fineblank-quality parts on the servo presses, holding tolerances as tight as 0.0002 in. With simultaneous investments in quality inspection equipment and ERP software (Global Shop), we have positioned ourselves for future growth, and success."
See the Problem, Fix the Problem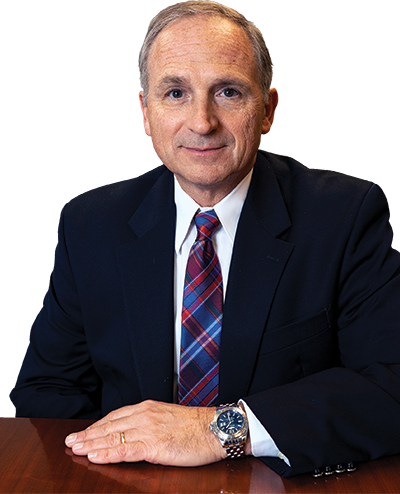 Troy Roberts cut his teeth auditing manufacturing companies, after receiving his Bachelor of Business Administration degree in Accounting in 1983 from the University of Texas (and helping to put himself through college working as a roughneck in the Texas oil fields). In 1988 Roberts left the CPA firm to become the controller at one of his manufacturing-company clients.
"As an auditor," he recalls, "I learned how to view business through a financially focused lens. However, I found that career path uninspiring, always looking at the health of a company in the rear-view mirror. When I moved to industry, I was very aggressive at identifying issues and opportunities for improvement, and then tackling them. If I see a problem, I want to fix it—that's my nature."
That attitude and drive has served Roberts well in his career in manufacturing, and promises to serve PMA well in the coming year. After serving as controller at the manufacturing company, Roberts moved up to CFO and then to senior vice president of operations and finance, over an 8-yr. period. In 1996, Aida recruited him to become CFO, to help manage its fast-tracked green-field facility launch in Dayton, OH.
Roberts became vice president of operations/CFO at Aida in 1999, and in 2001 moved over, at the request of group CEO Kimi Aida, to become managing director of Aida Europe, in Derby, England. He led the company's acquisition team that purchased the assets of the Manzoni/Rovetta Group in Italy, before returning home to serve as president of Aida America, in 2004. That marked the start of his immersion in the North American market, and all things PMA.
"I had learned a lot about the European metal forming market," Roberts says, "but needed to learn more about the North American market. PMA helped me get plugged in quickly to the market and the customers."
Roberts and many of his senior managers quickly became involved, to learn about stampers from the inside out—their challenges and what they needed from their suppliers. And, they became a resource during the lightweighting boom that challenged so many stampers.
"We also learned, by participating in PMA events," Roberts explains, "about the many issues we face as an industry—tariffs, the automotive-market challenges, etc. And, my nature is that if I see something broken, I want to help fix it. That's how I'm wired, and why I've been motivated to continue to contribute to PMA, and why I sought its highest office as chairman."

Learning the Industry—from the Stamper's Perspective
Roberts' relationship with PMA has proven vital, he says, as he has transitioned from press supplier to press user. He first became involved with the association in 2004 during his tenure with Aida, and continues today.
"In 2004, I returned to the United States as Aida America Corp.'s president, after serving as president of Aida's European operations," shares Roberts. "Frankly, I didn't know the North American press market very well, especially at the various tiered levels. Becoming involved with PMA at the Board level and participating in educational and networking events, such as the annual meeting (now called Forming our Future), proved extremely useful in many ways. I met the decision-makers of many potential customers, and I was able to learn about the challenges and opportunities in the North American market. That knowledge provided Aida with valuable insights when developing products to address those challenges. Now that I'm on the manufacturing side of the industry, my colleagues at Qualtek continue to find opportunities to leverage PMA's services to support our business."
Case in point: Qualtek human resources manager Lori Wise, who joined the company in May of 2017. Among her charges: find cost-effective ways to invest in developing the skills and talent of the company's employees.
"We are a lean organization," she says, "and, as such, our struggle has been to free up the time and the resources for training. We feel PMA's METALFORM EDU is a great solution for us."
Leading Qualtek's efforts to immerse team members in skills development, Wise pledges that "we will be signing up every one of our employees. We are currently evaluating the skill sets of each employee and identifying training based on his/her individual needs. METALFORM EDU is a one-stop platform for new-hire onboarding, providing opportunities for employees to learn new skills, as well as leadership development.
"We believe that training is vital—to the company and to our employees," Wise continues. "Providing training through METALFORM EDU will help our employees develop the needed skills and abilities to help them further their careers, while contributing to the overall business goals of the company. We will implement the industry-specific training developed by PMA, and use the basic courses on safety, management training and quality built into the system. In addition, PMA also provides free monthly webinars for industry-specific training, as well as quarterly webinars for managers' professional development."
Wise also appreciates the ability to share ideas with other human-resource professionals working in the metal forming industry, via PMA's HR networking group.
"As an HR department of one," says Wise, "I find the PMA HR listserv (e-mail-based networking group) an amazing resource. It's a large group of other HR professionals working in our industry, comprised of talented professionals who are willing to share their knowledge and information; brainstorm and bounce ideas off one another; and share policies, procedures and best practices. Most recently, the group has helped me reshape and standardize our job descriptions."
Wise also notes an added bonus of being a PMA member—the opportunity to participate in its several benchmarking surveys. "For example," she says, "the PMA wage and benefit report provides us access to compensation data for all of the positions within our company. And, using the new Dynamic Benchmarking program allows users to customize search results by criteria such as company size and region. It's a great tool for us, to ensure we remain competitive in regards to wages and benefits. This helps us attract and retain the best talent."
At the Ownership Level
…PMA also offers excellent opportunities for benchmarking and for networking with peers. Fagnant explains: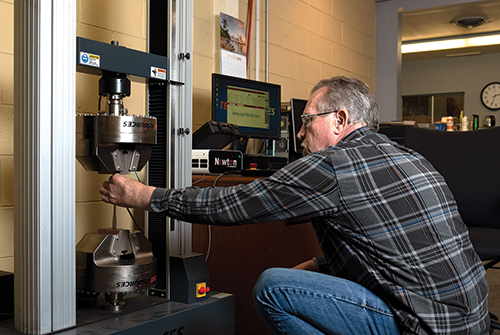 Since joining Qualtek in 2016, Roberts has invested in, among other areas, quality control. Included is this Test Resources tensile-testing machine, demonstrated here by director of quality Jim Chamberlain.
"When I came to work for the company full time in 2012, in charge of managing our energy use in the business, I also used my time to survey how we could better leverage our membership in PMA. One of the first things I did was participate in the HR roundtable—we didn't have an HR person on staff at the time. I met HR folks via the roundtable, explained what we were trying to do here with HR, and that group helped me write the job description that led to us hiring a part-time HR person, and then eventually to hiring Lori."
Fagnant also volunteered to serve on the PMA education and training committee, and in 2015, he completed PMA's Executive Development Academy, along with his parents, the owners of the company. It's there that he met Randy and Bill Bennett, of Cleveland, OH-based metal former Automation Tool & Die.
"That relationship," says Fagnant, "along with several others that have resulted from my involvement in PMA, has proved immensely beneficial. We had been evaluating new ERP systems for some time, and I was able to talk to the Bennetts about how they use their system, Global Shop Solutions, which in the end we wound up buying. We spent 3 years evaluating ERP systems, and having the Bennetts as part of our networking group, visiting them and talking to their people about Global Shop was a huge benefit."
Eventually, Fagnant and others worked with PMA to form its newest executive-networking group, called the Press Club. Also a founding member of that group: new PMA president David Klotz. MF

See also: Precision Metalforming Association
Technologies: Training