Technology Evolving to Provide New Advantages and Flexibility
In 1994, Komatsu introduced its first hydraulic servo-driven press, with AC-power servo-drive units debuting in 1998. As a pioneer in the development of servo-drive presses, the company has witnessed the technology's trajectory from mysterious, high-investment "new kid on the block" to must-have equipment for those handling difficult-to-form materials and needing to accomplish more work in the press bed.
Servo-drive press technology is seeing rapid acceptance in precision medical and aerospace applications, as well as in electrical and other industries, says James Landowski, vice president of Komatsu America Industries, LLC.
"In applications where part tolerances are critical, a servo-drive press, with accuracy measured in microns, fits the bill," Landowski says. "Often, smaller, precision-tolerance parts are produced in lower volumes, perhaps at speeds of up to 40 strokes/min. as compared to higher-volume, higher-tolerance automotive parts that may run at speeds exceeding 60 strokes/min. The higher the speed the less the need for the programmable slide motion of servo-drive presses."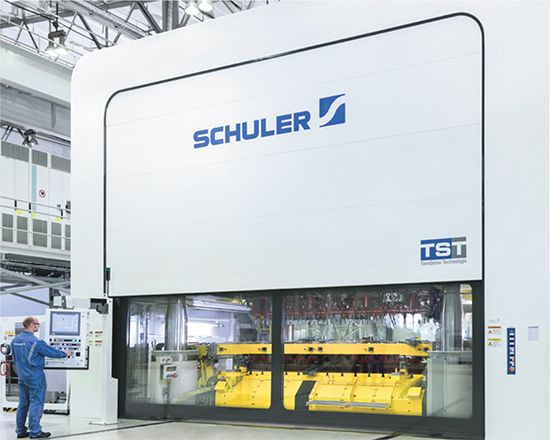 Schuler introduced its new TwinServo press at EuroBLECH 2012, boasting a new drive concept with two decentralized servo motors in the press bed. The design, we were told, enables a more compact press and, since the drives are located in the foundation, greatly reduces noise compared to standard servo-press models.

While precision represents one advantage offered by servo-drive technology, there are many others. Over time, as servo-drive presses have evolved so must users continue to learn how to use the equipment to its greatest potential.

"We emphasize that customers must think 'out of the box' and use the servo press as part of a manufacturing system and not just as a press," explains Landowski. He notes, for example, how the technology has helped metalformers Waukesha Metal Products, Industry Products Co., Perforated Tubes Inc. and others tackle issues related to working with myriad materials and part jobs, all with differing process parameters. It is the flexibility of servo-press technology that makes it ideal as a system that can meet diverse challenges for companies with diverse production requirements.

"For example," Landowski says, "you don't need the typical long stroke of a mechanical press for transfer applications, as you can control motion of the slide throughout the stroke."

As a result, one press can handle transfer and progressive-die applications.

Landowski also points out how recent advances in the technology make servo-drive presses even more flexible, and offers a case in point.

"Digital features," he explains, "can control tonnage by auto-adjusting die height on the fly to compensate for variations in material thickness."

Komatsu has developed a dual servo-drive system with independent control and monitoring of each connection point's (right/left) actual position. The press control constantly monitors slide position with reference to the bolster. The standard linear scales feed slide position back to the control and adjustments to die height are made automatically to maintain slide-to-bolster parallelism within microns. The system compensates for off-center loading, which causes tilting of the slide, not possible without independent point control. Safety and reliability are assured via constant position monitoring of the main shaft angle, motor encoder and slide.

Think Energy Efficiency and Die Compatibility

Schuler's Andreas Kinzyk sees incentivized energy efficiency and the somewhat related discarding of obsolete equipment as European trends making their way to North America. Kinzyk, director of sales-Americas for Schuler's stamping and cutting division out of Germany, believes that these trends make servo-drive press technology an even more attractive option for metalformers.

"The cycle of capital investment is changing," he says. "In Europe, most stampers are getting rid of obsolete equipment with high maintenance costs and high energy usage. In Germany and the new EU member states in Eastern Europe, for example, companies are granted subsidies only if they purchase machines that are considered state of the art or meet certain energy-cost targets. Stampers want to save money with each stroke, and that helps drive sales of energy-efficient servo presses."

Schuler has offered direct-drive servo presses since 2007, in capacities to 3000 metric tons. On both sides of the Atlantic, the use of new materials also drives sales. With the new servo-drive presses, buyers seek higher tonnages, larger bed sizes and, importantly, larger, sturdier dies.

"If a stamper runs a die at 12 to 15 strokes/min. on an old mechanical press, a servo-drive press may allow the job to run at 30 strokes/min.," Kinzyk explains. "That will wear or, in a worst-case scenario, damage the tooling. This condition gives metalformers two options: Buy or build a brand new die, or upgrade the existing tooling. Those seeking upgrades have promoted the formation of consulting businesses, with companies advising on how tooling can be modified to make the switch to servo-drive presses."

Schuler itself works with new-press purchasers on how to proceed with existing tooling. Of course, many metalformers are at the mercy of their customers, who either supply the dies or will not help offset the cost of tooling buys or upgrades. In the best-case scenario, a metalformer can work with its customer and/or die designers and builders at the onset of a project, when engineering changes and new designs for parts or dies are most likely to occur.

"If you can influence the design of the part or die, that is best," Kinzyk says. "But in reality, an OEM or Tier One or Tier Two company will say, 'This is the part. Tell us if you can make it, and how much it will cost."

Even with such hurdles, Schuler has seen U.S. and Mexico sales of servo presses increase considerably as metalformers and their customers learn the advantages of servo solutions. The company has been proactive in inviting tool and die designers and builders to training seminars to showcase software that can simulate the process, saving tryout time and money before the die is built. Kinzyk also points out that besides a higher output rate and better part quality, integrated processes are big selling points for servo-press manufacturers, as the ability to influence slide velocity allows precious milliseconds to stop the slide at bottom-dead center and perform in-die welding, clinching, thread-forming and other processes without costly out-of-press secondary operations. He says it is part of a systems approach to educate metalformers on how this technology affects all aspects of the forming process.

"We look at the whole process, from the material to the final part, and how we can influence any of that with servo technology," says Kinzyk.

MF

Industry-Related Terms: Tensile Strength

,

Transfer

,

Alloys

,

Bed

,

Case

,

Center

,

Die

,

Form

,

Forming

,

Point

,

Run

,

Scrap

,

StrokeView Glossary of Metalforming Terms

See also: Komatsu America Industries, LLC Press Technology Division, Schuler Incorporated, Aida-America Corp.

Technologies: Stamping Presses