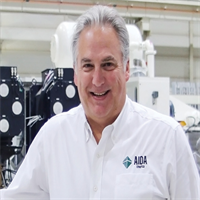 Bob Southwell
Servo vs. Mechanical Presses: Understanding Available Tonnage and Energy
September 29, 2020
1. How does available tonnage from a servo-drive press differ from that of a mechanical-drive press?
Since the motion of a servo press is programmable, some users wrongly believe that the tonnage available through the full stroke of the press is like that of a hydraulic press. However, servo presses have a mechanical drivetrain (eccentric gear or shaft); therefore, the tonnage curve basically will be the same as with a mechanical press. Stampers must review the press' tonnage curve vs. the specific applications in regard to loads higher in the stroke.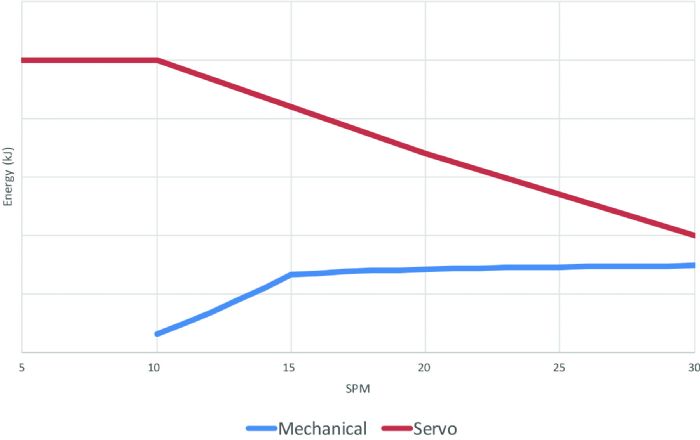 2. How does available energy relate to speed on a mechanical press?
The available energy of a mechanical press relates to the square of flywheel velocity. Typically, at one-half of the maximum press speed, available energy will begin to drop dramatically (as a square root of velocity). This is the "Achilles Heel" of a mechanical press drive, as applications that require lower speeds usually are deep draw and forming applications, which require higher energy for forming. As a result, the flywheel will begin to slow and eventually stall. Some stampers mistake this as lacking sufficient press tonnage, but in reality the application is exceeding the available energy at the current stroke rate.
3. How does available energy relate to speed on a servo press?
With a servo press, energy does not relate to press speed, since energy is not stored in a mechanical flywheel. Instead, a servo press draws energy either from the main line or from a separate energy-management system (EMS) that supplies the additional required energy for the application.
As press speed decreases, the available energy drops rapidly on a conventional mechanical press and increases with a servo press, as displayed on the accompanying graph.