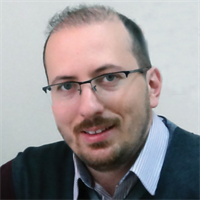 Eren Billur
Sheet Metal Forming Press Lines
March 26, 2021
Metal forming companies can specify press lines developed to handle specific tasks—examples include "blanking line" (or blanking press) and "transfer line" (or transfer press). Here we explore the differences between these lines, describing their main components and defining their performance criteria.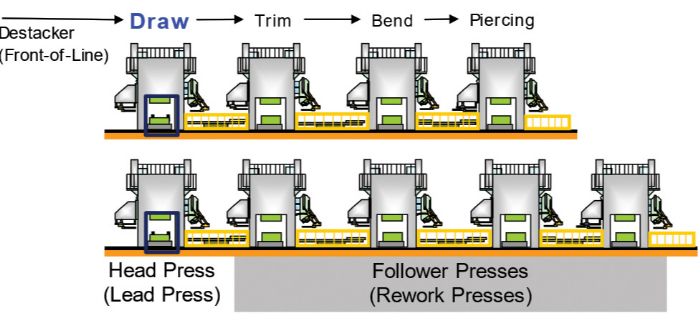 The stamping process starts with a coil of sheet metal. Each blank may be cut-to-length, or blanked, after the coil is decoiled—either at a steel service center or inhouse using a blanking line. Some metal forming companies dub the blanking process OP05, and others OP10. For example, when processing parts that include an offline blank die, OP10 typically refers to the blanking operation. In other cases, metal formers label the first forming operation OP10 and use OP05 to refer to blanking.
A blanking line may have a 400- to 800-ton press, typically with a short stroke and a moderate stroke rate. Most blanking lines operate at a maximum run rate of 80 to 100 strokes/min. Actual line speed depends on the feed length of the part (variable by part) and the feeder speed (typically 100 to 200 m/min., constant for a blanking line). At longer feed lengths, blanking lines operate at lower stroke rates. For example, at a German automotive OEM, blanking-line speed was posted as 34 strokes/min.
Servomechanical presses also find use in blanking lines, to optimize the stroke rate by using the pendulum mode, and by reducing the time lost during the wait for coil feeding. At the end of a blanking line, flat blanks are stacked onto a pallet, either manually or with an automatic stacker.
In a progressive-die operation, a decoiler is used at the front of the line where the sheet metal feeds into a press with constant pitch after each stroke. Progressive-die press lines employ a single press, anywhere from 200 to 1250 tons. They can run at moderate speeds, typically between 30 and 70 strokes/min. for small parts, and in some cases faster than 250 strokes/min. using servomechanical drives. For small electronic components, progressive dies may run well in excess of 1000 strokes/min., but with limited press force.