Fundamentals of Mechanical-Press Design
June 1, 2009
Force and work are two terms that can be related only by means of a third variable, distance. When force is applied over a certain distance, work is performed. This corresponds in the force-distance graph to the area of the rectangle below the force curve. When work is performed, the distance over which it is performed determines the magnitude of the generated force.
These principles apply to mechanical presses, but rather than a raised weight moving over a distance to perform work, energy is stored in the rotating mass of the press flywheel. Since the energy in the rotating flywheel is only partially used during a press stroke, the electric motor driving the flywheel is not overloaded and does not need to have a large power capacity. In continuous operation, a flywheel slowdown of 15 to 20 percent is estimated to be the greatest speed drop permissible. However, this gives no indication of the resulting forces and of the stress exerted on the press components.
Press Load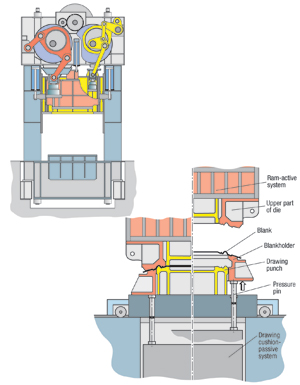 Double-action presses (above) equipped with mechanical or hydraulic drives find use for deep drawing. On mechanical presses, a knuckle-joint system retains the blankholder and a multi-link drive executes the drawing process. Blank-holder and drawing slide are driven from one main shaft, so the two function in a fixed
geometrical relationship. Deep drawing also is increasingly being performed in
single-action presses (right) with drawing cushio
Consider a press with rated force FN0 = 1000 kN = at 30 deg. before bottom dead center (BDC); usable energy/ press stroke during continuous operation WN = 5600 Nm; continuous stroking rate n = 55/min.
Assuming a slowdown of 20 percent during continuous stroking, the usable energy is 36 percent of the total energy available in the flywheel. The overall energy stored in the flywheel:
W = Wn/0.36 = 5600Nm/0.36 = 15,600 Nm.
The given nominal load FN0 in a mechanical press indicates that this value is based on the strength calculations of the frame and the moving elements located in the force flow—crankshaft, connecting rod and slide. Nominal load represents the greatest permissible force in operating the press, defined on the basis of the permissible level of stress or by the deflection characteristics. In most cases, stress on the frame is kept low to achieve maximum possible rigidity. The nominal load is specified at 30 deg. before BDC to indicate that from here to BDC, the drive components that transmit the power—driveshaft, clutch, etc. —also have been designed for the torque corresponding to the nominal press force. Therefore, between 90 and 30 deg. before BDC, the movable parts must be subjected to smaller stresses to avoid overloading. The force-vs.-crank angle curve indicates that the press in question may be subjected to a nominal load of 1000 kN between 30 deg. before BDC and at BDC, while at 90 deg. before BDC a slide load of only FN0/2 = 500 kN is permissible.