Linear Servo Presses Find Roles in Automotive Manufacturing
February 9, 2023
Until recently, the application of all-electric presses had been limited by tonnage capacity, cycle time and acquisition cost. However, a new line of higher-tonnage linear servo presses launched at FABTECH 2022 by Beckwood Press Co. promises to combat these challenges, while offering the flexibility of hydraulic presses and the performance and rigidity of servomechanical presses.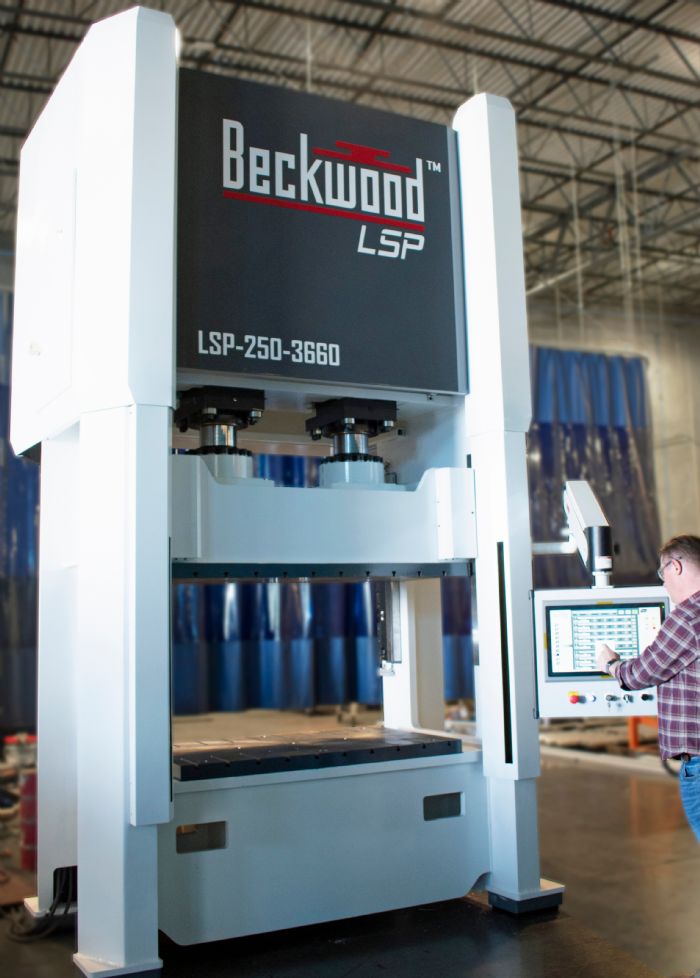 Beckwood's LSP presses, company representatives say, employ patented technology to achieve a high degree of forming flexibility at production-level speeds. Together with the company's EVOx line of low-tonnage all-electric presses (rated to 100 tons), Beckwood now can supply linear servo machines ranging from 125 to 500 tons of force.
Beckwood specifically notes application for its LSP technology in the automotive industry, including cold and hot stamping, compression molding and assembly. The ability of linear servo presses to provide full tonnage anywhere in the stroke eliminates the need for a rated tonnage point from bottom dead center. This prevents users from having to derate tonnage, or from over-buying on tonnage. Additionally, tonnages aren't derated for long draws or long strokes. Being fully programmable, die-setup times reportedly are minimized and do not require the use of parallels or adjustments to counterbalance the systems.
The use of a rigid frame structure and two or more actuators allows for active parallelism control, company officials note, helping to prolong die life and minimize die-maintenance costs. Standard tonnage monitoring and overload protection provide real-time diagnostics. A simplified actuator design results in as much as 80-percent fewer components than hydraulic presses. And, the readily available servo motors reportedly are affordable and easy to source.