Coil handling for the new line also incorporates automated material feeding into the press via a servo-driven roll feed. Where traditional systems employ hand cranks to raise and lower the feed's mounting cabinet during setup to achieve proper passline height, this line features motorized adjustment and encoders that allow for storage of the correct passline height in a job recipe.
Further, a tool-less press attachment bracket is another time- and labor-saving innovation supplied by Coe. On standard feed-cabinet designs, the operator manually releases bolts that secure the feed cabinet to the press frame, a step requiring the operator to walk completely around the press twice during each setup—once to release and again to retighten. The tool-less system on Miller's line eliminates that step. Also, the air cylinder that automatically raises and lowers the upper feed roll and applies downward force to hold material must be set at the correct pressure for each setup. This is one more parameter stored in the feed line's job-recipe control, and that eliminates time needed for operator adjustment of a manual air regulator.
In addition to the stored parameters, the coil-handling and feed system features PLC controls and sensors monitoring the status of the line and its components. The controls prevent typical mistakes seen during setup and operation, preventing them from interrupting efficient operation, whether in setup or production. These mistake-proofing options, selected by Miller's Adam Utecht and Jim Dimpf, prevent operators from wasting time correcting typical setup errors.
Traveling Control Panel Integrates Line Functions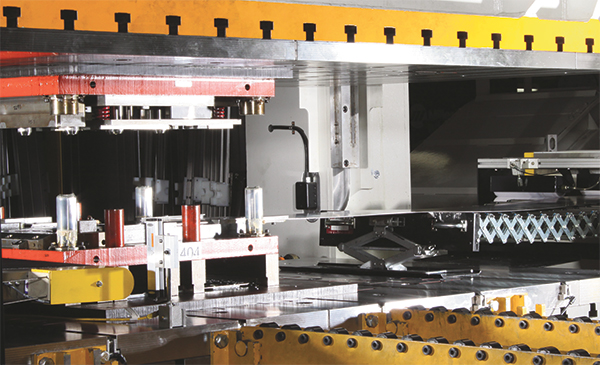 A coil support (located on the right in this photo) has a series of metallic side bars that allow it to shift inside the press window during die changes, then be extended to support strip and eliminate sagging as the strip feeds into the press.

A discussion of coil handling hints at the central role of the line's integrated control system, supplied by Link Systems, Nashville, TN, and installed at Aida's factory in Dayton, OH. The system provides controls and diagnostics for the press itself while also tying into every piece of equipment, incorporating features to optimize setups and provide all-important mistake-proofing. Thus the press control acts as the line control, creating a remote master operator station, according to Wenzel, that can be moved from one end of the line to the other via a press-mounted rail. The station contains operator-interface terminals and key pushbuttons for all line processes.

"We brought all of the frequently used controls into one enclosure, and made it portable," says Wenzel. Operators can move the enclosure to wherever needed during setup just by pulling it with them along the rail. This eliminates constant walking back and forth to access various controls and line processes. For example, the rail extends beyond the press to reach end-of-line part bins, eliminating the need for operators to walk 15 or 20 ft. back and forth to attend to the bins and then restart the line. Portable line control also allows relocation of bulky electrical panels a from the press, providing clear access for press tending and material handling.

Setup time also has been reduced through various implementations within and surrounding the stamping press. Link Systems' 5100 APC (Automated Press Control) job recipe automatically adjusts shut height and counterbalance, and controls timing for any in-die processes. The APC's programmable limit switches control the sequence for material feed, lubrication and air thrust for part ejection. Also, all die-protection inputs are stored as part of the job recipe to monitor critical processes in the tool, eliminating die crashes and catching quality issues quickly, according to Wenzel.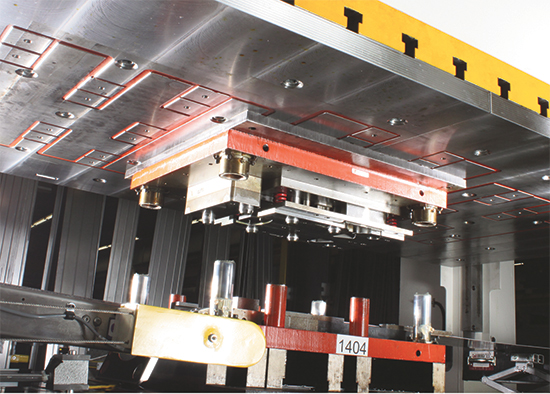 Tooling in Miller's new press is held via state-of-the-art magnetic clamping technology.

The control also automatically starts and stops part-out and scrap-system conveyors, with sensors to ensure that all of these subsystems are functioning, and to halt operation should errors should arise. Control diagnostics provide plain-English prompts for operators. Besides directly controlling and monitoring these events and subsystems, the control also sends a command to the coil-feed-line control, calling up the proper coil-line recipe.

Press Built to Reduce Setup Time

The press itself offers features that assist in setup-time reduction. For example, its roller gibbing system brings the tooling halves together precisely. And, because they run without oil, they eliminate contamination from gib oils coating parts and creating quality problems downstream in the paint department.

Simple in-press solutions also decrease setup time. One example: An extendable CoilBridge conveyor (from Bennett Tool & Die Co., Nashville, TN) stores inside of the press columns during die changes, then stretches out to support strip making its from the feeder to smaller progressive dies.

"A long stretch of sagging material would not feed easily," notes Wenzel. "The support removes that sag and represents a simple method to ease feeding without the use of tools. Otherwise, operators would have to employ boards or other items to prop the material."

Quick Tooling Changeout

A key component of rapid setup, die change also is addressed in the new line. Without shopfloor space for a dedicated die shuttle, Miller uses forklifts to transport tooling. Bolster extensions enable die loading without potential damage to the press, as the lift never enters the die area. "Upon die delivery from a staging area, die lifters rise in the press bolster and the operator pushes even heavy tools smoothly and easily into the press," explains Wenzel. "He moves the tool against integrated die-locating pins, which enable proper positioning in the press.

"Accurate positioning of the tool is a big part of rapid die exchange," Wenzel continues. "The die must be placed in the correct location the first time and align with the feed line. If not perfectly aligned, technicians can spend hours struggling to achieve proper setup and begin production."

Another feature, magnetic clamping, allows automatic clamping and unclamping of the dies in 8 to 10 sec.—much quicker, notes Wenzel, than having to walk around the press to clamp and unclamp manually. The c lamping mechanisms also operate via the main press-line control.

Part-Out, Scrap Conveyors Aid Quick-Setup, Productivity Effort

A part-out conveyor, supplied by QC Industries, Batavia, OH, and incorporating magnets to grip and quickly eject parts, offers quick adjustment to further reduce setup time. As described in an article appearing in the June 2012 issue of MetalForming, the conveyor's slide system (designed by Norb Klossner of Tooling Innovations, New Ulm, MN, to meet TCR's requirements) allows an operator, without tools, to quickly slide the conveyor in to reach smaller-sized dies, and an air motor provides for vertical adjustment. The conveyor slides out of the during die change, and performs double-duty by also acting as a safety guard. Whether extended or retracted, the conveyor prevents human access into the point of operation while the press runs. Therefore, no adjustable guarding is needed. And, a scrap-handling conveyor (via a shuffle-drive conveyor system from Mayfran International, Cleveland, OH) includes scrap trays that slide into the press during setup. Scrap is carried up and out to a remote scrap bin.

"Personnel can change out scrap bins during production without stopping the press," says Wenzel. "The underground conveyor pauses as a remote bin is rolled out and another deposited in its place. This not only keeps the press running as much as possible, it also reduces setup time." MF

Industry-Related Terms: Bed

,

Bending

,

Case

,

Die

,

Hydraulic Press

,

Lines

,

Mandrel

,

Point

,

Press Attachment

,

Run

,

Scrap

,

Shut HeightView Glossary of Metalforming Terms

See also: Link Systems, Coe Press Equipment Corporation, QC Industries, LLC, TCR-Integrated Stamping Systems, Mayfran International, Inc.

Technologies: Stamping Presses