Servo Successes
August 1, 2017

The specific reasons for choosing servo-press technology are as varied as the specific advantages that the technology offers. Increased capabilities and productivity in stamping advanced high-strength steels for automotive; a new servo unit that works as a hydraulic press in beast mode to take on traditionally hydraulic-press applications, as well as whatever new business may come through the doors; the ability to expand design possibilities due to a servo press's dwell capabilities; increased die life with reduced costs for press maintenance and energy usage; the ability to efficiently and precisely stamp aluminum automotive parts... the list goes on and on.
At the end of the day, what a servo press delivers can be described with a single word: flexibility.
In one press, metalformers can take on work once considered solely for a traditional mechanical or hydraulic press. A servo press will work with materials of any strength, shaping them with features previously only accomplished via secondary processes. In this age of custom manufacturing, with smaller runs and more numerous part types, flexibility is necessary.
Over the following pages, read how metalformers are making the flexibility of servo-driven presses work for them. Maybe you will find new ways in which the technology will work for you.
Yielding "Perfect Trim Conditions," Servo Presses Tackle Advanced Steels
Large, big-bed, high-tonnage-capacity presses star at the E&E Manufacturing of TN LLC facility in Athens, TN, opened in 2005 as an adjunct to the firm's parent facility in Plymouth, MI. While the Michigan plant focuses primarily on production of seating and suspension components and assemblies, as well as supplying stamped fasteners and parts for military vehicles, the Tennessee facility fulfills a completely different mission.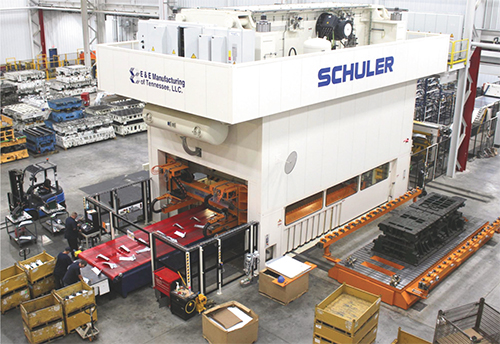 In July of this year, E&E added a second big-bed Schuler transfer press, this one a 2000-metric-ton beast with 7300 by 2500-mm bed. Among its selling points is the tailout feature on the press's feed line, which can eliminate 10 to 20 ft. of material waste per coil.
"Here we run four big transfer presses, each with bed size in excess of 7300 mm and press tonnage greater than 2400 tons," says TN-plant general manager Dan Scherle. "Much of our work goes to the German automotive OEMs— Volkswagen, BMW and Mercedes. We've been taking on larger portions of body and structural assemblies, stamping 0.7 to 4.5-mm-thick coated steels and advanced high-strength steels (AHSS)."
Aligning its pressroom capabilities with the requirements of its OEM customers led E&E, in 2014, to turn to servo-press technology, with the addition of a Schuler 1650-metric-ton servo-transfer press supplied as a complete turnkey system with an integrated servo-driven shear and coil-feed line.
"We sought minimal integration decisions," recalls Scherle, "and preferred that Schuler, which manufactures all of the equipment we needed for the line, supply us with a turnkey cell. The leap to servo-based technology at that time gave us the flexibility we needed to increase our press speed and to better handle the increased orders we were seeing for AHSS work (E&E stamps a lot of DP800 material). Now that press is running 24 hr./day, five days/week."
What Work Landed on E&E's New Servo Press?
"We were really trying to stay ahead of the market with that press," Scherle says, espousing the company's 'build it and they will come' philosophy. "Initially, we looked to run tools where we could take advantage of the ability to tailor the ram speed and acceleration during forming. We loaded the press with tools that had a blank-off-coil or a draw station up front, since we can control the draw speed and the transfer pitch, which you cannot do in a regular eccentric-geared press."