New Die-Design Software Release Equipped to Optimize Draw-Bead Forces
January 1, 2013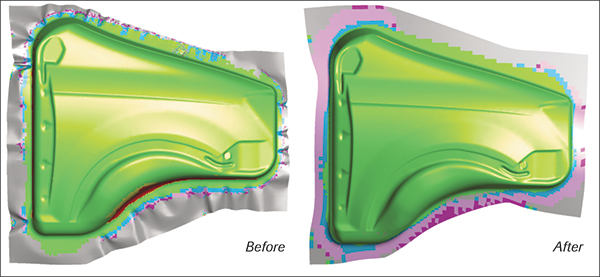 Engineering Technology Associates, Inc. (ETA), Troy, MI, has released Dynaform Version 5.9, which includes a new optimization platform (OP) module for die-system simulation and optimization. Embedded in the software is proprietary Sherpa optimization technology from Red Cedar Technology, focused on supporting optimization of draw-bead forces along with binder pressure, lubrication, gauge and material.
The OP module promises to reduce product development time and manufacturing costs by reducing incidents of wrinkling, thinning and tearing with limited effort (see before and after photos). The OP guided user interface makes optimization viable for a larger set of users, since special optimization expertise is not required, say company officials. Additionally, the latest computing platforms combined with an efficient solver eliminate demanding computing requirements.
"This solution will allow quick and accurate optimization of die-face design, saving critical product-development time, says Arthur Tang, ETA vice president. "Engineers now can go beyond identifying problem areas by incorporating design optimization to improve performance and quality—removing wrinkles and cracks."
The OP module will use the same common interface as the other four Dynaform modules—Blank Size Engineering, Die Face Engineering, Formability Simulation and Die System Analysis. Each of the four modules also has been enhanced in Version 5.9.
ETA: www.eta.com
See also: ETA Dynaform
Technologies: Software