Ultimately, robustness in simulation and upfront engineering yields more predictability on the back end, and reduction of quality loops, or Q loops, as Kowalski explains.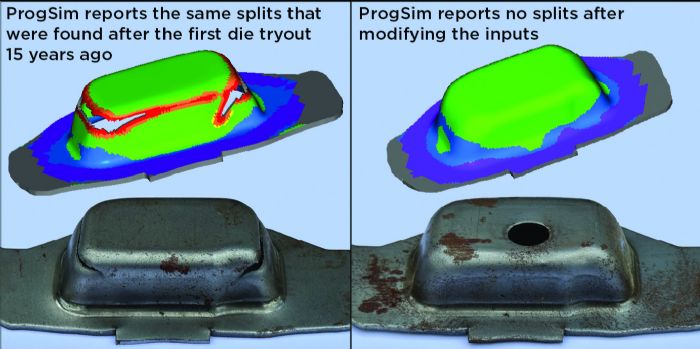 "Most unpredictable in the die-manufacturing process are Q loops," he says. "A software solution that performs springback compensation brings everything closer to reality, and means spending less time in the press, and less time recutting and trying out the tool. The holy grail of die manufacturing is one Q loop, or no Q loops for that matter. We typically build two Q loops into our quotations. And, for an engineered material such as dual-phase 980-MPa steel, we might add an extra loop, which is rather expensive. Now, sitting at three to four Q loops makes us uncompetitive.
"In a worst-case scenario," Kowalski continues, "we might lose a program because we weren't able to accurately predict springback results, or results for trim. This is why software simulation software is so vital to our existence. It's no longer a luxury to have this technology. It is a requirement in order to stay in business."
Stack Software as a Force Multiplier
And, with suppliers of die-design and simulation software providing more, and more-capable modules, than ever, Kowalski sees the opportunity to stack software as a force multiplier.
"A software may have strong springback-prediction capability, but another software may be able to best take that solution to create surfaces," he says. "I can take a CAD-CAM package with simulation software and add a module to a third-party software to make up for a lack of capability in that first package. We're finding areas where there's a gap in capability in one package that quickly can be closed by merging the two capabilities."
Designers sometimes don't understand what's available to them in the marketplace, according to Kowalski, and that's where trade publications and tradeshows can help fill the gap.
"See what's out there, then try it out on your own particular parts and designs," he says. "That's vital, because it's hard to understand return on investment on software when looking at a PowerPoint presentation. Use your inhouse capability with your inhouse hardware, and design and simulation capability, and see what results your people have with that hardware and software combination. That's how you determine return on investment, and'that's how you determine whether or not a software package is the right fit for your operation."
With this sage advice offered by Majestic's Kowalski, read on to see how die designers and builders are using software to succeed, and look for more in future issues of MetalForming.
Strip Layout, Motion and Forming Simulation via LogoPress
Established by former tool and die shop owner Tom Roth in 2002, Trademark Tool Designs, LLC, Janesville, WI, serves customers in the appliance, agriculture, transportation and construction industries. Its specialty: designing stamping dies, including progressive, hand- and mechanical-transfer, and single-hit tooling. Tom's son Nick joined the business in 2011 after completing a technical-school program for tool and die engineering technology, and the two are co-owners.
Trademark Tool Designs makes extensive use of LogoPress (part of AutoForm Group) DieDesign 3D design software for SolidWorks, available through Accurate Die Design Software.
"I began using LogoPress at tech school in 2009-2010, and conjunctively with my dad," Nick says. "Every day it seems that we use the LogoPress StripLayout functionality that is included in the software."
Used for progressive and transfer dies, StripLayout allows rapid modeling of the true solid 3D strip in a simple and logical way, according to LogoPress officials. It can be started from a blank and a folding/stamping process first defined using the included LogoPress Flatten tools or from imported data.
Trademark Tool Designs has several templates set up in LogoPress, enabling quick startup with new tool designs, and brings other benefits, too.
"We're not building the same die or designing the same style of die every day," Nick explains, "so the templates really help. They take time to set up on the front end, but make things much faster and easier on the back end."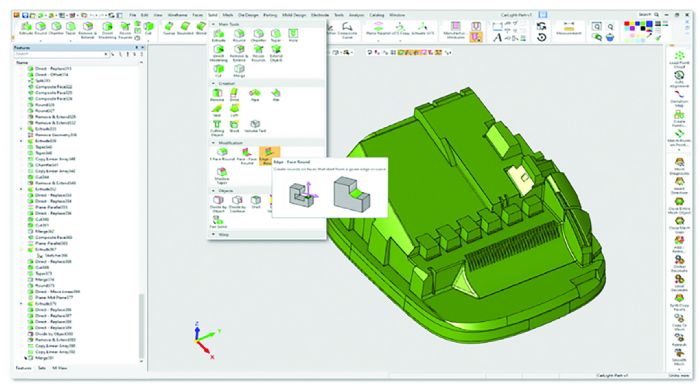 Another big LogoPress help to Trademark Tool Designs: the included Die Debugger feature, which provides motion simulation of dies, including dynamic interference detection and slug-clearance detection. This ability to detect interference and other issues via simulation can pay off big in eliminating the need for physical die tryout and possible rework.
"We use Die Debugger extensively," Nick says, "always at the end of a design project, sometimes in the middle and whenever developing a unique cam action."
Nick also uses ProgSim, an optional add-in to LogoPress DieDesign, on a regular basis. ProgSim provides forming simulation of progressive dies based on an incremental approach, addressing formability and springback issues during strip layout. This feature provides feedback on key stamping-quality issues, such as wrinkles, splits and excessive thinning. Referred to as a virtual tryout press by LogoPress officials, ProgSim also includes automatic blank development via Cut Optimizer.
"Trademark Tool Designs uses ProgSim for incremental forming simulation as well as automatic blank development," says Ray Proeber, president of Accurate Die Design Software. "The ability to have both mechanical simulation tools as well as incremental forming simulation tools running inside the die-design software enables the company to perform mechanical debugging as well as debugging of the forming process. The fact that LogoPress DieDesign software runs inside the SolidWorks CAD environment, and Die Debugger and ProgSim run inside of the LogoPress environment, makes the entire process simple to set up and use since there is a familiar workflow.
"Now that Trademark Tool Designs, a long-time LogoPress user, can debug the forming process and develop the net flat blank shape even before the die design is delivered to the customer, this puts the company on a new level," Proeber concludes.
Increased Functionality and Added Features in Each Cimatron Release
A full-service tooling provider to the automotive industry, Classic Tool & Die Inc., Old Castle, Ontario, Canada, fills its 30,000 sq. ft. with all manner of machines and presses for new-die build, as well as for repair and engineering changes, and press tryout. For "fuller service," the company in 2022 outfitted a 1500-ton mechanical press with two robots to provide part transfer—this allows Classic Tool & Die to run tooling for customers during their press downtimes, according to Adriano Oppio, vice president.
When MetalForming last talked to Oppio in 2019, the family-run company was using Cimatron 2D and 3D cutting packages as well as its die-design software, and since then has added Cimatron advanced machining modules, and is looking to purchase another seat and more modules.
"Cimatron has expanded its die-design and CAM capabilities, and where, before, we used separate surfacing or CAM packages, for example, those now are built into Cimatron," Oppio says. "Things are much easier on the shop floor now with no translation required for machining because it all exists in a single software—no issues with using the wrong files or anything like that. For the most part, this eliminates problems with using multiple software products."
And, with constant updates, Oppio reports that the software offers improved performance, with added features and functionality in each release.
"We've requested some of these features and functionalities," he says, "and Cimatron is open to our ideas and feedback from all of its users. We often see any issues addressed in the very next release."
Also on the CAM side, Classic Tool & Die has ramped up its use of VoluMill within the Cimatron package. VoluMill offers expanded milling solutions for cutting methods that maximize material removal rates by building toolpaths that optimally control tool cutting factors, according to information supplied by Cimatron. The process automatically relates the best option for milling pockets, including the speed of a tool plunging into the material and material removal rates. Variation in tool load is smoothed, reportedly allowing the machine to use much higher speeds and feeds.
"Whether machining hardened materials or soft aluminums, VoluMill pushes the performance on our equipment and cutters," reports Paul Oppio, Adriano's brother and Classic Tool & Die general manager.
Paul also identifies Cimatron's Automatic Drill feature as a "game changer. It's an older feature, but has improved with each release."
New Automatic Drill modes in Cimatron 16, the latest version, enable seamless creation of hole groups, and also account for unique stock shapes for safer, faster drilling, according to Cimatron officials. And, an enhanced 2.5-axis slotting procedure uses pre-drilled holes in order to speed machining.
"Again," offers Adriano Oppio, "Cimatron believes in continuous improvement, with each release adding functionality and new features."
AutoForm Simulation Meets New-Material Challenges
Metalbuilt, Chesterfield, MI, and its 40 employees serve automotive, defense and aerospace industries, providing prototypes and low-volume production of metal parts. Doing so means designing prototype and production tooling as well inspection and assembly fixtures, with a big assist from simulation software from AutoForm Engineering.
"In automotive, we prototype automotive bodyside structures, stampings and assemblies," explains Matthew McCormick, Metalbuilt director of business development. "The trend of lightweighting in the automotive industry has led to incorporation of new types of aluminum alloys and higher-strength steels. With myriad new materials, we felt that having a simulation software ultimately would save for our customers in terms of cost reductions related to our R&D time, and lead times. It's also nice to be able to explain to our customers how our dies will work as well as lessons learned that they can take to the production side of their businesses. For all of the above-stated reasons, we adopted AutoForm software."
AutoForm allows more accuracy in Metalbuilt's quoting process, according to McCormick, due to the ability to home in on the number of operations required, draws needed, etc.
"And, with any materials that we might not be familiar with," he says, "we easily can grab a material card and simulate that with the AutoForm software to say, 'yes, this is feasible for us to make inhouse,' or, 'no, we have to propose an alternative.' When we do propose alternatives, we can use the simulation software to ensure that what we are proposing is feasible."
Increased use of martensitic steels first led Metalbuilt to using AutoForm about six years ago, and McCormick cites the use of other exotic materials and applications, such as quiet aluminum tunnels for electric vehicles, a novel application for noise dampening.
"We may get a purchase order for designing tooling for a quiet-aluminum tunnel, and we'll run AutoForm simulations with the material card. From the simulations we can gauge springback, and possible tearing and wrinkling, and then modify the tooling to compensate. Then we'll rerun the simulation." MF
Industry-Related Terms:
Alloys
,
Blank
,
CAD
,
Cam
,
Case
,
Core
,
Die
,
Forming
,
Functionality
,
Gauge
,
Hardware
,
Nesting
,
Prototype
,
Run
,
Transfer
,
Wrinkling
View Glossary of Metalforming Terms
See also: Tooling Tech Group, Accurate Die Design Software, Inc., CAMBRIO/Cimatron, LOGOPRESS, AutoForm Engineering USA, Inc.
Technologies: Software