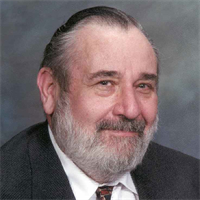 David Smith
Die Timing to Control Snapthrough
November 1, 2011
The loud "boom" heard when sheetmetal is punched or results from the release of snapthrough energy. This can cause broken crankshafts and the failure of other press components. This article covers simple die-timing adjustments that stampers can make to control snapthrough; severe cases may require the installation of hydraulic dampers.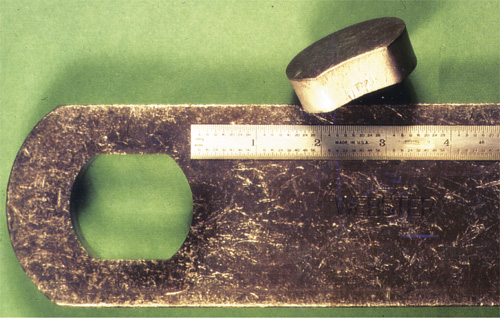 Fig. 1—A chain sidebar of 0.625-in. SAE-ASTM 1039 fine-grained carbon steel.

Another technique to control snapthrough is to reduce the peak pressure required to cut through material, by grinding one or more shear angle(s) on the punch or die. If the cutout, such as a slug, is discarded, the shear is placed on the punch. Punch length adjustments also can be made.

Waveform Signature—a Case Study

The task here (Fig. 1) involved press-damage control on a severe punching operation. Shown is a large chain sidebar fabricated of 0.625-in.AISI-SAE 1039 fine-grained carbon steel (a 6-in. scale is shown for size comparison). The punch has a pointed angular shear optimized for the task.

Waveform signature analysis (Fig. 2) provided a to measure die-timing opportunities to reduce the destructive negative reverse load on the press. Shown is the waveform signature of the stress-strain relationship when cutting off and piercing two holes in the part. The data was taken with a chart-recorder speed of 8 in./sec.; the vertical axis indicates strain or force, the horizontal axis represents time.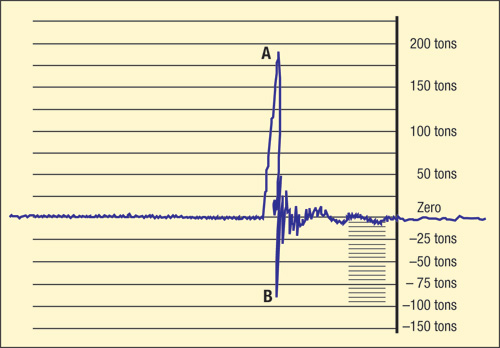 Fig. 2—This chart recording displays the waveform signature of a combined punching and cutoff operation, and points to excessive snapthrough (or reverse load).

The press speed of the waveform signature is 60 strokes/min. Even at a chart speed of 8 in./sec., the waveform trace distance from initial contact of the punch on the workpiece until it breaks through is very short. The portion of the waveform from initial punch contact to breakthrough occurs in 0.20 in. of chart travel, or 25 msec.

Energy Analysis

The punching waveform exhibits a sharp negative spike below the zero trace at breakthrough. This results from the sudden release of the energy stored in the press and die in the form of strain or deflection. The magnitude of the actual energy released increases as the square of the actual tonnage developed at the moment of final breakthrough.

Here's a simplified mathematical analysis. To calculate the actual energy developed:

E = F × D/2

F = Pressure at moment of breakthrough, short tons (lbf x 2000)

D = Amount of total deflection, in.

E × 166.7 = Energy, ft.-lb.

A simplified example using American units:

If 400 tons resulted in 0.080-in. total deflection to cut through a thick steel blank, the energy released at snapthrough, from the formula: 2667 ft.-lb.