Must-Attend IoT Event Slated for Nashville in April
January 1, 2018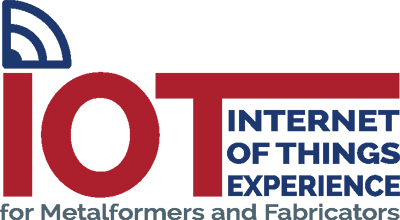 As industry rapidly travels new paths via new, smart technologies, floor supervisors, manufacturing engineers and managers, IT directors, and others working in small to midsized metalforming and fabricating plants must stay on top of digital manufacturing and plant-floor connectivity.
Powered by MetalForming magazine, IoT for Metalformers and Fabricators: Software, Sensors and Controls offers the opportunity to do just that. To be held April 18-19 at the Hilton Garden Inn Vanderbilt in Nashville, TN, the event will feature experts explaining how ERP/MRP software allows critical data gathered on the plant floor to be deciphered and delivered to managers, enabling strategic decision-making. And, with sensors and machine controls evolving at a rapid pace, IoT for Metalformers and Fabricators offers the perfect opportunity to stay current with these critical IoT (Internet of Things)-enabling technologies.
Successful use-case studies will describe how IoT technology helps improve OEE and drive quality and productivity improvements. In addition, attendees will be given a roadmap for planning and executing an IoT plan.
Presentations include Digital Manufacturing: Why Small to Midsized Manufacturers Must Get There, by Craig Zampa of Plante Moran; Industry 4.0—Crawl, Walk, then Run, by Scott Phillips of Connected Factory Global; How Automated Connections to Equipment Enable Mistake-Proofing Within Metalforming and Fabrication Plants, by Ed Potoczak of IQMS; and more.
For more conference details and to register to attend, visit www.metalformingmagazine.com/iot.
Technologies: Sensing/Electronics/IOT