Eye-Tracking Research Aids Safety and Performance in Manufacturing
August 1, 2018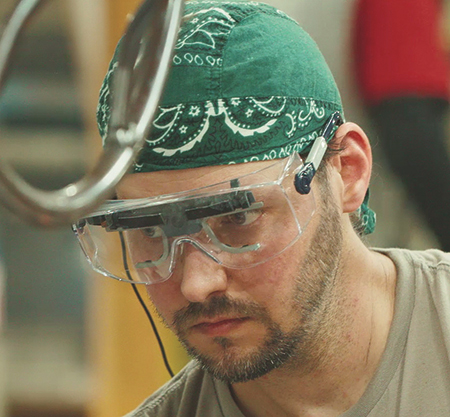 An eye-tracking study conducted in a foundry holds promise for improvements in worker training and safety—results that can be replicated in metalforming and fabricating operations.
Research consultants from Tobii Pro Insight conducted an eye-tracking study at the metal foundry of H&H Castings, York, PA, a supplier of aluminum castings. The attention-based study revealed unique insights that are expected to contribute to the quicker onboarding of new workers, new efficiencies in manufacturing operations, new training guidelines and the reduced risk of accidents.
The workers recruited to participate in the qualitative study wore eye-tracking glasses for 15 to 30 min. as they completed their tasks in the foundry. The study found that the work requires an extreme amount of concentration and focus. Any sudden break in that concentration could have a disastrous effect on how workers pour liquid metal into casting molds. The eye trackers provided close-up supervision of how this process was conducted through the eyes of experienced workers.
Video taken now can be shown to trainees for the purpose of instruction. Analysis of the attention data revealed steps that can be taken to make the entire metal pouring process safer and more efficient.
"With the attention data we were able to help H&H Castings understand behaviors that are intuitive to a skilled performer but difficult to articulate to the novice," says Mike Bartels, senior research director, Tobii Pro Insight. "We also could identify what is happening immediately before an error on the line occurs that would negatively impact efficiency."
With information gained from the eye-tracking study, H&H Castings expects to save 400 hr. of training time annually in its melt department.
Tobii Pro Insight: www.tobii.com
See also: Tobii AB
Technologies: Safety