Out with Boxes—In with a Continuum
February 1, 2008
Boxes are useful for organizing storage of millions of items. Seasonal clothing, holiday decorations, toys, photographs and junk are items commonly found in boxes in the home. At work the stored items range from old files to inventory of parts. Storing in boxes can create some real dilemmas and serious conflicts. Does this item fit the description of items in box No. 8? What does one do with an item that belongs in both box No. 8 and box No. 15? Should one obtain a duplicate and store one in each box or store the item in box No. 8 with a descriptive note in box No. 15?
Unfortunately, these and other problems exist in the metalforming arena. Too many times a person uses boxes in an attempt to simplify difficult or complex concepts and questions. A decade ago, a seminar targeted forming of large parts. Does your company make large or small parts? If you can answer that question, what sized part is the dividing line? Probably the dividing line is a sliding scale depending on the background of the person asking the question.
A common use of boxes is to separate various industries. Here boxes become barriers to discourage the transmission of information across different industries. An expert in designing or forming automotive parts often has little credibility in the appliance, aerospace or consumer-product industries. Yet, a tiny grain of metal alloy responds to a force (stress) and deforms (strains) according to equations of physics. The grain does not know or care what industry is applying the force nor does it behave differently in a car door compared to a refrigerator door.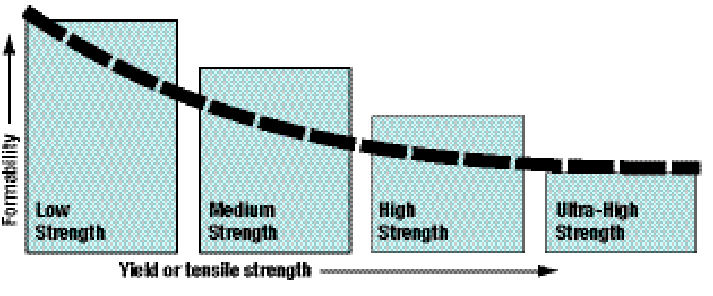 Fig. 1—Boxes representing different strength levels suggest a discontinuous drop in formability. The dashed line portraying a continuum is more accurate.
Examine this list of parts:
• Tank for welding gas (construction),
• Scuba tank (sports),
• Oil filter (automotive),
• Two-piece beer can (food/drink),

• 1-in. drawn cup (education),