Robotic Blank and Parts Handling
September 1, 2010
German handling-equipment manufacturer Strothmann (Marietta, GA) has extended its range of blank feeders by introducing the Feederplus8, an eight-axis linear robot that can transport and orient parts in numerous directions. The additional degrees of freedom provide for maximum flexibility in the feeding of blanks into complex dies, as well as for removing parts.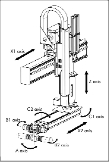 The new feeder can be installed in small press gaps with a minimum distance of 6,500 mm between press tables. The coordinated movement of the axes allows for processing speeds of 10 to 12 large parts/min.
Says Strothmann CEO Derek Clark: "The feeder can be installed in existing press applications with a small opening stroke, because at about 250 mm, the orientation axis is lean and can access all dies horizontally. One feeder per press gap is sufficient to remove the parts from the press, orient them and feed them into the following press."
Payload capacity is 120 kg, including blank, tooling and tooling adapter. It can optionally be equipped with an automatic tool changer, which attaches to a crossbar by means of a saddle or an adapter for the robot tooling.
Strothmann (North America Division): 770/424-4141; www.strothmann.com
See also: X
Technologies: Pressroom Automation