Wintriss Adds Capabilities to its SmartPac Pro Controller
June 1, 2020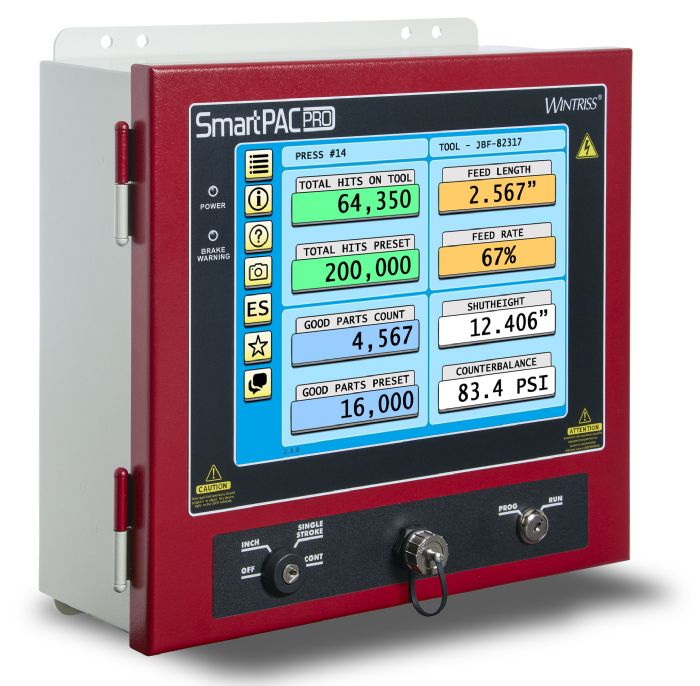 Wintriss Controls Group, Acton, MA, has developed new capabilities for its SmartPac Pro press automation controller. First up is the Info Center option, which allows the controller to display setup sheets, drawings, photographs and other information right at the press. With the advent of inexpensive mass-data storage, video has become an important means to convey information. So, Wintriss has enhanced video playback in the Info Center, with video control buttons and support for additional formats.
Next, the SmartPac Pro Remote Administrator allows networked users to "run" SmartPac Pro from a desktop computer and some mobile devices. The newest version now allows users to customize this function to limit remote users' access to specific functions and error resets. For example, a stamper could set it up so that remote users could not clear error messages before a press operator sees them.
Wintriss also has enhanced the ability of the controller to interact with its ShopFloorConnect Efficiency Tracking Software, thanks to a new tiered dialog-menu layout. This allows machine operators to more quickly select the most frequently occurring downtime reasons. In addition, SmartPac Pro users with a large number of tools will appreciate enhancements to the Tool Manager feature, which allows them to sort the tool list by name, number, description, total hits or date-last-modified.
Finally, Wintriss has added an optional second network card to the controller, so that users with integrated systems can keep the control-area network separate from the plant-wide network; and it also has improved the touch navigation on dozens of SmartPac Pro screens to further streamline the user experience.
See also: Wintriss Controls Group LLC
Technologies: Pressroom Automation