These controls, each with a Rockwell Automation/Allen Bradley Compact GuardLogix PLC backbone and safety I/O modules that exceed industry and Omni Manufacturing-specific safety regulations, feature 32 channels of die monitoring as well as four channels of tonnage monitoring. The controls also provide programmable limit switches for activation of the press feed (both presses incorporate feeds with their own controls) and to address other line needs such as die lubrication. Other control features: automatic shut-height and counterbalance control. Motors are controlled via Ethernet/IP to ABB drives. And, remote monitoring through a VPN connection allows Helm access to the press control to support or address any customer-required changes to the control package. The PLC offers 100-job-recipe storage, aiding Omni Manufacturing immensely as it performs frequent die changes.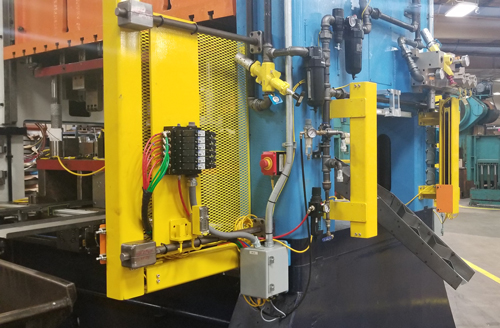 Presses and tooling at Omni Manufacturing are fully sensored. Inside of this press and in the tooling, nearly 50 sensors monitor the transfer and trimming of cylindrical automotive-suspension parts.
Omni Manufacturing's press-control quest arose out of its heavy use of in-die sensing and other press automation, such as the aforementioned transfer systems, according to Bob Prater, vice president and tool room manager, and Craig Rupert, systems coordinator.
Benefits Evolving Sensor Program
Omni Manufacturing has employed sensors in press operations for 30-plus years, beginning with short-feed and part-out sensors, according to Prater and Rupert.
"These were pretty simple applications due to the simple press-control packages we had at the time," says Prater. "We've evolved to where we not only check for short-feed and part-out conditions, we are also checking to ensure that parts are in the correct position, that trim and form cams have returned, and, in transfer applications, that we are monitoring the transfer position. The user-friendliness of the press control has simplified the process of incorporating sensors to our die/press monitoring package."
Says Rupert: "Helm supplied basic control packages that we could customize to our needs. Up front we provided a list of features we needed, including safety features, and Helm incorporated all of them."
The 1500-ton coil-fed press, with its new control package, produces aluminum engine lid covers—large parts that don't require the tonnage as much as the roomy, 136-in.-wide bed, according to Prater—as well as suspension components for the automotive industry.

Omni Manufacturing boasts significant inhouse engineering expertise. A tour revealed Omni-designed-and-built weld cells, assembly machines and part-transfer systems such as this one.
The 300-ton press, with transfer capability along with the new control, stamps a variety of steel parts. In an interesting display of Omni Manufacturing's sensoring and automation capabilities, this press also performs transfer and trimming of automotive-suspension parts, a process that employs nearly 50 sensors.
After installation of the controls, production on each press took less than a week, according to Prater and Rupert, who noted that the compact setup time was a huge improvement over past installations of other controls. In practice at Omni Manufacturing, a few diesetting employees as well as Rupert are tasked with die and control setup.
"Once we set a die," Rupert explains, "we plug in a standard die cable, which communicates the die number to the control. We find that number on the recipe screen of the control, then load the recipe and it's ready to run. We also can make minor adjustments on the screen at the press and save the recipe, even while it is running."
Once the controls are installed and running, "they are simple to operate," adds Prater. "A little training for the setup people and operators, and we are good to go. They are very user-friendly." MF

See also: Helm Instrument Co., Inc.
Technologies: Materials, Pressroom Automation, Sensing/Electronics/IOT