Workholding, Fixturing Products and Systems
May 7, 2019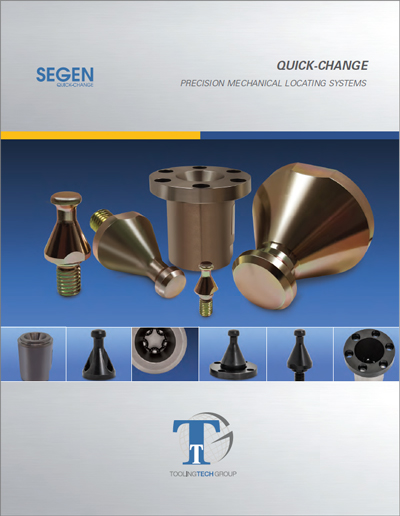 Tooling Technology has published a 12-pg. catalog outlining its Segen Quick-Change precision-locating systems. These systems can replace traditional nuts, bolts and hand tools in industrial setups, workholding, clamping, fixturing and alignment applications.
Sections highlight particular product families, ranging from micro-sized systems that start at 500-lb. of static holding force to large quick-change systems featuring 25,000 lb. of static holding force. Every cylinder lock and knob is illustrated along with product nomenclature and specifications to help guide customers to the correct components. Additionally, individual pages outline offerings of high-strength knobs, sensor locks and snap locks. Also included: peripheral pneumatic components for system setup.
The brochure also explains how the Segen system works: A quick burst of compressed air unlocks five high-strength stainless-steel balls, enabling the mating steel retention knobs to move into place. Once seated, air pressure is removed, mechanically repositioning and locking the balls in place around the knob. The cylinder locks stay mechanically locked until pneumatic pressure is applied to automatically release them, providing a fail-safe holding system, even if pneumatic pressure is lost.
The flexible Segen systems are suited for any environment requiring frequent changes. Download the brochure.