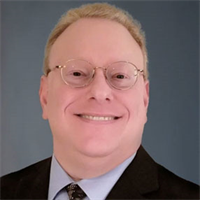 Daniel Schaeffler
Edge Cracking in Advanced Automotive Steels
January 27, 2022
In stamped parts, necking describes the localized thinning that occurs when strains concentrate in a narrow region in the body of the formed part. The traditional forming-limit curve defines the major and minor strain combinations that result in a neck. Practitioners design parts and processes to avoid exceeding these limiting strains in production. Simulation tools have become quite adept at predicting regions of formed parts at risk for necking failures. Similarly, plant-floor personnel have decades of experience to draw upon should these issues occur during tool development and production.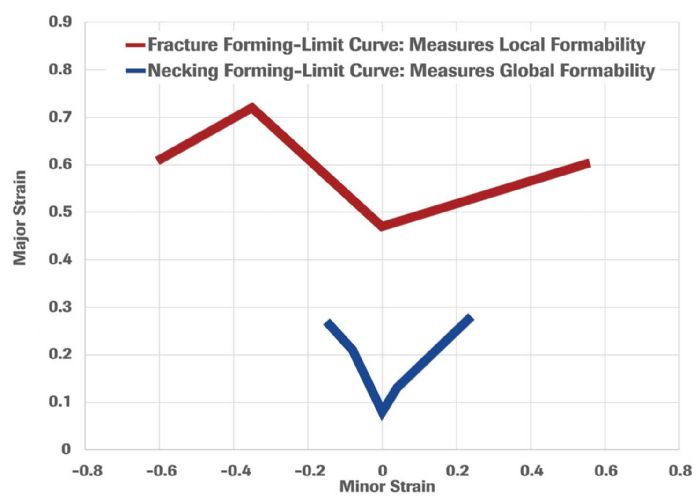 However, other failure modes occur during metal forming operations, primarily fractures that originate at either cut edges or at the outer surface of bends with tight radii. The ratio of bend radius to sheet thickness, along with the material strength and microstructure, controls the latter type of failure. The factors influencing edge fractures are far more complex.
A Greater Risk in Advanced Steels
Fractures at cut edges are not a new phenomenon. Readers of MetalForming magazine know that necking failure is associated with uniform elongation as measured in a tensile test, while fracture is associated with total elongation. The strains causing necking are lower than those causing fracture. This explains why parts made from conventional sheet metal grades usually do not fail by edge cracking; these grades reach the strains that result in necking failure before attaining the strain levels resulting in cut-edge fracture.
Two scenarios, when combined, put advanced high-strength steels (AHSS) at greater risk for edge or bend fracture. First: With conventional steels, fracture strains are substantially higher than necking strains. A tensile test shows this, where total elongation is twice that of uniform elongation in mild and some high-strength steels. While fracture strains remain higher than necking strains in AHSS grades, the gap is smaller.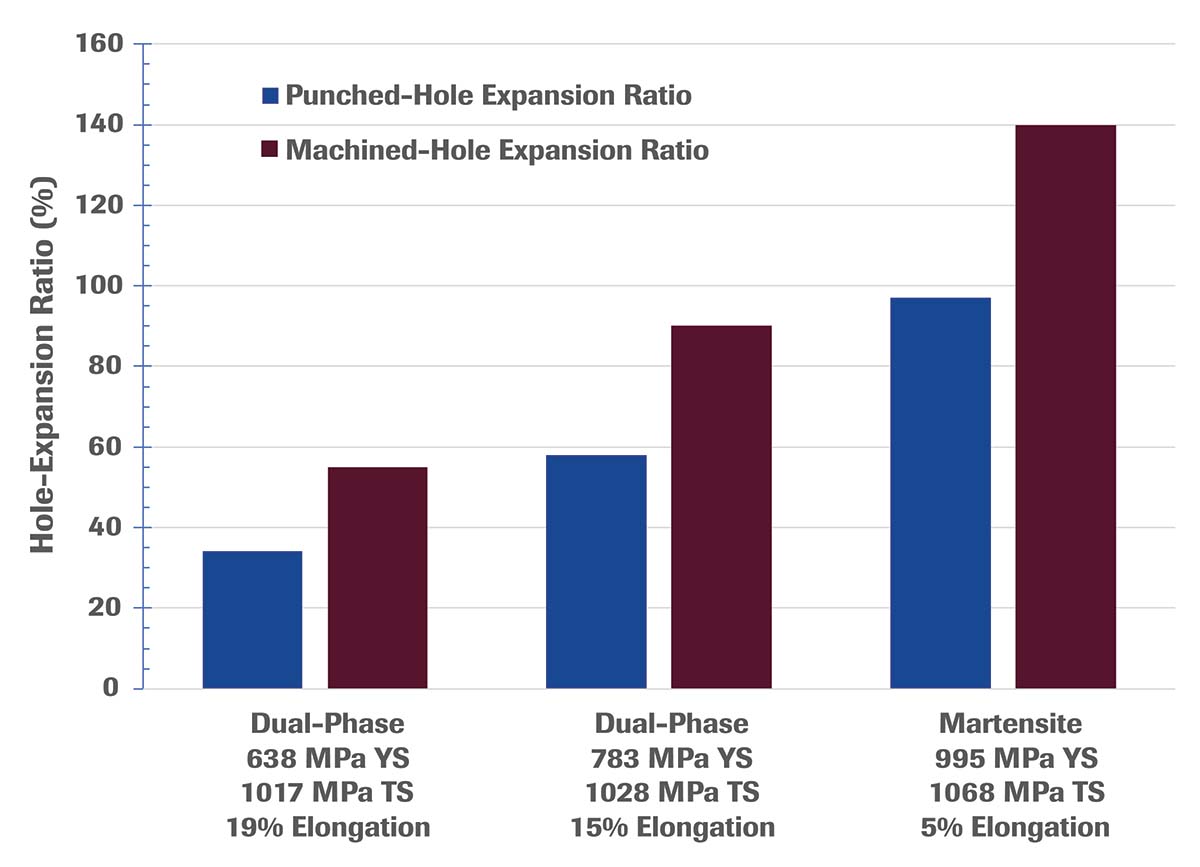 We must also examine the affected portion of the steel required for each type of failure. For necking failure to occur, strains through the entire sheet thickness must exceed the necking failure limit. This is not difficult when the failure locates in the body of a formed part, as tensile deformation occurs throughout. In contrast, consider a bend around a tight radius. The highest strains occur at the outer surface, with the strain levels decreasing at locations moving toward the inner surface. Strains exceed the necking failure limit only on the outer surface but not through the thickness, reducing the likelihood of necking failure at bend radii.