Bobcat Invests in AP&T's Energy-Efficient Press Technology
April 25, 2023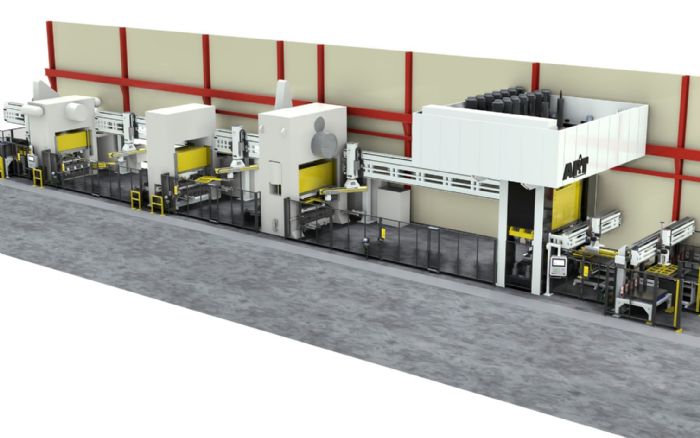 Bobcat Co., West Fargo, ND, a manufacturer of loaders, excavators, compact tractors, utility products and more, has increased production capacity at its facility in Gwinner, ND, with a new automated tandem press line from AP&T. The firm expects the new line, featuring AP&T's energy-efficient servohydraulic press and automation, to more than double press-production capabilities while reducing energy consumption and noise levels and improving the ability to form complex sheet metal parts.
"This investment will provide us with new capabilities and efficiencies in our metal stamping operations, and it also aligns with our commitment to innovation, sustainability and continued investments in our manufacturing footprint," says Mike Ballweber, president of Doosan Bobcat North America.
The servohydraulic press is 70-percent more energy efficient than a conventional AP&T hydraulic press, say company officials. Bobcat first learned of the press technology through a relationship with TCR Integrated Stamping Systems and its president Todd Wenzel.
"While visiting AP&T in Sweden, I was introduced to its latest automation breakthrough and knew it would provide a significant advancement for Bobcat," says Wenzel. "In addition, AP&T demonstrated its servohydraulic technology. Its unique capabilities have clear application for the Gwinner facility and is consistent with Bobcat's sustainability goals."
See also: AP&T North America Inc., TCR-Integrated Stamping Systems
Technologies: Pressroom Automation, Stamping Presses