Predictive-Maintenance Waterjet Pumps
December 1, 2019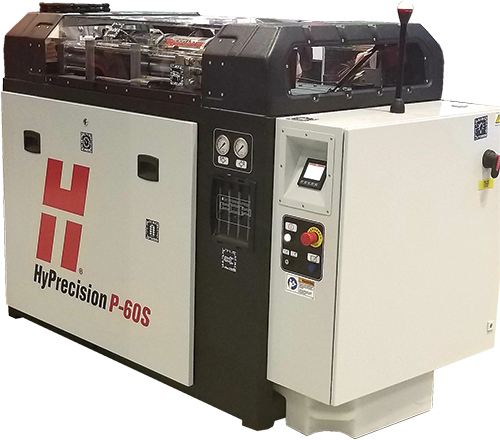 Hypertherm debuted its HyPrecision Predictive series of predictive-maintenance waterjet pumps at FABTECH, with the pumps able to reduce substantially the maintenance costs and disruption caused by non-planned service, according to company officials.
The new generation of pumps feature Hypertherm's Advanced Intensifier technology and new, patented technologies such as closed-loop proportional pressure control that adjusts for pressure and temperature, oil viscosity, and hydraulic-system wear parts. Technology incorporated in the pumps reportedly enable users to use seals as much as 40 percent longer than with preceding pumps.
Also, the HyPrecision Predictive pumps are designed with ease of service in mind, featuring a color-coded junction box, electrical-cable harnesses, quick-disconnect fittings, and an easy-access bleed-down valve. A clear window cover lets the operator see the intensifier and attenuator. Optional electrical interlocks prevent unauthorized access and can automatically stop the pump when opened. And, Hypertherm's Seal Maintenance technology helps keep the top deck and shop floor free of oil and water, according to Hypertherm officials.
See also: Hypertherm, Inc.
Technologies: Cutting