Bystronic Hosts Global New-Technology Event
November 1, 2013
From September 16 to 27, 2013, Bystronic Inc. held its Competence Days 2013 event, an opportunity for customers worldwide to see the firm's latest product introductions—laser- and waterjet-cutting machines, press brakes, software and more. And, it even debuted a few not-quite-ready-for-prime-time product introductions still in the testing phase. MetalForming editor Brad Kuvin accompanied a group of customers from the United States and Canada to the event, held at Bystronic's headquarters facility in Niederonz, Switzerland. Here we present a few tech-update discoveries from that trip.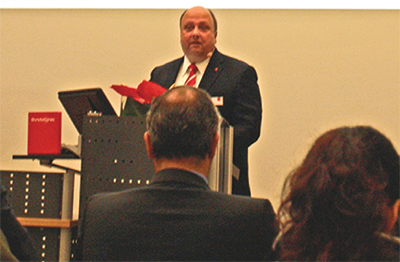 Bystronic Inc. president Robert St .Aubin introduced Competence Days 2013 attendees to the firm's highly automated ByAutonom laser-cutting machine.
Hosted by Bystronic Inc. president Robert St. Aubin, vice president of sales Brody Fanning and Midwest regional sales manager John Fresonke, our technology tour started with a look at the firm's latest software release, BySoft 7. This modular CAD/CAM software comprises four modules, including Plant Manager (the others are Sheet Processing, Bending and Tube Processing). Using Plant Manager, fabricators can plan and monitor machine production and integrate plant-floor data to an existing ERP system. And, the integration of SolidWorks into BySoft 7 means that users now can create cut parts in one clean and simple workflow. Improved calculated cutting times are just one benefit from synchronization between the control unit and the software. It means that with Production Manager in the office, users can be certain that cutting-time calculations are based on parameters actually in use in the shop.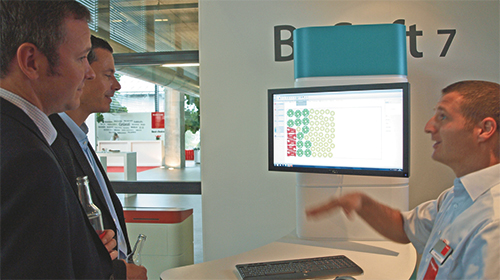 Delegates from North American metalforming and fabricating companies got an up-close look at Bystronic's latest CAD-CAM release, BySoft 7.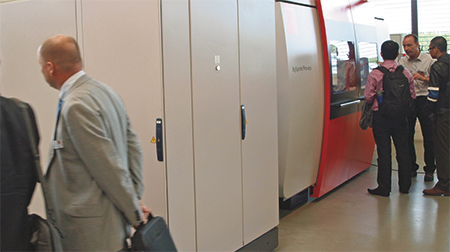 Bystronic Competence Days visitors take a look at the large-format BySprint Pro 4020, with a 4400-W laser source and 2- by 4-m table.
Company representatives also discussed the firm's "technology twins"—the BySprint Fiber 3015 laser-cutting machine and the Xcite 80 E electric press brake. The BySprint Fiber—notably quick when cutting thinner work—is the perfect companion in a sheetmetal-fabrication shop to the Xcite 80 E, designed to form sheetmetal parts to 1⁄8 in. thick. Compared to hydraulic press brakes, Bystronic officials say, it's as much as 2.5 times more productive.
A cool and new option for press-brake control spied in the Bystronic showroom: Voice Control capability. Here, a press-brake operator can speak more than a dozen basic commands through a wireless headset to enable machine setup remote from the control panel.
Also on display, and introduced to the market in July, was the automatic nozzle changer available as an option on the BySprint Fiber—it's been available for the last 2 yr. on Bystronic CO2 laser-cutting machines. When so equipped, the machine automatically selects the optimum nozzle for the job, and changes nozzles in less than 15 sec. As many as 40 nozzles can be made available using five magazine wheels.
As a completely new feature to its laser-cutting machines, Bystronic introduced its Part ID function. Using Part ID, the laser can be programmed to scribe a unique identifying and scannable mark on parts. Then, a press-brake operator can scan the mark on the laser-cut blank to automatically call up the appropriate bending program—foolproof.
Last but not least, visitors were introduced to the ByAutonom 4020 (for sheet sizes to 2 by 4 m), technology Bystronic showed off at its June 2013 openhouse at its North American headquarters in Elgin, IL. Designed for unattended automated laser cutting, the machine (also available in the 3015 model for sheet 1.5 by 3 m) features either the ByLaser 4400 to 6000 power source, an automatic maintenance and condition messenger, and automated nozzle changing, centering, calibration and cleaning.
Bystronic: 800/247-3332;
www.bystronicusa.com
See also: Bystronic Inc.