Large-Span Fan Makes Energy Saving a Breeze
January 29, 2020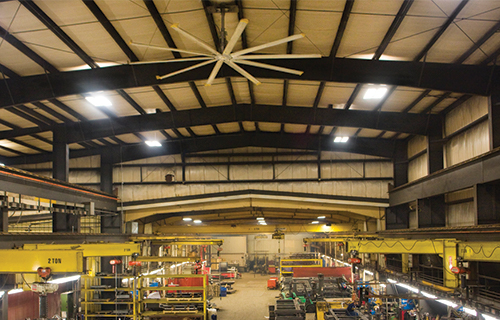 An 18-ft.-dia. fan at New Hampton Metal Fab brought the ceiling-to-floor temperature differential, which on occasion had reached 20 F, down to 1 F. The improved air circulation delivers warmer air to floor level and cold corners in the winter, and provides the cooling effects of gentle breezes in the summer. The company notes winter energy-cost savings of as much as 38 percent, enabling the fan to pay for itself within five years through those savings alone.
New Hampton Metal Fab, New Hampton, IA, manufactures form equipment for the pipe and precast concrete industries and also provides job shop services. With more than 60,000 sq. ft. of manufacturing space under roof on a 4-acre site, the third-generation business, formed in 1945, employs a formidable array of manufacturing machines, including CNC machining and plasma cutting equipment, a press brake, rolling and ironworking machines, welding equipment and more. Specialized products, in addition to the specialty form equipment, include manholes, boxes, safety ends, curb inlets, pouring tables and flared ends. The operation also encompasses a painting department.
Temp. Extremes, High-Ceiling Addition Challenge Comfort
Roller-coaster Iowa weather brings temperature extremes that test any building's quest for interior comfort, let alone a manufacturing plant's. Priding itself as a company that strives to serve the needs of its employees as well as customers, the management team at New Hampton Metal Fab took particular notice of the environment after recent completion of an 8500-sq.-ft. warehouse addition. No one expected the new space, with its 40-ft.-high ceiling, to be so uncomfortable.
With winter temperatures averaging only 25 to 27 F and heat rising to the rafters, the New Hampton facility typically experienced a 20 F temperature difference between the floor and ceiling of the warehouse. Summer months were just as grueling, in part due to heat generated from the facility's plasma burn table and welding station. With little or no insulation in the building, New Hampton Metal employees were at the mercy of the weather outside.
"All of the heat was going up," says Pete Gallup, purchasing manager, who was looking to save on heating bills and to balance out temperatures during colder months, while providing a cooling effect during New Hampton's hot summers. "We'd send somebody up to fix something and they would strip down to their long johns, while the guys on the floor were standing there in Carhartts, basically freezing to death." Employees wearing so much flammable clothing, a safety issue, was an added concern.