Laser-Fume-Extraction Unit
January 29, 2020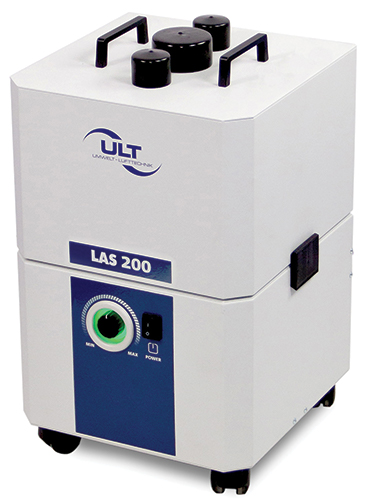 The LAS 200.1 laser fume extractor, the latest addition to ULT AG's ULT 200.1 series, features a filtration concept that reportedly significantly increases pollutant-separation efficiency.
The newly designed prefilter package includes a filter mat and panel filter for longer filter life and long-term cost savings. A coarse-dust and fine-dust filter increase the main filter's durability. The HEPA filter according to Standard DIN EN 1822, offered in combination with an adsorption filter, increases the main filter's separation rate to >99.995 percent.
The laser fume extractor's modularity provides high flexibility in regards to changing process conditions, as the unit can be equipped with additional filter modules if required. It combines with various capturing elements, such as extraction arms or hoses/tubes (DN 50, 75, 80), enabling pollutant removal at as many as four individual workstations.
Depending on the number of extraction points, the system's ecoflow CS technology increases and reduces exhaust performance automatically. Integrated vacuum stabilization and selectable pressure ranges enables the unit's extraction performance to adapt easily to pollutant types and levels. In addition, the ecoflow CS technology automatically compensates for pressure losses caused by loaded filters.
An integrated M12 interface allows for communication with a superordinate laser processing system, making it possible to run the fume extractor during active utilization of a laser system, thereby reducing costs.
Another value-added: an extensive range of original accessory parts, saving users valued time in searching for such items.
See also: ULT AG