The HyperGear, which runs nearly 24/7 at the shop, is fed by a 10-drawer FMS that accommodates a host of materials, material thicknesses and sheet dimensions. And Portenier points to additional automation features optimizing the system's productivity.
"We opted for all of the extra automation features available," he says, "such as an automatic torch changer and automatic nozzle changer. We also added a nitrogen generator to eliminate any oxide layers on cut edges."
Unclamped
Another significant advantage of the HyperGear enjoyed by Bradford Built: It can process material unclamped, since the machine moves the laser rather than the worktable. This is a critical factor in how the shop runs its material.
"Rather than cutting deck plate material tread-side up," says Portenier, "we can cut it tread-side down and use suction-cup automated material-handling systems to move parts from the laser to the press brakes."
Laser Line Spurs Productivity Gain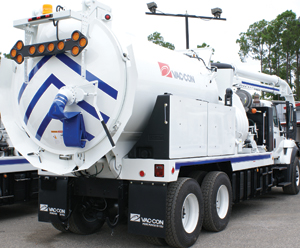 Vac-Con manufactures machines for sewer flushing and cleaning, as well as industrial vacuuming and hydro-excavation machines. The firm fabricates tons of steel plate, from 20 gauge to 2.5 in. thick.


Vac-Con, Green Cove Springs, FL, manufactures sewer-cleaning and excavating equipment used by municipalities and contractors across North and South America, the Middle East and Europe. As such, the firm fabricates tons of steel plate, from 20 gauge to 2.5 in. thick.

In 2007, Vac-Con's management team decided to add capacity to its fabrication shop, outfitted at the time with a pair of large plasma-cutting centers and a laser-cutting center. After attending trade shows and conducting copious research, Vac-Con purchased a Platino 2D laser-cutting system from Prima North America, Chicopee, MA. Included is a 10-shelf TowerServer automated material-handling system.

According to Vac-Con plant manager Bob Graden, the Platino has been a wise investment. "We decided on the machine because of its relatively small footprint that allowed it to fit within the production space of our building," explains Graden. "As we researched the laser market, we also discovered that Platino and the TowerServer formed a very economical production system." The machine boasts a work envelope of 120 in. (x axis) by 60 in. (y axis) by 6 in. (z axis).

Prima's 10-shelf TowerServer allows easy loading/unloading of blanks and processed sheets. Its elevator facilitates loading and unloading of pallets on and off the tower, and features single-sheet separating, control systems and sheet reference.

Production More than Triples

"This system has proven to be one of the better investments that we have ever made," says Graden. "It has allowed us to gain about a 30 to 35 percent increase in output, in part since we can run it unmanned throughout our second shift.

"Before we bought the Platino," continues Graden, "we were producing about 80 sheets/week off the two plasma-cutting centers. Now we cut 200 to 300 sheets/week. The Platino's efficiency has allowed us to take one of the plasma cutting centers offline. Overall, since 2007 we've improved our manufacturing efficiency by 15 to 20 percent, in large part due to the new laser-cutting system. Approximately 50 to 60 percent of all of the sheet and plate in our shop is processed by the laser."

The laser system also has improved quality and thus reduced secondary finishing operations. Says Graden: "The parts coming off of the plasma-cutting machines require a secondary sanding operation that the laser-cut parts do not."

Inventory Management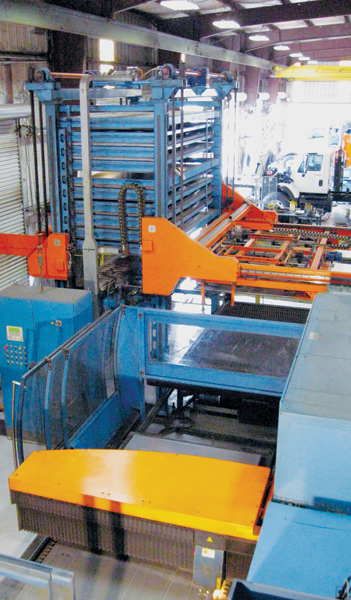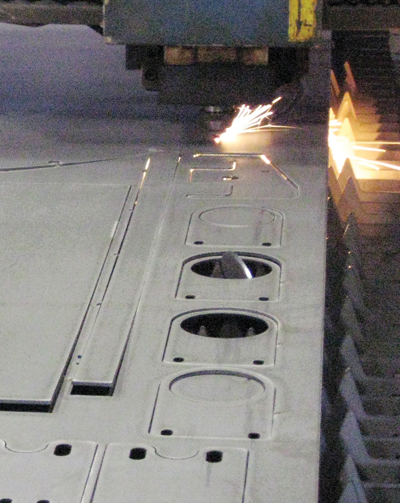 Vac-Con's Platino 2D laser-cutting system, from Prima North America, is equipped with a 10-shelf automated material-handling system (top). Approximately 50 to 60 percent of all of the sheet and plate in the shop is processed by the laser. The laser system has improved quality and reduced secondary finishing operations performed in the plant.
The TowerServer not only has helped produce more parts for Vac-Con, but has allowed the company to better manage its sheet-steel inventory. "Every day our engineers look at parts in a different light because we have capabilities throughout our laser-cutting operations that allow us to not only improve part quality but in some cases combine parts that we used to cut separately and then weld together into a complex assembly," explains Graden. "We now can cut larger parts on our laser center, form them on our press brakes and greatly reduce welding time, while also improving appearance and quality."
The Platino's laser-cutting head offers users a choice of a 10-in. focal length, in addition to the standard 5- and 7.5-in. lenses. The 10-in. lens enhances application flexibility by increasing the depth of focus and enlarging the spot diameter for high and uniform cut quality on thick stainless (to 5⁄8 in.), aluminum (1⁄2 in.) and mild steel (1 in.).
According to Graden, since installation, the laser system has proven itself time and again. "When we first brought the system online, we had two operators operating the machine 16 to 20 hr./day," he says. "As we gained a better understanding of the machine and became more adept at nesting our parts, we found that we could actually move one of the operators to another function within the fabrication area. Because we can run lights-out, it's gratifying to come to the shop in the morning and find parts sitting there ready to move to other processes." MF
Industry-Related Terms:
Center
,
Bending
,
CNC
,
Lines
,
Plate
,
Gauge
,
Form
,
Forming
,
Draw
,
LASER
,
Model
,
Nesting
,
Run
View Glossary of Metalforming Terms
See also: Mazak Optonics Corporation, Prima Electro North America, LLC
Technologies: Bending, Cutting, Pressroom Automation