WMU Opens Advanced Manufacturing Lab
September 25, 2018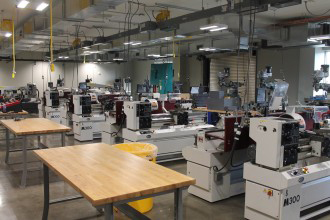 One year after announcing a collaborative effort with Grand Rapids Community College and West Michigan manufacturers,
the Advanced Manufacturing Partnership (AMP) Lab at Western Michigan University-Grand Rapids
has opened. The Grand Rapids location represents WMU's largest regional campus, with its main campus in Kalamazoo, MI.
The 15,000-sq.-ft. AMP Lab combines prototyping, training and small-scale manufacturing with the opportunity for individuals to earn college credits toward a degree or certification. The facility includes 3D printers and scanners, a CAD/CAM lab, plasma cutter, laser cutter, welding station, metrology equipment and prototyping tools.
"This cutting-edge instructional laboratory has been designed to meet the demands identified by manufacturing leaders—not only locally, but around the globe—to educate the 21st century advanced manufacturing workforce," says WMU President Edward Montgomery.
Technologies: Additive Manufacturing, Training