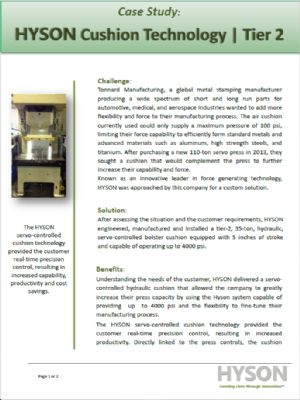 Tooling
Hyson Cushion Technology Tier 2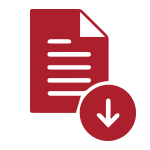 DOWNLOAD WHITE PAPER
Challenge:
Tonnard Manufacturing, a global metal stamping manufacturer producing a wide spectrum of short and long run parts for automotive, medical, and aerospace industries wanted to add more flexibility and force to their manufacturing process. The air cushion currently used could only supply a maximum pressure of 100 psi, limiting their force capability to efficiently form standard metals and advanced materials such as aluminum, high strength steels, and titanium. After purchasing a new 110-ton servo press in 2013, they sought a cushion that would complement the press to further increase their capability and force.
Known as an innovative leader in force generating technology, HYSON was approached by this company for a custom solution.
Solution:
After assessing the situation and the customer requirements, HYSON engineered, manufactured and installed a tier-2, 35-ton, hydraulic, servo-controlled bolster cushion equipped with 5 inches of stroke and capable of operating up to 4000 psi.
Benefits:
Understanding the needs of the customer, HYSON delivered a servo-controlled hydraulic cushion that allowed the company to greatly increase their press capacity by using the Hyson system capable of providing up to 4000 psi and the flexibility to fine-tune their manufacturing process. The HYSON servo-controlled cushion technology provided the customer real-time precision control, resulting in increased productivity.
HYSON Metal Forming Solutions