Our Latest Issue
Latest Video
Upcoming Events
Upcoming events for MetalForming Magazine!
Free E-Newsletters
Sent bi-weekly to inform you of happenings within the metalforming industry.
Start receiving newsletters and gain access to all content throughout the site.

---
Industry Movers & Shakers
Friday, May 24, 2019
Seyi America, Inc.,
a press manufacturer with operations in Tullahoma, TN and Irvine, CA
, has announced the appointment of
Bernardo Serna
as sales manager for Seyi Mexico in Monterrey. He will be responsible for sales in several areas of Mexico, including the Northeastern and Northwestern regions. Seyi Mexico has increased its sales and service staff over the past year.
---
Collaboration Targets Lighter Car Components
Thursday, May 23, 2019
Cutting weight from electric and traditional internal combustion engine and driveline solutions continues to be a major focus for the automotive industry. Getting more miles per gallon and increasing the range of plug-in vehicles are critical as we move toward the era of electrification.
Recognizing that lighter powder metal components with complex designs can bring substantial costs savings for car manufacturers and system suppliers,
Höganäs
and
Dontyne Gears
, through a newly formed cooperation, announced a package of services to improve driveline solutions.
"We help car manufacturers and system suppliers design, test and prototype new, light-weight Metal Powder driveline solutions that are a much better fit for the hybridization and electrification of the automotive industry," says Eckart Schneider, director of powder metallurgy (PM) business development at Sweden-based Höganäs AB.
"As materials and production techniques continuously improve, there are many applications that benefit from being looked at again to find much simpler and more cost-efficient alternatives," says Mike Fish, CEO of UK-based Dontyne Gears Ltd.
---
NASA Funds Electric Aircraft, Additive Manufacturing and Robotic Initiatives
Wednesday, May 22, 2019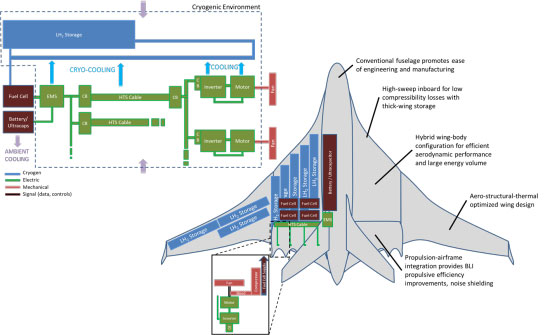 Concept sketch of a fully electric aircraft platform that uses cryogenic liquid hydrogen as an energy storage method.

NASA will provide $6 million over the course of three years to support a University Leadership Initiative (ULI) project focused on the development of a fully electric aircraft platform that uses cryogenic liquid hydrogen as an energy storage method.

The Center for Cryogenic High-Efficiency Electrical Technologies for Aircraft (CHEETA) project, led by the University of Illinois, Urbana-Champaign, includes participation from eight additional institutions: the Air Force Research Laboratory, Boeing Research and Technology, General Electric Global Research, The Ohio State University, Massachusetts Institute of Technology, the University of Arkansas, the University of Dayton Research Institute, and Rensselaer Polytechnic Institute.

The award to the University of Illinois was one of three in the second round of ULI funding, which will provide a total of about $15 million over three years. The other awards:
Carnegie Mellon University for exploring new methods for using additive manufacturing to reduce costs and increase the speed of mass-producing aircraft without sacrificing quality, reliability and safety.

University of Wisconsin, Madison for researching new ways humans can use robotics to improve the efficiency and flexibility of aviation-related manufacturing processes while enhancing employee safety.



---
Visit Our Sponsors