Our Latest Issue
Latest Video
Upcoming Events
Upcoming events for MetalForming Magazine!
Free E-Newsletters
Sent bi-weekly to inform you of happenings within the metalforming industry.
Start receiving newsletters and gain access to all content throughout the site.

---
Seyi Increases Customer Service Staff
Wednesday, January 23, 2019
Seyi America, Inc. a
press manufacturer based in Tullahoma, TN and Irvine, CA
, has increased its service presence by having local service staff in California to offer maintenance and troubleshooting support to West Coast and northwest Mexico customers. Company officials say the move will provide customers with faster response time.
---
KMC Expands Global Controls & Automation Division
Tuesday, January 22, 2019
KMC Global, a Kalamazoo, MI-based group of companies, including Prab, Inc., has announced the expansion of its Global Controls & Automation division to serve outside markets. This technology-based company provides control panels for industrial equipment plus automation and integration with remote and on-site support capability. KMC Global Controls & Automation provides the following services:
• Certified 508A-listed industrial control panels that are individually built to suit each customer's specifications and component requirements.
• Control panel design by a fully staffed team of experts who can create a control panel concept from the ground up or review an existing control panel design.
• Automation and integration with smart programming that allows customers' equipment to continue doing the jobs that keep them in business.
Remote and on-site automation to assist customers with commissioning equipment, program changes, troubleshooting electrical control components, schematic and project review, and control panel wiring clean-up.
---
Jaguar Land Rover Confirms Battery Manufacturing Plans While Cutting Costs
Tuesday, January 22, 2019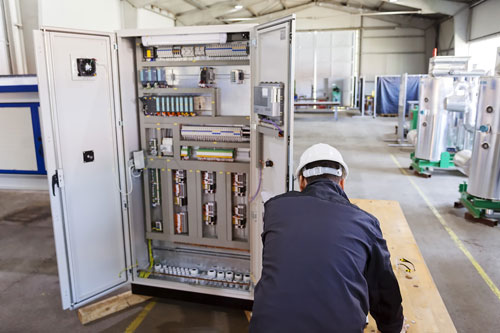 Jaguar Land Rover, Britain's largest vehicle manufacturer, has reaffirmed its commitment to battery manufacturing plans, despite laying off around 10 percent of its workforce.
"Later this year, next-generation Electric Drive Units (EDU) will be produced at the company's Engine Manufacturing Centre in Wolverhampton," says a company statement. "These EDUs will be powered by batteries assembled at a new Jaguar Land Rover Battery Assembly Centre located at Hams Hall, North Warwickshire, reinforcing the company's commitment to the West Midlands and the U.K."
The announcement
came as the company unveiled plans to cut its global workforce by 4,500 employees as part of an effort to achieve a $3.2-billion reduction in costs over 18 months and following 1500 layoffs in 2018.
---
Visit Our Sponsors