Our Latest Issue
Latest Video
Upcoming Events
Upcoming events for MetalForming Magazine!
Free E-Newsletters
Sent bi-weekly to inform you of happenings within the metalforming industry.
Start receiving newsletters and gain access to all content throughout the site.

Hot Off the Press
---
2019 Marks Continued Expansion for Mahr
Friday, January 24, 2020
Mahr, Inc., a Providence, RI-based
provider of dimensional metrology solutions
, closed a year of continued expansion in 2019 that saw the addition of 22 employees, two customer centers and five new product releases.
Employees were added throughout its operations, sales, finance and engineering departments, including the appointment of Bryan Orr as vice president of sales for the Americas. Orr has more than 30 years of experience in industrial sales management, and has worked in management roles for Rockwell Automation, Schneider Electric, Emerson and, most recently, Automatic Systems.
Mahr also continued its expansion with the opening of its Southeast Regional Customer Center in Greenville, SC, in early June 2019, followed by the grand opening of its new Midwest Regional Customer Center in the Detroit area in Wixom, MI in July.
New product releases from Mahr, include:
• MarSurf GD Series measuring stations, enabling profile and waviness evaluations to be carried out in addition to surface roughness evaluations.
• MarSurf VD Series enables roughness and contour measurements to be performed on the same machine. The operator can change between a high-precision roughness probe system and a highly dynamic contour probe system, depending on the measuring task.
• Precimar SM 60 length measurement system, an easy-to-use length measurement instrument for external measurements on shop floor parts, with a measuring range of 60 mm. The SM 60 incorporates a 25 mm sensitive contact and a fixed reference jaw with a 35 mm adjustment to obtain the full 60 mm measurement capacity.
• Precimar ICM 100 expansion of testing dial and digital indicators, test indicators, and dial comparators includes image processing, designed for the automated testing of measuring equipment. A camera automatically records the indicated values of the test indicators and forwards them to a software for processing.
• High-resolution digital indicators offer six different resolutions, ranging from 0.00001 to 0.0005 in. (0.0001 - 0.01 mm).
---
PMA Names Vohland VP of Sales/Publisher
Thursday, January 23, 2020
The Precision Metalforming Association (PMA) welcomed Michael Vohland earlier this week as its vice president of sales/publisher. In addition to leading PMA's sales team to grow association membership and sponsorships, he also will oversee the production of PMA's
MetalForming
and
3D Metal Printing
magazines, and their related products. Brad Kuvin continues in his role as editorial director, overseeing content for the magazines, newsletters, websites and events.
Vohland has extensive experience in the business-to-business publishing industry, having had a distinguished career at Gardner Business Media where he served as publisher, associate publisher and district sales manager. Most recently, he oversaw Gardner's
Automotive Design & Production
magazine and the
AutoBeat Daily (ABD)
website and e-newsletters. Vohland can be reached at MVohland@pma.org; 216-901-8800 ext. 143.
---
Mexico's HT-MX Partners with Sweden's Quintus Technologies
Wednesday, January 22, 2020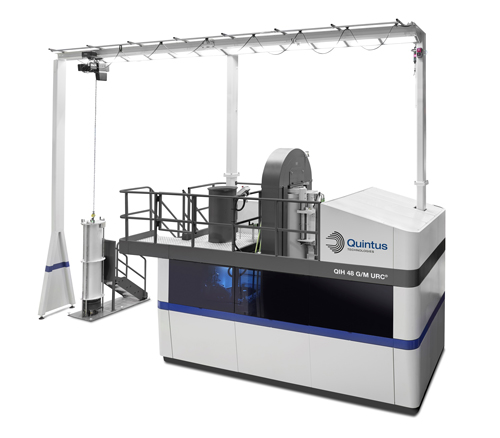 HT-MX, a Chihuahua, Mexico-based provider of heat treatment solutions and metallurgical lab services for the aerospace and automotive markets has announced the installation of a hot isostatic pressing (HIP) system, the model QIH 48 M URC, from Vasteras, Sweden-based Quintus Technologies. URC is the proprietary Quintus uniform rapid cooling feature that combines HIP and heat treatment in a single process. HT-MX becomes the first firm in Mexico to invest in a HIP system.
---
Visit Our Sponsors