Our Latest Issue
Latest Video
Upcoming Events
Upcoming events for MetalForming Magazine!
Free E-Newsletters
Sent bi-weekly to inform you of happenings within the metalforming industry.
Start receiving newsletters and gain access to all content throughout the site.

---
NASA Funds Electric Aircraft, Additive Manufacturing and Robotic Initiatives
Wednesday, May 22, 2019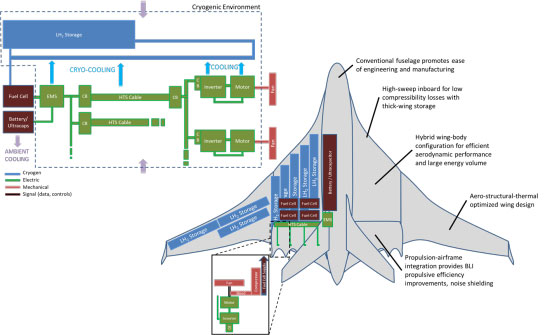 Concept sketch of a fully electric aircraft platform that uses cryogenic liquid hydrogen as an energy storage method.

NASA will provide $6 million over the course of three years to support a University Leadership Initiative (ULI) project focused on the development of a fully electric aircraft platform that uses cryogenic liquid hydrogen as an energy storage method.

The Center for Cryogenic High-Efficiency Electrical Technologies for Aircraft (CHEETA) project, led by the University of Illinois, Urbana-Champaign, includes participation from eight additional institutions: the Air Force Research Laboratory, Boeing Research and Technology, General Electric Global Research, The Ohio State University, Massachusetts Institute of Technology, the University of Arkansas, the University of Dayton Research Institute, and Rensselaer Polytechnic Institute.

The award to the University of Illinois was one of three in the second round of ULI funding, which will provide a total of about $15 million over three years. The other awards:
Carnegie Mellon University for exploring new methods for using additive manufacturing to reduce costs and increase the speed of mass-producing aircraft without sacrificing quality, reliability and safety.

University of Wisconsin, Madison for researching new ways humans can use robotics to improve the efficiency and flexibility of aviation-related manufacturing processes while enhancing employee safety.



---
Larsen & Shaw Turns 100
Tuesday, May 21, 2019
The 100th anniversary of operations of Larsen & Shaw Ltd., a Walker, Ontario, Canada-based
manufacturer of hinges and hardware stampings
recently marked its 100-yr. anniversary. Founded by Carl C. Larsen in March of 1919, the initial market for the company was hardware stampings for the surrounding furniture industry. The company soon added hinges to the product mix and other industries to the customer base. Today the company supplies a broad spectrum of industries throughout North America with standard and custom continuous hinges, butt hinges and metal stampings. In addition to its 93,000-sq.-ft. facility in Walkerton, the company built a plant and started production in Rome, GA, in 2017 under the name of Carlsen Precision Manufacturing Inc. That same year, Larsen & Shaw was named Canada's Family Enterprise of the Year by the Family Enterprise Xchange.
---
Industry Movers & Shakers
Monday, May 20, 2019
Fabricated Products Group (FPG), a Chicago, IL-based
custom fabricator and machine job shop
, has announced its new leadership team: Dan Shields as president; Russell Enzenbacher as senior manufacturing engineer; and Mark Worrell as senior project manager.
Shields has 20 years of experience and leadership within the world of metal products and fabrication.
Enzenbacher has more than 24 years in the industry; prior to FPG, he worked at a leading electrical and network infrastructure manufacturer. Worrell has worked with various companies within the MHS Legacy Group (of which FPG is a part) as a project manager and lead estimator.
---
Visit Our Sponsors