seen at fabtech
ABB, Lincoln Electric Team for Cobot GMAW Cell
December 9, 2022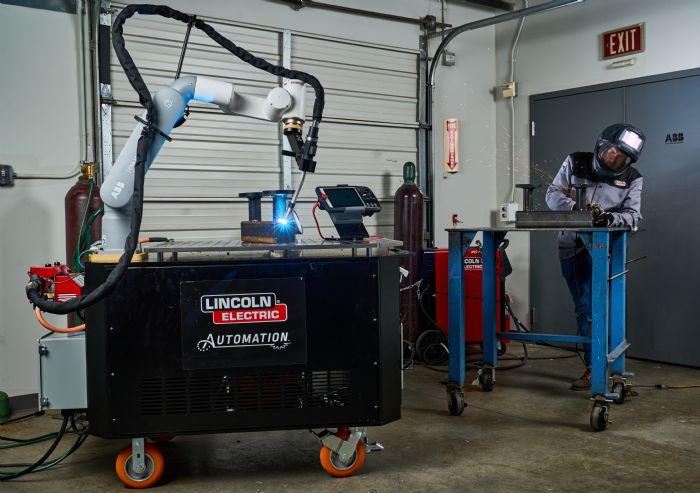 At FABTECH...ABB and Lincoln Electric offered live demos of a new collaborative-robot (cobot) gas-metal-arc-welding cell, featuring an ABB GoFa CRB 15000 cobot and the Lincoln Electric Power Wave R450 welding package. The package includes proprietary programming software that greatly eases cell programming and the setting of welding parameters, according to ABB officials.
The cell includes a user-friendly interface for simplified programming, with built-in welding libraries where users only need to enter the material type and material thickness, and move the robot to the beginning and end of the weld. All welding parameters and cobot travel speed then are set, and with the push of a button, the cobot is ready to weld. Learning to operate this welding package typically takes less than 1 hr., according to company officials, which enables a user to weld on the same day that the equipment arrives.
Cell components include the ABB six-axis GoFa CRB 15000 cobot, with 950-mm reach and 5-kg payload; the Lincoln Power Wave R450; a Lincoln Magnum Pro air-cooled welding torch; Cooper cobot interface; mobile cart; torch-dress package
The cell, designed for small- to medium-sized manufacturing operations and first-time users of robotic welding equipment, reportedly offers simple job changeover and is well-suited for both low-volume, high-mix and high-volume, low-mix operations.
See also: Lincoln Electric Co., ABB Press Automation Solutions
Technologies: Welding and Joining