Articles
Hot Stamping Getting Hotter
Tuesday, July 23, 2019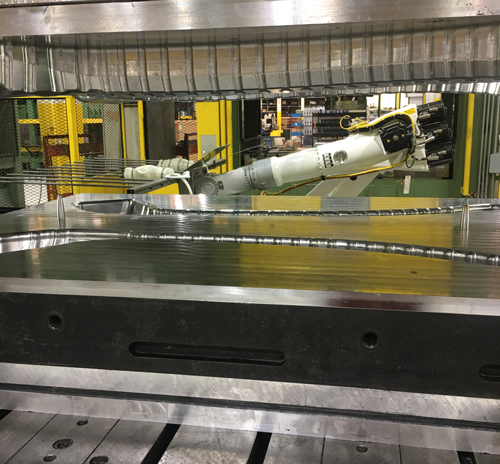 A hot stamping die at Urgent Design & Manufacturing in Lapeer, MI, awaits a red-hot blank. Rest assured it's coming, as hot stamping has taken off and continues to grow in North America.
Within the past decade, hot stamping has gained a foothold in North America, as more and more automotive OEMs and their Tier suppliers adopt the technology. Efforts in automotive lightweighting and safety-cage improvement have coincided with introductions of ever-stronger advanced and ultra high strength steel (AHSS, UHSS), and the combination has revealed hot stamping as the process that most efficiently produces—and many times the only process that produces—complex, safety-critical components. Common hot stamped components include A and B pillars, and roof reinforcements, and as the technology becomes more ubiquitous, more part applications surface.
Describing the process in its most general terms, steel blanks feed into tunnel or stacked furnaces for heating to a temperature (above 1500 F or so) that makes the blanks malleable. Blanks move into a press capable of controlling stroke rate and dwell time for forming, followed immediately by in-die quenching for 3 to 10 sec.—in-die water channels often serve this purpose. The heating and quenching processes—the former shifting the steel to a full austenitic phase followed by the latter for transformation to a full martensitic phase—create the hardened material while not overly stressing the tooling, thus the material can be formed more easily prior to reaching its final hardened state.
To help metal formers and fabricators stay on top of the technology,
MetalForming magazine debuts its Hot Stamping Experience and Tech Tour, September 17 in Michigan. We spoke with some of the event presenters and representatives of hot stamping equipment for an inside look at the current state of the technology and where it's headed.
Applications Grow in North America and Europe
In practice since the 1970s, hot stamping really took hold in Europe in the 1990s before gaining traction in North America roughly a decade ago. Tracing the technology's development is Eren Billur, technical manager at Billur Metal Form Ltd. in Turkey. In June, the company held its second MEFTECH technical conference, which featured hot stamping content. With a Ph.D in Mechanical Engineering from Ohio State University and author of four books, including "Hot Stamping of Ultra High Strength Steels," published in late 2018, Billur will relay his process expertise in a presentation at the Hot Stamping Experience and Tech Tour.
"With increasing gas prices and environmental concerns worldwide, hot stamping became a main option for vehicle safety-cage parts," Billur offers. "Hot stamping provides a perfect solution to problems encountered when creating complicated geometry in strong, thin material—springback, wrinkling, splits and cracks. Complex formed parts with 1500 MPa ultimate tensile strength are not possible via cold stamping."
While 3rd-generation AHSS enables cold forming of parts that approximate the strength of their hot stamped counterparts, as technology patents expire this year, reports Billur, expect higher-strength materials and improved processes that will continue to push hot stamping ahead.
"In the past 20 years, the percentage of hot stamped parts in body-in-white have increased from 2 to 5 percent to 30 percent," he says. "That includes the Ford Focus. The Focus, as a compact car, previously would not have been considered to have such a high ratio, which had been confined to luxury SUVs and the like. Today, hot stamped parts reach into vehicles of all classes."
Hot stamping also enables greater use of tailor welded and rolled blanks, which aids in part consolidation. The process also provides an alternative to aluminum-part production. The Audi A8, Billur notes, featured an all-aluminum body in its first two generations. The third, out in 2010, introduced hot stamped B pillars, and the fourth generation, debuting in 2017, offers a body with 17-percent hot stamped parts.
While Europe and North America continue to lead in adoption of hot stamping, Billur reports China, India and South America as the next markets to increase use of the technology.
Automated Cell Eases Development and Prototyping
Providing valuable technology and application insight is Hot Stamping Experience and Tech Tour host Urgent Design & Manufacturing, part of the 3-Dimensional Services Group. A Tier-One automotive supplier, 3-Dimensional Services Group consists of 3-Dimensional Services in Rochester Hills, MI; Germany-based 3-Dimensional Services Europe; Urgent Plastic Services, also in Rochester Hills; and Urgent Design & Manufacturing in Lapeer, MI.

MetalForming magazine's one-of-a-kind event is designed dive deeply into the ever expanding world of hot stamping. The Hot Stamping Experience and Tech Tour features presentations from industry experts as well as a tour of host company Urgent Design & Manufacturing, Lapeer, MI.

Hot Stamping Experience and Tech Tour presentations include the following:
Novel, Cost-Efficient 3D Printed Hot and Cold Forming Tools for High Volume Part Production
Harald Lemke, Chief Commercial Officer, Formetrix
Learn about the benefits of 3D printing for the manufacture of tooling and dies, and for hot and cold forming, with novel designs and conformal cooling that extend tooling and die lifetime, and accelerate production.
Fundamentals and Applications of Hot Stamping Technology for Producing Automotive Parts
Eren Billur, Technical Manager, Billur Metal Form Ltd.
An introduction to hot stamping of UHSS technique and its evolution will be provided.
Welding Fasteners to Hot Stamped Coated Steels
Bob Kollins, Senior Application Engineer, Technical Sales & Solutions
Allen M. Agin, Midwest Regional Sales Manager, Weld Systems Integrators, Inc.
Kollins and Agin will review the manufacturing issues encountered when projection welding fasteners onto hot stamped/press hardened, AlSi-coated components.
Laser Cutting Press Hardened Steel: Software and Hardware Advancements Combine to Reduce Cycle Time and Consumable Use
Nathan Harris, Industry Management: Automotive, Trumpf Inc.
Learn how new laser cutting technology is helping shops working with press hardened steels meet the challenges presented by ever-increasing part sizes and pressure to maximize throughput.

3-Dimensional Services provides vertical integrated rapid manufacturing services, including design, engineering and manufacturing of precision prototype parts and assemblies. In addition, it has invested significantly to modernize equipment to better support low-to-medium-volume production applications.
Capabilities include engineering, design, CNC machining, stamping, laser cutting, tube bending, hydroforming, robotic gas-metal-arc and resistance welding, plastic injection molding, casting, and more.
In Lapeer, 3-Dimensional Services houses its prototype and low-volume hot stamping capabilities, courtesy of Urgent Design & Manufacturing. Hot Stamping Experience and Tour attendees will see how Urgent meets the needs of its OEM and Tier-One customer base.
3-Dimensional Services Group is a family-owned organization operated by 400 skilled employees across 300,000-plus sq. ft. of manufacturing space. Over its 25 years, the company has accumulated a wealth of capabilities, and directs a roster consisting of more than 100 stamping presses, more than 25 five-axis laser systems and in excess of 75 CNC machining centers, according to Chad Peterson, 3-Dimensional Services general manager.
"We can take on a lot of work and push it through the floor pretty effectively, which is one of our biggest competitive advantages," Peterson says. "And, we handle all aspects of large programs instead of customers having to source two, three or four suppliers."
Focusing on hot stamping operations in Lapeer, Peterson stresses the demand for forming increasingly strong materials.
"When getting into UHSS, some geometries can't be cold stamped due to work hardening of the material, strain limitations and increased springback," he explains. "Trying to achieve the geometries would require three to four forming operations, and material would work harden to the point that it's not practical or possible. But hot stamping, with material in a red-hot state, enables drawing of those geometries, with the material's end strength far superior to what cold stamping can provide."
Hence the attraction of hot stamping—a process to form challenging AHSS and UHSS due to lightweighting and vehicle-safety demands.
A major challenge: developing and refining an efficient and productive hot stamping process.
"Hot stamping involves so many technical challenges, such as proper timing of heating and cooling; designing, building and operating complex dies; and so many other variables," Peterson explains. "So much goes into it...you don't just buy the equipment and go on your way."
Hence, also, the need for knowledgeable and skilled personnel to develop and operate such processes. At Urgent Design & Manufacturing, that need is met by associates such as Jeff Bischoff, director of engineering and resident hot stamping expert.
"We're very good at cold stamping parts, especially from AHSS," Peterson says. "That experience and expertise led us into hot stamping. We saw the trend toward these stronger steels and the hot stamping process, so we used our competency along with Jeff's help in developing a fully automated hot stamping cell that replicates the mass-production process. Today, we employ the most technically advanced hot stamping process available at a prototype level."
Parts needing significant draw depths and high strengths are optimal hot stamping applications, offers Bischoff.
"Hot stamping can draw and hold very tight geometric tolerances, and attain unmatched mechanical properties," he says. "We see more applications coming as companies become more sophisticated and confident in the abilities of the hot stamping process. Tailor welded blanks, varying material thicknesses, adding hard and soft zones—these are complex considerations and will become more complicated."
This challenges the industry to stay on top of the technology to gain the most benefits.
The automated prototype cell at Urgent Design & Manufacturing enables 3-Dimensional Services to address such challenges and still deliver in a timely manner.
"We won't compete on volume with a production house," offers Bischoff, "but we have a significant advantage in timing. From a CAD file we quickly can create tooling and perform simulations, to create a blank profile. From there, we machine-tooling cut a few blanks, then develop and adjust within the hot stamping cell."
Trumpf three- and five-axis laser cutters trim the blank material, and within the cell, two AP&T 500-ton, NC-controlled presses perform the forming, with a Kuka KR210 robot responsible for material transfer between the presses and furnace. The cell also provides automated material clamping.
Of course, process timing is critical—in many cases, with Boron steels for example, material temperature must drop from 1500 to 600 F within 10 sec. to achieve the needed martensite concentration.
"That's impossible to do repeatedly without robotic control," Bischoff offers. "And, water-cooling the tool depends on the needed volume. For a low-volume run of, say, six parts/day, we don't need to water-cool. For higher volumes of 40 or 50 parts/day, we'll employ a chiller along with laser scanners to verify tooling temperatures."
The cell also offers cover-gas capability for blank heating. In addition, Urgent provides material testing and finishing capabilities for the hot stamped parts.
As for production times, the general rule calls for 7 min. of furnace blank baking, with a total of nearly 10 min. cycle time for a part.
Cooling channels in tooling represent quite a challenge in hot stamping, with Urgent employing various techniques as needed. To keep tooling under 300 F, Bischooff and the Urgent team opt for water jackets, as large as possible given the geometry. As tool profiles become more complex, cooling becomes even more challenging and must be addressed with various strategies.
Tour attendees will have access to some facets of the hot stamping process at Urgent, and the ability to interact with technology experts there, as well as during the technical sessions.
"Making a good part once is an achievement," says Peterson. "Certifying a process and making a good part every time is what our customers need to verify their designs for safety and production. This is the confidence that 3-Dimensional Services offers at the prototype and low-volume levels."
Overall, "when attendees come through our facility, they'll be impressed by the size of our operations and our range of capabilities," says Peterson. "Customers on our tours always are impressed by how much we can take on and how many different processes we can support inhouse."
Another huge asset of 3-Dimensional Services and Urgent Design & Manufacturing: "Our people," Peterson says. "We have a dedicated, highly skilled team. The majority of the work we support is on a 3- to 5-week timeline, which keeps us on our toes and provides a good understanding of where the industry is going, especially regarding hot stamping. It's an exciting time for us because we're seeing the change. It will be interesting to see where this technology goes 10 years from now."
Press Technology Optimized for Hot Stamping
Press builders, recognizing the hot stamping trend, leverage state-of-the-art technology to help optimize the process.
A hot stamping press requires a relatively long stroke and rapid closing of the die to minimize the time in air for the heated blank, a critical parameter for the hot stamping process.
This makes servohydraulic presses well-suited for such applications, report officials from AP&T North America, which supplied machines for Urgent Design & Manufacturing's automated hot stamping cell and has developed a new generation of servohydraulic presses. Stampers reportedly can achieve significant energy savings during quenching and part handling when the slide stands still, as the servo motors in such servohydraulic presses operate at almost 0 rpm.
Also, hot stamping tooling normally contains high-force gas springs, which require a gas-spring-discharge function on the press to prevent hydraulic-system damage. This function allows the press to start the return stroke at a low speed, enabling the gas springs to push the slide up before the fast return stroke begins. Presses equipped with this function reportedly exhibit reduced cycle times as compared to conventional hydraulic presses.
Tooling Solutions Evolve to Keep Pace
To say that hot stamping taxes tooling is quite the understatement, and material providers as well as tool designers and builders are striving to meet the challenge.
"For hot stamping, we've seen an evolution of tool steel standard grades such as H13 and lower-alloyed steels, with all of that pushed upstream to higher-alloyed materials due to critical die expectations related to cycle time and wear," says Tom Bell, executive director of Hitachi Metals.
Any material with yield strength surpassing 1200 MPa is considered for hot stamped parts, he notes, which truly stresses tooling. Tool-material providers are well aware of the challenges, and like press and tool builders, are working to meet the needs.
"The challenge in the tool steel business: meeting wear and toughness requirements simultaneously," Bell says. "But meeting these properties makes the tool steel difficult to work with—more difficult to machine."
Machining difficulty becomes extra challenging for hot stamping tooling, given the cooling channels and complex forms inherent in dies used in this process.
"The expanding requirements related to hot stamping keep us innovating," Bell says.
He points to two technologies that have a role to play in tool material selection and die design/build for hot stamping: surface coatings and additive manufacturing (AM).
"As a steel maker, we want to make the best possible steel, meaning the best substrate and the best mechanical properties," Bell says. "Surface coatings can help in terms of lubricity and wear, and we're seeing development of coatings that can withstand hot stamping."
As for AM, "3D printed inserts enable the creation of effective conformal cooling lines in hot stamping dies," Bell says. "Traditionally, a water line in a hot stamping die runs along the X or Y axis—very linear. It doesn't always reach the surface of the die contour to cool as quickly as needed. AM inserts can be built to do that, which provides a big advantage."
What remains to be seen, according to Bell, is whether AM technology can enable manufacture of inserts large enough to be effective in the very large hot stamping dies.
AM-Specific Tool Steel Boasts Simplified Printing
As noted in this article, from production-line components to the manufacturing process itself, the metal forming industry continues to respond to the unique requirements of hot stamping and encourages the use of AM as a viable production option for mission-critical hot stamping tooling parts. As hot stamping is conducted on higher and higher strength steel materials, so, too, as Bell offers, must tool steel materials evolve to form such parts.
In his presentation at the Hot Stamping Experience and Tech Tour, Dr. Harald Lemke, chief commercial officer for Formetrix, details the R&D and application development work involved, and his stated payoff: Easy-to-print powdered tool steels formulated specifically for the laser powder bed fusion process. The result: Conformally cooled tool designs offering benefits such as shorter tool lead times, lower hot stamping cycle times and hot stamping of more complex parts.
Recounting his lengthy forming-material experience, Lemke cites the ever-present efforts to drive 3D printing down the cost curve.
"Back in 2007," he recalls, "I realized that except for maraging steel, which isn't very common in the tool steel industry, no tool steels could be printed easily via laser based powder bed fusion, the most common metal AM process."
Those tool steels that were printed, he notes, required preheating of the material to 400 C or higher, thereby further increasing the 3D printing cost. Though no commercial metal printers existed at the time, Lemke was cognizant of what would be coming. As he explains, higher volumes of metal-powder production would drive down costs, and with AM reaching into higher-part-volume arenas such as automotive and industrial, an affordable AM steel powder with the needed hardness and toughness would be a boon to the industry as was the case decades ago with sintered powdered metal.
Combining such material with the AM process delivers an alternative to long tooling lead times while enabling design freedom. This is especially important in hot stamping, Lemke says, which often requires intricate cooling channels. Efficiently designed tooling also offers the opportunity to reduce cycle times—another hot stamping challenge.
In his presentation, Lemke discusses the properties, applications and benefits of a crack-free AM powder, printable at room temperature and exhibiting high hardness and high ductility. He also discusses the postprocessing options such as heat treatments, carburizing, nitriding and PVD coating under tight dimensional control and given surface-roughness requirements.
In researching and testing formulations in the quest for such AM powder, "I don't know how many hundreds of pieces I have seen cracking," Lemke says. "The insidious thing is, sometimes we would print it, go home and celebrate success. Then after a day or two we would see the cracks. These developments took years of work and came to a successful conclusion."
Further, the presentation will include parameters and printing speeds on different machines as well as heat treatment results from commercial heat treaters in the United States and Germany, as well as an economic outlook. One end-use success to be detailed by Lemke at the event relates to a hot stamped production part for a 2019 North American truck.

Resistance Welding a Fastening Option
A major aspect of hot stamping concerns joining, including the projection welding of fasteners, as these parts make their way into larger components and assemblies. Installing fasteners on hot stamped AlSi-coated parts can be tricky business owing to a number of factors, according to information from Weld Systems Integrators, which provides systems for capacitive discharge (CD) resistance welding in hot stamping applications.
Especially in these applications, fasteners are extremely soft as compared to the base material, causing the fastener projections to collapse before a good weld is achieved. In addition, hot stamped materials develop an AlSi coating in the furnace, with the resistive qualities of the coating inconsistent across the hot stamped part. On top of that, the short weld times called for in projection welding bring difficulty in delivering enough heat to the base material.
CD welding stores energy for rapid energy release with large peak currents, which means more energy into weld formation and less into heating the surrounding material, as well as a smaller heat-affected zone as compared to other welding processes. In metallurgy-critical hot stamping, these attributes prove advantageous, which is why, despite the above-listed challenges, projection welding of fasteners to hot stamped parts sees wide use.
Bob Kollins, senior application engineer with Technical Sales & Solutions, which works with end-users to set up and operate stand-alone Amada Miyachi-powered CD welding units from Weld Systems Integrators (WSI), along with Allen M. Agin, WSI Midwest regional sales manager, will describe fastener-welding challenges and solutions at the Hot Stamping Experience and Tech Tour.
"Since 2007, we've worked with Tier Ones and OEMs producing and processing hot stamped parts inhouse," says Kollins. "Typically, materials arrive at a Tier supplier ready to be stamped. Hot stamping, on the other hand, involves inhouse processing, which varies from manufacturer to manufacturer. Variations exist across the industry and even across a part in terms of contact resistance, specifically at the interface where the fastener attaches to the part."
CD welding technology, Kollins explains, can work with these variations by altering the weld current to match the current needed for resistance at that particular location on the part. Today, Kollins and Agin see a rise in hot stamping usage and applications, and continuously work on developing welding technology, such as a newly released machine and monitoring capability, to account for trends, including the use of thicker material. MF

See also: AP&T North America Inc.
Related Enterprise Zones: Presses
---
Reader Comments
Posted by: JS Kalra on 8/1/2019 11:59:21 PM
Very truly said regarding welding of fasteners to hot stamping sheets. Most of the time it become challenge to get good weld on hot stamp base metal. initially it require lot of time to establish parameter , Weld lob help in stablising the parameters. Nadex and Obara weld timers also provide good support to establish the process Good information on welding fastners to hot stamp sheet.
---
Posted by: JS Kalra on 8/1/2019 11:59:16 PM
Very truly said regarding welding of fasteners to hot stamping sheets. Most of the time it become challenge to get good weld on hot stamp base metal. initially it require lot of time to establish parameter , Weld lob help in stablising the parameters. Nadex and Obara weld timers also provide good support to establish the process Good information on welding fastners to hot stamp sheet.
---
Visit Our Sponsors