Articles
Lasers Cut It for Home Decor Leader
Friday, March 1, 2019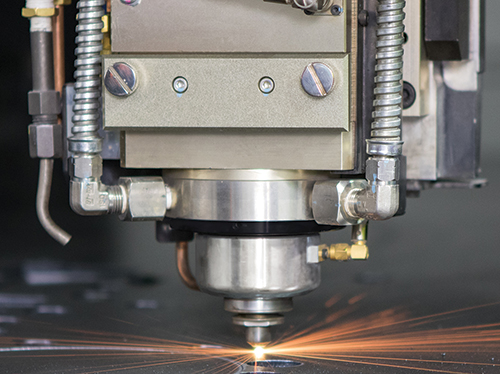 Perfect edges matter greatly when your business is cutting-edge (pun intended) home décor—think wall art with scripted letters and names, hearts and anniversary dates, symbols and critters, to name a few—cut from aluminum, as well as galvanized, mild and stainless steel. That's true of Southern Designs in Vidalia, LA, where founder and CEO Tance Hughes, with his brother Seth heading up production, oversees one of Inc. Magazine's fastest-growing companies, reporting $3.3 million in 2017 revenue accounting for growth of 664 percent since 2014.
"Our team is honored to be ranked as one of the country's fastest-growing companies for the second year in a row," says Tance, who also earned a spot on Forbes' 30 Under 30 honoring standout manufacturing entrepreneurs. "We hope to continue steady growth and job creation in our community for many years to come"
Clearly the company is on track for doing just that. Founded in 2008, Southern Design didn't start out as a fabricating company. Instead, it began as a screen printer. With just five employees in a 1250-sq.-ft. facility, Southern Design pivoted in 2013, when it began making wall art with four CNC plasma cutting tables. This proved to be such a great move that within four years, the company, with its four machines running 24/hr. per day, had difficulty keeping up with demand. Today, Southern Design equipment still runs 24/7, the difference being that fiber lasers instead of plasma tables now do the work at the company's 30,000-sq.-ft. facility, where 35 employees design, produce and ship 700 to 1000 art pieces daily, most of which are sold online under the Metal Unlimited brand.
Lasers Get the Call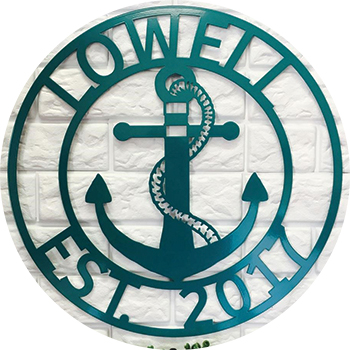 Customized wall art by Southern Design relies on quality laser-cut edges.
"We realized that we needed advanced technology that could handle the higher volume and provide clean edges," says Tance. "Fiber lasers proved to be that technology with their faster speeds and cut quality. Tance says his company added a 4-kW fiber laser cutting machine in 2017, but wasn't satisfied with the vendor's technical support and service.
So the brother duo attended FABTECH 2017 in Chicago, where Tance says they researched their options, eventually deciding on a Mazak 6-kW Optiplex Nexus fiber laser cutting system. "At first, I wasn't sure we would be able to tackle such a large purchase, but once I saw its speed and quality, I knew we had to do it."
The machine was ordered in December 2017 and installed in February 2018, when a Mazak service technician spent two weeks overseeing installation and startup. A senior installation technician followed, spending an additional week to ensure that the equipment ran smoothly.
This level of customer service and the system's features proved a winning combination for Southern Design. "We really liked the CNC control and the interface," says Tance. "It's easy to use and has more data that show what currently is being processed on the machine. We also like the material-handling features. The workpiece lifters (roller-ball transfer devices) make it easy to position material while the shuttle table (an automated two-pallet changer design) allows for easy in/out of material and cut pieces. While one sheet is being processed, finished parts are pulled off. This, and the increased speed of the laser—about 15 to 20 percent faster than our first laser—improves throughput."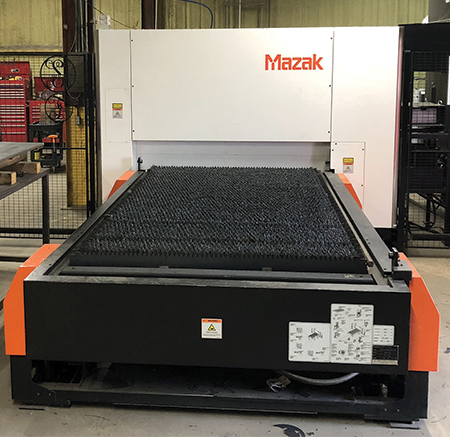 An automated two-pallet-changer design allows for easy in/out of material and cut pieces.
Other aspects of the system worth noting include its intelligent and setup and monitoring features:
Automatic nozzle changing;

Automatic nozzle cleaning;

Automatic profiler calibration;

Focus detection;

Automatic focus positioning;

Pierce detection;

Burn detection; and

Plasma detection.
"The automated processes result in less downtime and greater machine realiability, which means we're able to get more products out the door faster," says Tance.
Overcoming Challenges
While Southern Design wasn't Mazak's first home-décor customer, its volume of business and its products presented a challenge in terms of software programming, says David Widlund, Southwest regional sales manager for Mazak.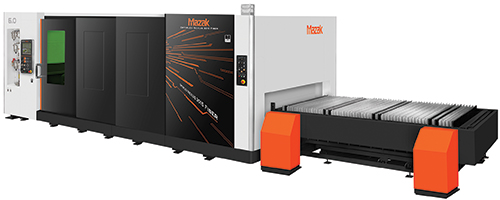 Shown here are the operator control unit at rear of machine and full-side sliding door to access the cutting area.
"With these parts, the CAD files are produced in a vector format and when coded, they're large files and include small lines that, when read by the machine, result in choppy lines rather than smooth arcs," explains Widlund. "So there was some work we had to do with the software-programming company to change the vectors into arcs and to make the programs smaller. We're not a software company, but we can, and do, work with any of the software providers. From this, we learned a great deal about converting files into their proper form."
In addition to its features, the 37 by 20-ft. machine is designed for flexibility upon installation, according to Widlund. "When we had to move the chiller on the machine due to Southern Design's space constraints and its building design, this wasn't a problem because of our plug-and-play versatility," he says. "The periphery equipment—the generator, chiller and dust collector—all have extended cables so that they can be moved as far as 15 ft. to accommodate building requirements. These items can be extended even further away if need be by purchasing extended cables."
"With Southern Design's volume continuing to rise, it's likely that so, too, will its equipment needs," says Tance. "We are considering adding a third laser in 2019." MF

See also: Mazak Optonics Corporation
Related Enterprise Zones: Fabrication
---
Reader Comments
There are no comments posted at this time.
Visit Our Sponsors