Articles
Restoring and Building Bridges via Waterjet Cutting
Friday, November 1, 2019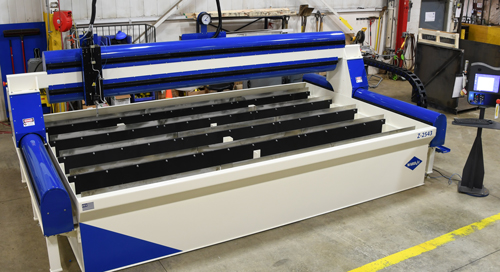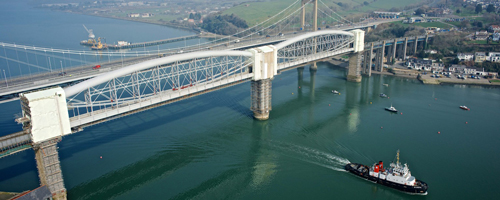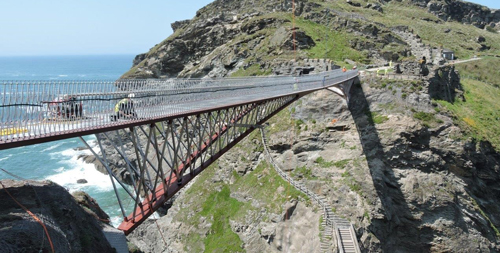 Top to bottom: A WardJet cutting machine with dual cutting heads was used to complete two huge United Kingdom projects: restoration of the historic Royal Albert (rail) Bridge and the Tintagel Castle (foot) bridge.
Inherent in all cutting technologies are characteristics that make them suitable to specific applications. For Cutlass Mechanical Engineering (CME), a Plympton, United Kingdom-based provider of engineering, welding and fabricating services for a range of sectors, two enormous bridge projects calling for continuous precision cutting without any heat-affected zones led it to abrasive waterjet cutting.
"Five years ago, we became familiar with the benefits of waterjet cutting through our work on the Royal Albert railway-bridge restoration project," says Adam Tanner, managing director at CME. The 2188-ft., 172.-ft.-high bridge, owned by Network Rail, dates back to 1859 and spans the River Tamar, connecting Plymouth and Saltash, England. The complete restoration of the landmark was a 3-yr., $12-million project involving installation of 300 tons of S355 J2+N mild structural steel used for plates with an average size of 27.5 by 27.5 in., and ranging in thickness from 0.4 to 1.25 in. Also: 250,000 cut holes for tension-control bolts.
"This project," says Tanner, "was our entry into waterjet cutting because the technology ensures precise cuts and structural integrity. There couldn't be any heat-affected zones as you can't afford to have any stress cracking on a bridge project."
Cutlass selected WardJet's Z-2543 with an 11 by 18-ft. bed, two cutting heads and an optional camera that allows for remote viewing of cutting. The company recently used the same equipment for a second bridge project: replacement of the long-lost (between the 15th and 16th centuries) Tingtagel Cornwall Bridge. This $6-million project (less than the Royal Albert because it was new construction vs. an historical restoration) involved the cutting of 40 tons of duplex (austetitic-ferritic) stainless steel and nearly 3000 half-in.-thick parts such as parapets and connection bars. The project, a footbridge over a 190-ft. drop between two cliffs, involves two independent 98-ft.-long steel cantilevers that connect the county of Cornwall to an island with a medieval castle. A 1.5-in. gap in the middle allows the bridge to expand and contract with changing temperature.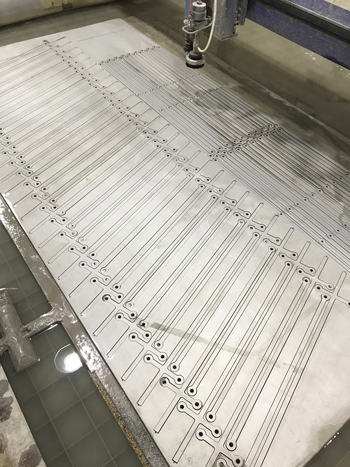 The shape of the parts for the Tintagel Castle Bridge—such as these cross bars—lent themselves to a tight nest for optimizing use of the materials, resulting in virtually no wasted materials.
Once again, achieving distortion-free parts was critical, says Richard Ward, founder and president of WardJet. "The shape of the components, which include small holes, required no heat-affected zones or heat distortion associated with laser or plasma cutting, leaving waterjet cutting as the optimum processes. The shape of the parts lent themselves to a tight nest for optimizing the use of the materials. There was virtually no wasted materials."
"This was by far our most challenging project ever," says Tanner. "With eight employees, we're not a huge firm. While there were slight interruptions for existing-customer jobs, for the most part we ran three shifts around the clock, for about 600 hr. of nearly continuous cutting over a 6-month period." MF

---
Why Waterjet Cutting?
Why choose waterjet cutting over other cutting technologies? Jeff Day, applications engineer at WardJet, answers this and other related questions.
MetalForming: What are the advantages of waterjet over other cutting technologies, such as laser? Are there limitations?
Day: For starters, a waterjet cuts thicker in most materials and virtually no heat input means no heat-affected zones. Precise cut quality makes possible small holes, requiring little to no rework.
MetalForming: What types of metals are cut using a waterjet and are there size limitations?
Day: The garnet abrasive, mixed into the waterjet stream, enables an erosion process to occur. The harder and thicker the material, the slower the travel speed to allow the garnet enough time to erode the material. The only material the waterjet cannot cut is tempered glass, though chemically tempered glass can be cut via a waterjet.
MetalForming: What are some equipment and feature options?
Day: We have a range of machines, from 2 by 4-ft. to 16 by 50-ft. footprints and with multiple cutting heads. The machines offer as much as 60 in. of Z-axis travel and five-axis heads capable of cutting holes in the hulls of submarine. Machines are available as either water-only systems (for soft nonmetal materials), or abrasive, or combination. Options include multiple cutting heads, larger pumps and automated systems for loading/unloading, marking, printing, etc. We help customers figure out how they might fixture a part for complex five-axis cuts. Several will trim the flashing off of pressed or formed parts. Also, besides creating the tool path to cut the part, our Igems software can help to model a fixture to support the part.
MetalForming: When are retrofits a good option?
Day: If a machine is mechanically sound, a controller retrofit can update a machine with respect to software and support. Also, companies sometimes retrofit by adding improvements such as five-axis heads to their machines as their business evolves.
MetalForming: What else would you like our readers to know about waterjet cutting?
Day: Waterjet cutting produces less of a negative environmental impact than other technologies. As an inert substance, the garnet abrasive usually is landfilled after going through appropriate testing by waste haulers. When cutting hazardous materials (lead or beryllium), closed-loop water filtration systems can be installed to keep these materials from going down the drain. Moreover, the ability to nest parts closely helps reduce scrap as does cutting parts on a just-in-time basis.

---
See also: WardJet, Inc.
Visit Our Sponsors