New Product Article
Power Supply Now Equipped for CMT Welding
Tuesday, March 14, 2017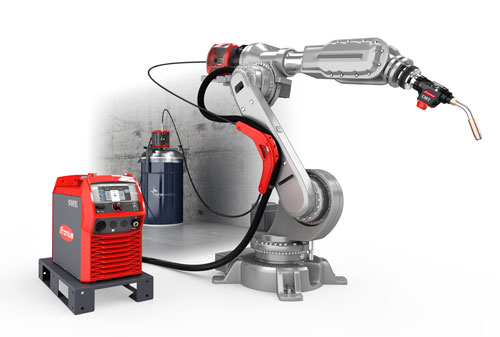 Fronius has increased the functionality of its intelligent TPS/i Robotics power source, designed for robotic arc welding, to handle the cold-metal-transfer (CMT) welding process. Users benefit from the combination of high and reproducible weld-seam quality and optimum welding speed. The intelligent, modular setup comprises interconnected and synchronized components, and a high-performance processor and high-speed bus that enable quick data exchange. Two synchronized wire feeders ensure dynamic and precise wire feeding, and the compact push-pull welding torch provides easy access to weldments.
Compared to other gas-metal-arc-welding processes, CMT welding reduces heat input and enables continuous regulation from cold to hot. This results in a stable arc and minimal spatter, even at high welding speeds. The process finds use in a variety of applications, including welding light- and medium-gauge sheet from 0.5 to 4 mm thick, thick root passes and galvanized steel.
www.fronius.com
See also: Fronius Usa LLC
---
Reader Comments
There are no comments posted at this time.
Visit Our Sponsors