Welding Helmet Optimizes Operator Comfort, Productivity
March 14, 2017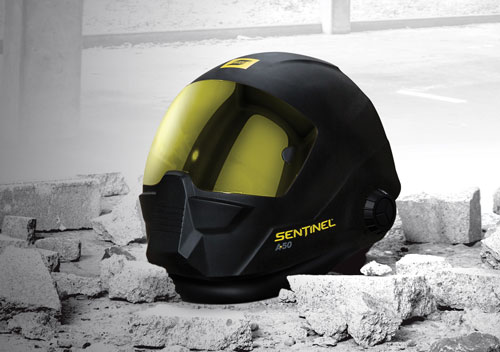 Esab Welding & Cutting Products has debuted the Sentinel A50 high-performance automatic welding helmet, incorporating ergonomic headgear and maximum adjustability to increase productivity, functionality and usability. Features include an infinitely adjustable five-point headgear, a 100 by 60-mm viewing area, an externally activated Grind Button, a color touch-screen control panel and a front-loading convex cover lens that changes in 10 sec.
The ergonomic, low-profile design reportedly delivers improved weight distribution with five contact points, including a central pivot point that allows maximum head clearance while the helmet is in the up position. The ADF lens, with 1/1/1/2 optical class rating, provides welders with a sharp, clear and consistent view of the weld puddle.
And, the grind-application mode, activated externally on the shell's temple, lets operators shift from welding to grinding without removing the helmet.
See also: ESAB Welding & Cutting
Technologies: Bending