Articles
Leveled Sheet and Plate Improves Manufacturability
Monday, April 1, 2013

Processing leveled sheetmetal can provide enormous added value, as evidenced by the experience of heavy-duty trailer manufacturer Goldhofer, Memmingen, Germany. The need for leveled sheetmetal becomes obvious, say Goldhofer officials, when it comes to stamping presses, laser-cutting machines and press brakes, proven out when the firm recently installed an Arku FlatMaster 120 roller leveler.
Says Goldhofer production manager Alois Rothermel: "We now offer enormous added value when working with the leveled sheetmetal. Since purchasing the FlatMaster, we have experienced the importance of processing leveled materials through the production process. We absolutely underestimated this effect when considering the investment beforehand. We have received exceptionally positive feedback from every production department regarding the new leveler. The improvements were consistently noticeable from prefabrication through to edging, assembly and welding."
Adds Klaus Desiderato, the firm's head of preproduction: "Using our older vertical press to level material created a bottleneck in the production process. We were only leveling 65,000 parts from our total annual volume of 300,000 parts. Now, the FlatMaster's efficiency allows us to level 90,000 parts per year.
"Many parts which previously were leveled using our older leveling press," Desiderato continues, "now are leveled with the FlatMaster during preproduction. Because we level a significantly higher number of parts than originally planned, the bottleneck at the vertical leveling press has diminished noticeably and the FlatMaster now runs three shifts."
The Figures Speak for Themselves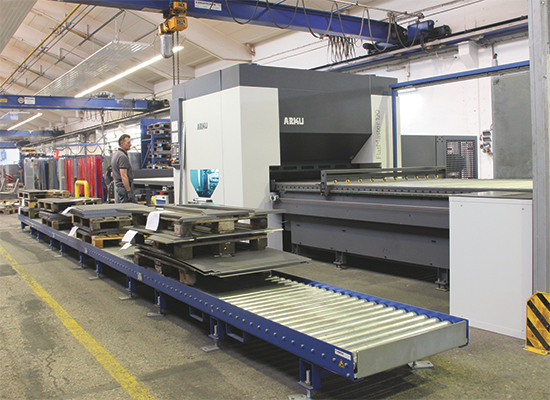 While Goldhofer's old leveler required 5400 hr., or 3.2 shifts, to level 65,000 blanks, the Arku FlatMaster 120 can complete the same amount of work in only 2160 hours, or 1.3 shifts. The leveler processes materials ranging from 3 to 30 mm thick, and can handle high-strength S960 steel (140,000-PSI yield strength).
Goldhofer's old leveler required 5400 hr., or 3.2 shifts, to level 65,000 blanks. Now, the FlatMaster 120 can complete the same amount of work in only 2160 hours, or 1.3 shifts. As a result, the Arku machine frees up one employee for other duties. The machine also delivers further savings for assembly and welding procedures. Even when conservatively calculated, the leveler still delivers further savings of approximately 600 hr./yr. As a result, Goldhofer would realize a return on investment of 5.7 years when run for a single shift. "The machine will definitely pay off more quickly than calculated," says Desiderato.
Although the old leveler, nearly 60 years old, no longer could handle many of the current tasks required, Rothermel still sees its well-earned retirement with both a smile and a heavy heart.
"Many years ago I purchased the machine second-hand together with our company founder, Alois Goldhofer. The machine served us well for decades."
To upgrade its leveling capabilities, the firm first investigated three- and four-roll bending machines, typically used to shape plate into rings for furnaces or similar applications. With certain restrictions the machines also can be used for sheetmetal leveling, and given their significantly lower purchase price compared to a roller leveler, Goldhofer's management considered the option.
Says Rothermel: "We thoroughly analyzed the actual costs and discovered a clear winner. Although more expensive to purchase, the roller leveler is significantly more efficient to operate. This is primarily due to the far greater overhead and space required when operating roll-bending machines."
"In addition," adds Desiderato, "when using a roll-bending machine, the chamfer at the start and the end of the sheet has to be removed using an additional vertical leveling press. And, the leveling process requires considerably more time. We would have needed at least three roll-bending machines to accomplish the same amount of work."
Higher Strength and Thickness Capabilities
The firm's old leveler could process only S355 high-strength low-alloy steel (50,000-PSI yield strength) to 15 mm thick. The Arku leveler processes materials ranging from 3 to 30 mm thick, and can handle the high-strength S960 steel (140,000 PSI yield strength) increasingly processed by Goldhofer. Says Desiderato: "The FlatMaster more than lives up to its name, even when working with these extremely high-strength steels. It makes them very flat."
In addition, the ability to level smaller parts proved to be an unexpected benefit. "Previously, the smallest part we could level measured 400 by 400 mm," adds Desiderato. "Now we can level parts half that size."
The firm's newfound ability to level more of its parts pays off at its welding and assembly cells. "Before, workers in those areas would have to press the parts onto the worktable using brute force," Desiderato says. "And often, the heat generated during manual or robotic welding would release these forces and cause the entire structure to deform. That added a significant amount of rework (flame-straightening) time. "
Servo Hydraulics, and Reversing Mode
"The Flat Master's servo-hydraulics is a great feature," Desiderato continues, "as is its ability to control the leveling gap. With our old system, leveling parts without cutouts required a completely different setup than did leveling parts with cutouts. Now we use the same setup for both types of parts."
The system's reversing mode also has proven its worth. Goldhofer workers need only set the part length. The workpiece then runs through the machine until it reaches the stop, then the upper leveling unit lifts up and the leveled part quickly returns to the operator. This delivers enormous time savings, says Desiderato.
"The operators used to have to walk around the old machine and check the part on the rear side," he notes. "They had to lift the heavy work using a crane. If the results were inadequate, the operator then would run the part through the machine in the reverse direction and check it again on the other side. This process was repeated until the desired results had been achieved. Now, every part comes back out to the front side after leveling and the operator no longer needs to move from one place to the other."
This new-found efficiency has had a direct effect on staffing requirements. Whereas 60 percent of the parts leveled at Goldhofer on its old leveler required two operators, more than 95 percent of its parts can be leveled using one operator.
Last but not least, despite the Arku special roller-leveler quick-change system, Goldhofer does not need to change the rollers for different part thicknesses. Says Andreas Hellriegel, who leads the Arku parts leveling division:
"Because we work with relatively small roll diameters, we can use the machine for the range of material thicknesses that Goldhofer processes—3 to 30 mm. And if Goldhofer wants to level even thinner work, it would be more economical to purchase an additional, smaller roller leveler than to add a changeover cassette to its large machine."
MF
See also: ARKU, Inc.
Related Enterprise Zones: Coil Handling
---
Reader Comments
Posted by: AJAY JALAN on 4/2/2019 3:19:53 AM - URL: www.icemgroup.com
Hello Sir, We have Requirement of SURFACE GRINDING of face 8mm THK X W 2500 mm X L8000 mm carbon steel plates and 2mm THK hestalloy plates SURFACE GRINDING in bulk quantity we request you to suggest suitable machine to fast grind surface of our plates the criteria is to get the surface free from any forein material and finish of 3micron (Ra 3.2) . We are waiting for your suggestions and machine as you Telcon. Best regards S.K.Awate +91 9321356013 Ajay jalan +91 9702000819 Icem Enng co Pvt ltd.
---
Visit Our Sponsors