Bending Machine for Large-Tube Applications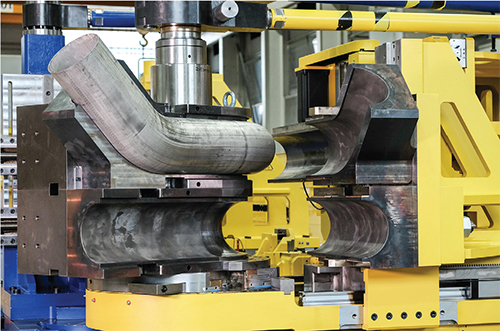 Germany-based Schwarze-Robitec used its electric multiple-radius tube-bending machine, the CNC 220 E TB MR, to demonstrate how complex tube geometries, with diameters to 8 in., are produced precisely and efficiently. The custom machine, developed for a U.S. automotive customer, processes tube lengths to 13 ft. A vertical-height-adjustable pressure die moves to the required bending level in each individual case, allowing the requisite bending forces to be optimally gauged in order to consistently apply the optimal contact pressure to the tubes and pipes to be bent. Used in combination with individually adjustable tools, the multilevel technology integrated into the CNC 220 E TB MR allows tubes to be bent with very short lengths between bends. The machine's control system contributes to fast cycle times by optimizing time, travel stroke and speed on all CNC axes, reportedly reducing production times by as much as 35 percent. Bend-former retraction allows for the bend former and swing arm to operate separately, enabling users to produce a diverse range of tube geometries while adjusting and positioning them during bending. A smart remote-maintenance solution with diagnosis functions is integrated into the machine.
Magnetic Sheet and Part Handling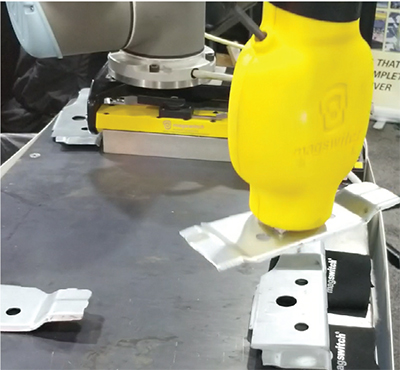 Magswitch offered a host of magnet-based material-handling aids, including products for end-of-arm tooling, pick-and-place, body-in-white and many other applications. Combining cobots and other automation with the company's magnet technology makes it possible to implement magnets where they hadn't previously been applied.
By combining automation and machine vision, the company provides solutions that allow for pick-and-place applications for sheetmetal blanks and parts. In many applications, Magswitch units can replace vacuum cups and traditional pin clamps, which impact operating costs related to energy consumption and downtime. Magswitch is being deployed as a platform technology by major global OEMs and Tier One suppliers in Europe, Asia and North America, according to company officials.
Robotic 3D Inspection System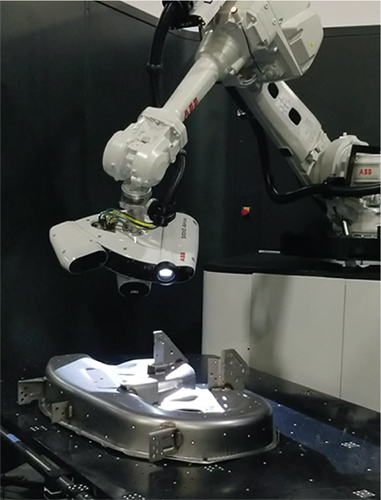 ABB's Robotic Inspection System, showcased at FABTECH, was developed through collaboration between ABB and Nub3D, a provider of digital, 3D inspection and quality-control solutions that ABB subsequently purchased in 2017. The system consists of a 3D white-light scanning sensor mounted to the arm of an ABB IRB 4600 robot, relying on the agility of the robot to provide the precise movements necessary for the sensors to access most areas of both simple and complex parts from the optimum angle.
The sensor technology rapidly records and compares highly detailed geometric and surface data with digital CAD models, enabling the automated inspection of manufactured parts and pieces, helping factories to reduce cycle times while raising quality and reducing the risk of quality-control errors, according to ABB officials. The turnkey inspection and quality-control system is ideal for automotive OEMs, aerospace companies and users in other metals and plastics sectors.
In operation, the system employs a 3D optical scanner with structured white-light technology to compute a point cloud, which then is compared to the CAD model. The system differs from many competitive systems that use a laser scanner to perform measurement, according to company officials, as it provides an enhancement because every shot taken provides 1.5 and 5 million points for the system's Sidio Lite or Sidio Airus scanner, respectively. The benefit of this improved accuracy: earlier detection of component degradation. When components start to degrade over time (dimensionally) or small imperfections start to appear, they will be detected earlier with the ABB system, where other inspection solutions would allow the part to pass through, claim company officials.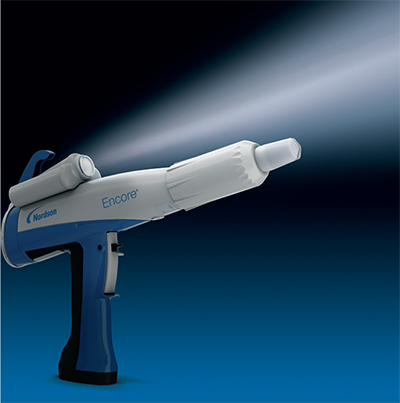 Powerful Light Accessory for Finishing
Many visitors to Nordson's exhibit got their first look at the newly released Encore nLighten accessory that instantly adds the power of an LED light to the Encore manual paint-spray gun. The innovation helps to reduce rework, decrease material waste, and eliminate the use of unrated flashlights and other light sources that can create hazards for employees in a powder-spraying environment.
Nordson also showed its Digital Solutions Platform, central to the company's vision for next-generation products, solutions and services that deliver anytime, anywhere connectivity to customers. The first major component launching under the platform is the company's Parts Ordering App (POA), giving maintenance and engineering teams detailed access to replacement parts and image views through mobile smart devices such as a phone or tablet.
Updated CAD/CAM Nesting Software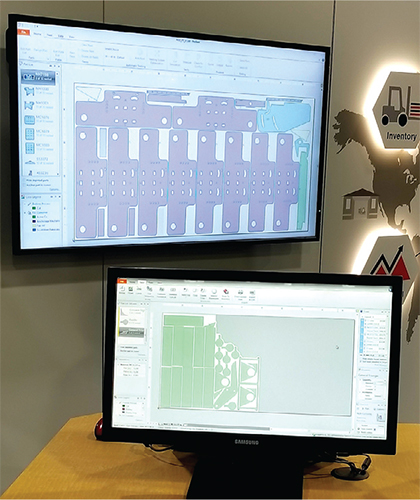 Among many innovations Hypertherm showcased was its ProNest 2019 CAD/CAM nesting software. Designed for advanced mechanical cutting, it can handle all profile cutting needs for plasma-, laser-, waterjet- and oxyfuel-cutting machines.
A major version update, this new release contains more than a dozen new features and enhancements designed to make customers more efficient and profitable. For example, with Smart Drag, manual nesting becomes more fluid and intuitive. With existing parts on the nest, parts easily can be fitted along the contours of other nested parts and the plate edges. The software also enables fly cutting, designed for laser cutting of thin materials. Fly cutting is a method of cutting the aligned edges of different interior profiles together in a straight line. Pierces are produced without slowing down or stopping the cutting head.
Also, a new Skeleton Cut-Up setting allows skeleton lines and exterior part profiles to be cut together in groups. All skeleton lines intersecting the exterior profile will be cut first, followed by the exterior profile. The sequence then will move on to the next group of skeleton lines and parts.
In addition, several areas in ProNest 2019 use a more modern breadcrumb-style folder explorer, allowing for quicker and easier folder and file browsing, and the software's Production Manager interface has been updated with a newer look and feel to ease use.
Expanded Lineup of 1.5-hp Grinders and Sanders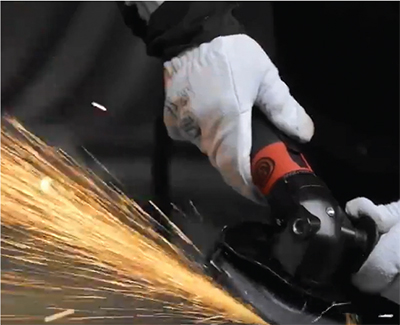 Chicago Pneumatic offered an expanded lineup of grinders and sanders, courtesy of the CP3550 series. These pneumatic tools are designed for use in high-volume fabrication environments where power and durability are a must. The line of 1.5-hp industrial grinders and sanders now includes a die grinder, extended die grinder, slow-speed angle sanders, extended-angle sanders and a 6-in. angle grinder.
The series is designed and built with controlled power, optimal safety, user comfort and efficiency in mind, according to company officials. It provides solutions for grinding, chamfering, weld preparation and cleaning, cutting, finishing and sanding, and other applications. All tools in the series boast a powerful motor to ensure optimum surface-preparation results in the shortest possible time, according to company officials, enabling users to improve efficiency and reduce the time taken to complete tasks.
The new extended range of the CP3550 grinders and sanders offers users the ability to select the tool best suited to specific applications. Other features include a rotating swivel that eliminates air-hose kinks and eases operation, and a keyless adjustable guard that ensures safe operating position.
Twin-Turret, Twin-Head Wire-Bending Machine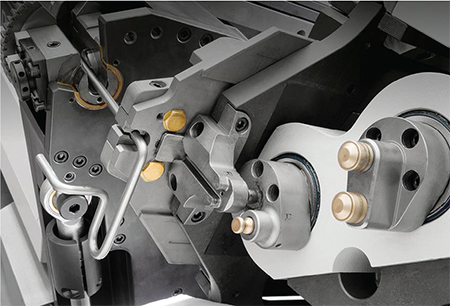 BLM Group USA debuted its all-electric DH4010VGP wire-bending machine, featuring twin turrets and twin heads capable of doubling productivity and/or completing highly complex wire-bending jobs, according to company officials.

The machine is well-suited for medium-to-long part lengths with multiple bnds, symmectric arts, and parts that close back onto themselves.
It cuts wire free from the coil prior to the bending operation, eliminating twisting that can occur when working from coil, and delivers flat, bent wire parts.
The DH4010VGP can be fed via coil stock or pre-cut straight lengths of wire in diameters to 10 mm. It can accommodate tools that produce superior surface finishes, making the machine ideal for furniture applications.
By working with two heads at the same time, the unsupported length of wire is reduced as well as the potential flex that can occur during bending. And, the retractable 3D handler enables the last bends to be made with the bending heads in mutually adjacent positions, minimizing the intermediate stretch between the two bending branches. This enables production of traditionally difficult-to-fabricate parts.
Servo Punch/Fiber-Laser Combo Plus IoT-Driven Remote Support

Amada's expansive booth included a host of recent equipment introductions, including the EML-2515AJ, a servo-driven punch/3-kW fiber-laser combination, which offers high-speed cutting and 300-kN punching force. The combo machine, configured for large-format working areas, offers an increase in stroke frequency of as much as 25 percent as compared to previous offerings, as well as higher speeds, reaching 50 m/min. These improvements are achieved with considerably lower energy consumption than via a CO2 laser. The machine also features an integrated nozzle changer. This reportedly enables continuous production by eliminating manual setup. A punch and die changer allows automatic tool setup.
Amada also detailed V-Factory, its IoT-driven remote support service. It employs IoT technology to link machinery and provide real-time monitoring and adjustment. With V-Factory, machines, tooling and software can collect data, integrated into a safe and secure environment at Amada through a V-Factory Connecting Box. The company's newly established IoT Support Center serves as a contact point with users. Through this link, Amada provides measures for preventing production stops as basic support, as well as other support options. These include back-up measures during emergencies, and use of 'big data' to improve production efficiency.
V-Factory also supports predictive-maintenance strategies, to help prevent unexpected machine stoppages and to ensure supply of needed spare tools and parts. Also, in addition to data and programs for manufacturing, parts-development charts and drawings are backed-up and securely stored. The support service compares a user's production plan and actual performance while probing and identifying causes of discrepancies between the two.
The support service's My V-Factory web- and app-based tool enables real-time communication from anywhere regarding preventive and corrective maintenance, and provides for quoting machine tools and parts while managing a history of quotes and orders.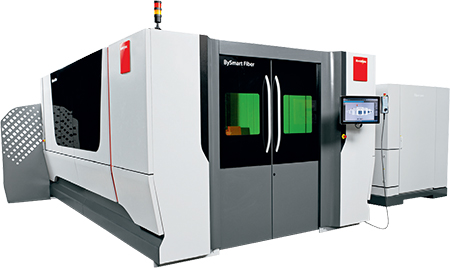 Next-Gen Laser Cutting 4X Faster than CO2
Bystronic introduced its next-generation BySmart Fiber laser-cutting machine. The system focuses on the core competency of a fiber laser, delivering cutting speeds to four times faster than CO2 while using less than half the hourly operating costs. A dual rack-and-pinion bridge design enables fast accelerations and cutting speeds. Other features:
Engineered cutting head with auto focus and adjustment of focal-length spot size;

High machine dynamics even when cutting complex contours;

Simple-to-use ByVision user interface with full 22-in.-touchscreen controls.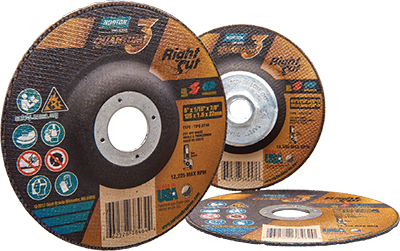 Cut-Off Wheels Boast Rapid Cutting, Less Vibration
Norton Abrasives North America introduced its Quantum3 (NQ3) RightCut wheels, adding cut-off capability to the NQ3 line, which includes depressed-center grinding wheels and combination wheels. The new wheels feature a rounded grain for faster cutting action with less vibration, instrumental in reducing operator fatigue when cutting metal all day. Due to the proprietary grain, the wheel reportedly cuts easily through the workpiece, increasing efficiency and saving time. The bond system of the NQ3 technology reportedly allows for better mix control during the manufacturing process, keeping the individual grains from clumping together for more even wear of the cut-off wheel.
Offered in four Type 01/41 and three Type 27/42 cutting-application SKUs, the RightCut wheels are available in 41⁄2, 5 and 6-in. dia.
Energy-Efficient Servo-Electric Punch Press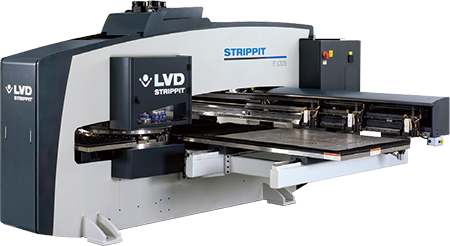 LVD Strippit introduced its new Strippit E Series servo-electric punch press, offering high energy efficiency and exceptional accuracy for punching and forming applications. The machine delivers 20 metric tons of punching capacity and handles worksheets to 49.2 by 98.4 in. A larger model, Strippit E-1530, handles sheet sizes to 60 by 120 in. The electric drive's streamlined design has fewer components than hydraulic punching machines and fewer parts than most comparable electric punch presses, keeping operation and maintenance costs low while ensuring reliable performance and high uptime.
A 47-station turret provides stations that accept shaped punches and dies, indexable multi-tool, tapping, and wheel tools. A full 0.984-in. feed clearance between the upper and lower turret allows for higher forms such as lances, louvers, embossments or card guides. Precise programmable ram control produces accurate results for forming operations.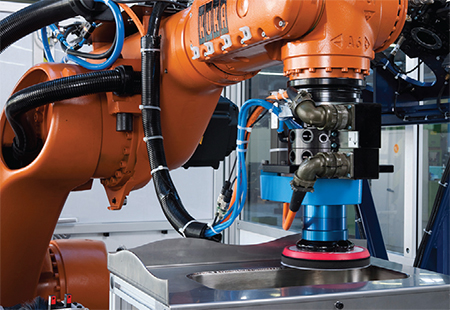 Quick-Change Tools for Robot Arms
Suhner Industrial Products' new quick-change tool system includes power-pack machine tools for direct mounting on robotic arms. The tools feature programmable touch forces of the active flange and interactive surface tracking, allowing automation for operations previously unsuitable for automation. Other features include programmable process forces, balanced tolerances (shapes) and reduced programming time for complex parts. Performance and process assurance, when compared to known systems such as load cells, can increase significantly, says a company representative. Applications for the robot tools range from automotive to deburring operations, stainless-steel machining to drilling and tapping operations, and all areas of manufacturing and operations. Suhner worked with Ferrobotics, a provider of robotic equipment, to develop the tools.
Portable and Lager-Scale Weld-Fume Extraction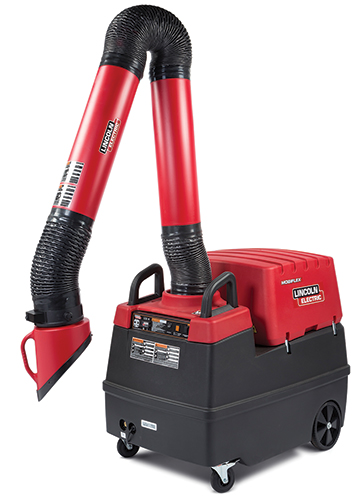 Lincoln Electric showcased its latest welding-fume-extraction technology for small- and large-scale fabrication, including compact, mobile offerings as well as full, banked, extraction and filtration systems.
The new Mobiflex 400-MS mobile welding-fume extractor (pictured) with automatic filter cleaning, designed to extend filter life and reduce maintenance, is ideal for smaller facilities, according to company officials, and provides light- to medium-duty fume extraction in variable locations. Its RotaPulse automatic-filter-cleaning system and large filter capacity enable users to decrease downtime via fewer filter changes. The filter-status indicator monitors the amount of particulate in the filter cartridge to alert users when replacement is needed. And, the internal spark arrestor, functioning as a pre-filter for larger-sized particulate, prevents sparks from reaching the filter. The Mobiflex 400-MS base unit includes a plastic housing, 2-ft. flexible hose, and choice of MERV 14- or MERV 16-rated filters. A 10- or 13-ft. extraction arm, with or without the factory-installed arc sensor/lamp kit, or a hose/hood set is required to complete the system.
The Statiflex Complete series of weld-fume-control systems, available in 4-, 8- or 12-bank configurations, functions in a range of applications including automation, robotic booths, fabrication, indoor welding facilities and welding education/training. All systems come with the Lincoln Smart Connect control panel for filter cleaning, and offer optional Spark Guardian spark arrestors for applications with increased fire risks and optional Transformer Kits for 575-V applications. All systems also have MERV 11 and 16 filter-cartridge options. The Statiflex Complete 4 system includes a 4-hp fan motor with variable-speed starter, while the Statiflex Complete 8 and 12 systems each include a 10-hp motor with variable-speed starter. Reported benefits include quiet operation, automatic cleaning, intelligent fan-control technology, small footprint, and quick and simple installation. This series functions with a multitude of welding processes.
Latest CNC Cutting Software Headlines Interactive Welding and Cutting Presentation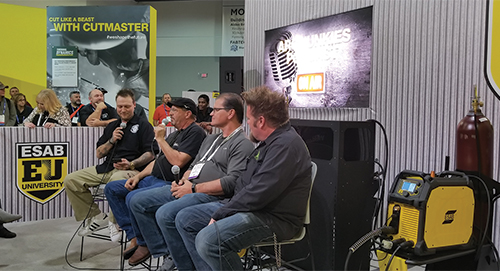 Esab Welding & Cutting Products offered its Esab University learning experience and more than 20 live demonstrations as part of what representatives called the company's most interactive tradeshow ever.
Technology on display included Columbus III software for programming various cutting processes, as well as marking and labeling processes. Intelligent wizards contribute to intuitive operation to allow for simple and highly complex cuts, labeling and nesting jobs. Network-compatible, the software has been developed using the Microsoft.Net standard, enabling user-friendly, standardized interfaces that allow simple connection to a manufacturer's IT system. For example, a familiar Explorer view lets users easily navigate through data and objects, and new layouts can be created with just a few clicks. This reduces training time and minimizes the learning curve, according to Esab officials. The software also supports the company's Precision Hole Technology with a built-in database that automatically assigns the optimum lead-in, lead-out and process codes required to achieve bolt-ready holes on mild steel in thicknesses to 1 in.
Metal-Cored Wire Boosts Welding Deposition Rates and Travel Speeds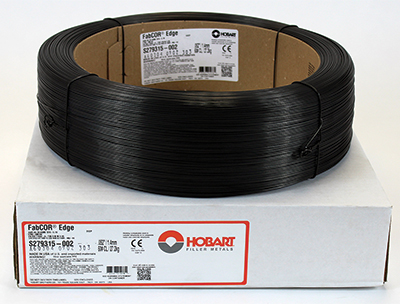 Hobart representatives discussed the company's newly introduced FabCor Edge metal-cored weld wire. Designed to improve deposition rates and travel speeds, it reportedly results in greater throughput as compared to solid wires. The wire also features low spatter levels to reduce cleanup time and is well-suited for robotic and mechanized welding and for welding non-alloyed and fine-grain steels.
Shown to have virtually no silicon deposits at weld-bead toe lines, the wire minimizes the risk of inclusions. Excellent gap-bridging capabilities and wetting characteristics also help minimize burnthrough, reduce part rejection and assist in producing smooth weld beads with uniform fusion.
The wire is available in 0.035-, 0.045-, 0.052- and 1⁄16-in. dia. on 33- or 50-lb. spools, in 60-lb. coils and in the company's exclusive 500- and 750-lb. X-Pak—a precision wire-payout drum for automated and robotic welding.
Compact Laser-Welding Cell
German Machine Tools of America (GMTA), the Ann Arbor, MI-based representative of various lines of German machine tools and metal-fabricating equipment, used FABTECH to show new laser technology from Arnold Ravensburg, a supplier to the German gearmaking, automotive and off-highway powertrain markets. Introductions included a compact laser cell used to weld smaller round components. Available with CO2 or solid-state lasers, this cell is suitable for mass production or smaller batches, owing to the onboard-loading and CNC-programming capabilities of the machine. Workpieces load into the rotary carousel either manually or through robotic automation available from GMTA. The workpiece then is lifted into position, clamped, rotated in the C axis and laser welded. A new workpiece is loaded during the clamp/weld phase.
Also offered by GMTA is the Arnold two-station laser cell, used in a similar fashion to the compact cell, but offers a variety of geometries in laser welding, including axial and radial seams, plus an integrated pressing function. The processing optics move on a cantilevered arm to the individual workstations, processing radial or axial seams without changeover of the swiveling optic head.
Independent loading-area gates allow simultaneous loading and unloading while the machine operates. Designed as a single-block concept with a common base frame for all system components, all of the machine's functions are run via CNC.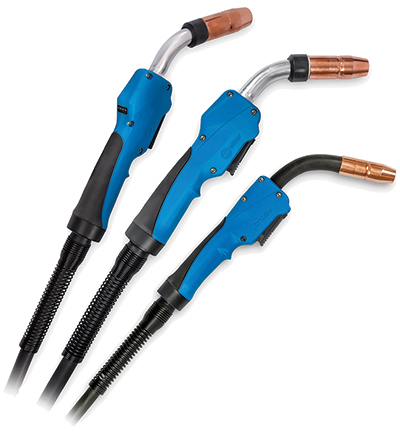 GMAW Guns Ease Use, Add Operator Comfort
Miller Electric Manufacturing Co. introduced its MDX Series gas-metal-arc-welding (GMAW) guns, featuring an ergonomic handle with rubber overmolding for improved grip and a ball-and-socket handle swivel for reduced operator fatigue. Moreover, using the company's AccuLock MDX and Bernard AccuLock S consumables, the guns' front-loading liners lock in place (no need for set screws) and align concentrically with both the contact tip and power pin to optimize wire feeding. Error-proof liner trimming, with no measuring required, reduces burnbacks, bird-nesting and erratic arc caused by liners that are too short, minimizing downtime for troubleshooting or rework. Both AccuLock series feature tapered connections between the contact tip, gas diffuser and neck to maximize electrical conductivity, thus enabling longer product life. The MDX series of guns includes three models: MDX-100, MDX-250 and MDX-250 EZ.
Welding Helmet for Optical Clarity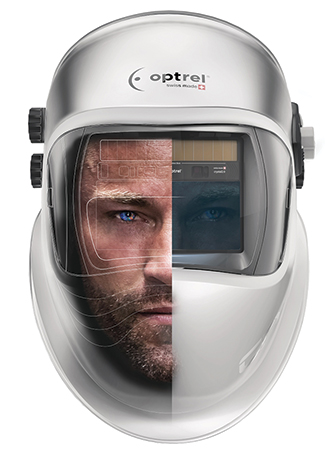 Representatives of Optrel AG were on hand to discuss their company's contribution to welding safety: the Crystal 2.0 welding helmet with advanced lens technology developed to provide optical clarity for welders before, during and after welding. According to company officials, the helmet delivers 31-percent visible-light transmission and a nearly perfect color spectrum that provide welders with optical clarity of their work and job site. In its light state, the view is the same as looking through a clear glass window. In its dark state, the Crystal 2.0 provides a high-contrast view of the welding pool and best-in-class clearness.
Helmet features include:
Autopilot shade level that automatically adapts to changing arc conditions;

Twilight function to protect users after a weld from lighting changes and afterglow;

Sensitivity control that adapts hood to work environment and requirements;

Grind mode that offers the brightest vision available during grinding work;

Patented excenter that optimally positions the helmet on a user's head with just one twist, and a comfort headband providing an optimized weight balance to protect both neck and back.

MF
Industry-Related Terms:
Center
,
Conductivity
,
Turret
,
Twist
,
Point
,
Punch Press
,
Ram
,
Run
,
Spatter
,
Spectrum
,
Stroke
,
Surface
,
Tapping
,
CNC
,
Color
,
Polishing
,
Core
,
Bending
,
Buffing
,
CAD
,
Case
,
Laser Welding
,
LASER
,
Lines
,
Model
,
Nesting
,
Cut-Off
,
Die
,
Edge
,
Flange
,
Forming
,
Grinding
,
Inclusions
,
Plate
View Glossary of Metalforming Terms
See also: Wintriss Controls Group LLC, Nordson EFD, LLC, Hobart Brothers Co., LVD North America, Hypertherm, Inc.
Technologies: Bending, CNC Punching, Cutting