Welding: A Rewarding Career With an Upward Path
October 1, 2019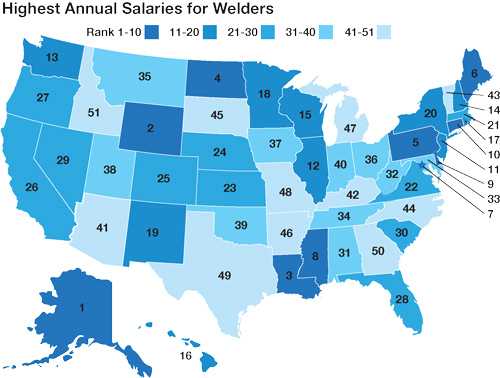 "The information and tools to find your next job." The tagline describes www.zippia.com in a nutshell. Formed in 2015, the site explores career data, personalized job listings and much more. Welding represents one of many career fields detailed at the site. Let's take a closer look at the welding-career data. You can find the full portfolio of welding info, including salaries, top-rated employers and career videos, at www.zippia.com/welder-jobs/#career-paths.
Welders work in a variety of industries, employing more than 100 different processes to permanently join metal parts. Zippia notes that welders, cutters, solderers and brazers perform various duties, including studying blueprints, sketches and specifications; calculating welding dimensions; inspecting structures or materials to be welded; monitoring the welding process; and maintaining equipment and machinery to name just a few.
Typically, becoming a welder includes the combination of a high school diploma and technical and on-the-job training. High schools can provide some technical training, with technical institutes, community colleges and private welding schools delivering formal technical training. Also, the site reads, the U.S. Armed Forces offer excellent welding education and training opportunities. Through the American Welding Society and others, needed certifications and related training are available.
Success in the field, as gathered in data from resumes and job listings alike, demands attention to detail, manual dexterity, physical stamina and strength, spatial-orientation skills, and, of course, technical skills.
Top 10 States (Salary)
Alaska
Wyoming
Louisiana
North Dakota
Pennsylvania
Maine
District of Columbia
Mississippi
Delaware
Connecticut
Welding training presents a multitude of career options, with many leading to supervisory positions within a decade, and sometimes much sooner, according to the site. Occupations most commonly transitioned to from basic welding include welder-fitter, pipe welder, maintenance technician and structural welder.

Who's a welder? Welders come from all walks of life, as demographic data show. Though nearly 92 percent of welders are male, female welders have gained ground, as have minorities.

Data show that employers currently seek welders proficient in gas-metal-arc welding (GMAW), component-parts production and gas-tungsten-arc welding (GTAW). Top skills highlighted on welding resumes include the following:
"Experience with multiple welding processes including GMAW, GTAW, shielded metal arc welding and flux-cored arc welding both carbon and stainless steel."

"Clamp, hold, tack-weld, heat-bend, grind or bolt component parts to obtain required configurations and positions for welding."

"Conduct daily shop and field activities, including the fabrication and installation of watertight shipboard enclosures and flood/waste water-containment systems."

"Perform modifications and custom fabrications to motorcycles and vehicles, while utilizing stainless steel, carbon steel and aluminum."