FABTECH Canada
June 1, 2018

The worlds of metalforming, fabricating, welding and finishing converge in Toronto, June 12-14, as FABTECH Canada provides a wealth of opportunities to think, learn and network. Thought-provoking keynotes and panels sessions, information-packed breakout sessions and workshops, and world-class suppliers anxious to discuss their metalforming products and services await you, as do important networking opportunities, including the opening-night and job-shop-appreciation receptions.
Building on the success of the last FABTECH Canada in 2016, where more than 7000 industry professionals and 300-plus exhibitors filled 85,750 sq. ft. of floor space, the 2018 edition promises even more. Technologies will span the forming and fabricating universe, backed by the resources of FABTECH Canada co-sponsors Precision Metalforming Association, Society of Manufacturing Engineers, Fabricators & Manufacturers Association and Chemical Coaters Association International.
Keynotes and Learning Opportunities Aplenty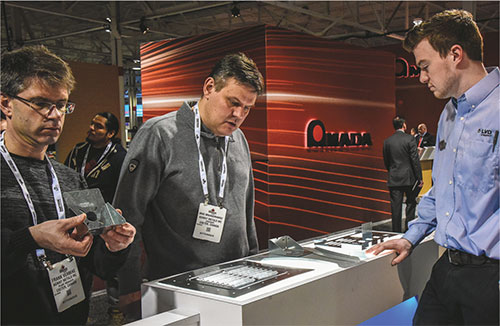 Kicking off this year's program on Tuesday at 9 a.m., is Flavio Volpe, president of the Canadian Automotive Parts Manufacturers Association. His keynote, Manufacture and Trade, Canada Can Do Both?, addresses important issues facing Canadian industry.
The Wednesday keynote by futurist Jim Carroll, also at 9 a.m., digs deep into the new world of manufacturing. Carroll's presentation, 2018 Outlook: Disruptive Trends in the Era of Acceleration, discusses the roles of digitization, robotics, the cloud, Internet of Things, rapid prototyping, robotics, design based on crowd thinking, the collapsing product lifecycle and more.
FABTECH Canada
At a Glance
WHEN: Tuesday, June 12
10:00 a.m. – 5:00 p.m.
Wednesday, June 13
10:00 a.m. – 6:00 p.m.
Thursday, June 14
9:00 a.m. – 3:00 p.m.
WHERE:
The Toronto Congress Centre (South Building)
Toronto, Ontario, Canada
INFO AND REGISTRATION:
www.fabtechcanada.com
A Tuesday panel, Automation & Beyond, featuring Met-L-Flo's Carl Dekker, Fanuc Canada's Peter Fitzgerald, Anubis 3D's Tharwat Fouad and Autodesk's Fransceso Iorio, looks at the collaboration of robotics and additive manufacturing technologies for the factory of the future.
In addition, half-day workshops will be held on robotics, standards, lean management, additive manufacturing, worker performance, fundamentals of radiography and penetrant testing, and welding fundamentals and materials. Also offered, breakout sessions on press-brake technology, finishing, in-die transfer technologies, stainless-steel welding, plasma cutting and automation software, and nesting software.
Celebrate and Network
The Opening Reception on Tuesday offers a unique opportunity to celebrate your industry while connecting with peers in a relaxed environment.
Wednesday's Job Shop Appreciation Reception is a must for all independent job-shop owners, designed to give them a chance to source solutions and network.
FABTECH Canada only happens every two years, so don't miss this opportunity to learn and grow.
MF
Technologies: Training