Redrawing and Ironing Cylindrical Shells, Part 1
December 27, 2019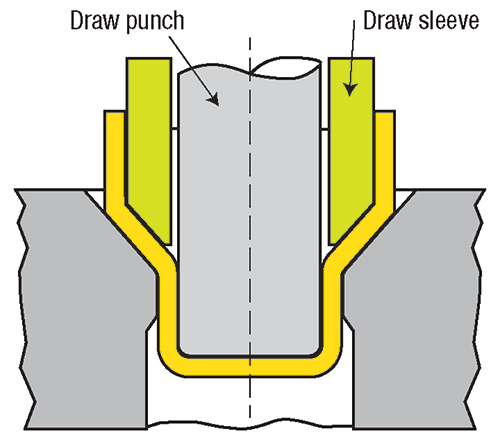 Fig. 1—Direct redrawing reduces cup diameter by redrawing in the same direction as the first draw.
Last month's column defined key parameters for successful redrawing of square and rectangular box shells. This month: redrawing cylindrical shells and wall ironing.
Redrawing and Ironing Operations

The first draw reduction for a cylindrical shell, generally limited to less than 50 percent of the flat blank diameter, often is referred to as the first draw or cup draw. When the required product diameter is smaller than that achievable in a single draw operation, redrawing operations reduce the cup diameter and lengthen the wall. Multiple operations reduce the shell diameter and lengthen the wall further.

Two basic redrawing methods exist for cylindrical shells: direct redrawing and reverse redrawing. Direct redrawing (Fig. 1) reduces the cup diameter by redrawing in the same direction as the first draw. In reverse redrawing (Fig. 2), the cup inverts inside out in order to reduce its diameter. Redrawing, often performed with an internal blankholder, as depicted in both figures, also can be accomplished without a draw sleeve (internal blankholder) when using smaller-diameter reductions.

Regardless of the method, the percent reduction in the redraw operation always will be less than the first draw because sheet metal hardens as it deforms or is cold worked. Subsequent redrawing operations induce more work hardening, thereby reducing the percent reduction achievable for subsequent redraws.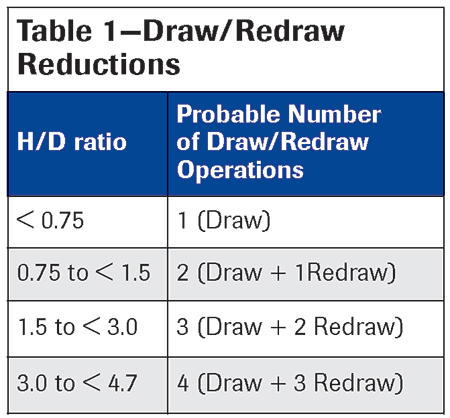 Number of Redraw Operations

The approximate number of drawing operations can be determined from the final product dimensions by dividing the finished height (H) of the cylindrical part by its final diameter (D). When H/D exceeds 0.75, then more than one draw reduction is required. Table 1 provides an approximate number of draw/redraw reductions for variety of H/D ratios.

Percent Reduction

When drawn from a flat blank, a cylindrical shell diameter (d) can be expressed as a percentage of the original blank diameter (D), or percent-reduction, as follows:

% reduction = 1 - (d/D) x100

For example, a 6-in.-dia. cup produced from a 10-in.-dia. blank equals a 40-percent reduction in diameter:
1 - (6/10) x100 = 40 percent. Likewise, if this 6-in. cup is redrawn to 4.5 in., its diameter decreases by 25 percent.